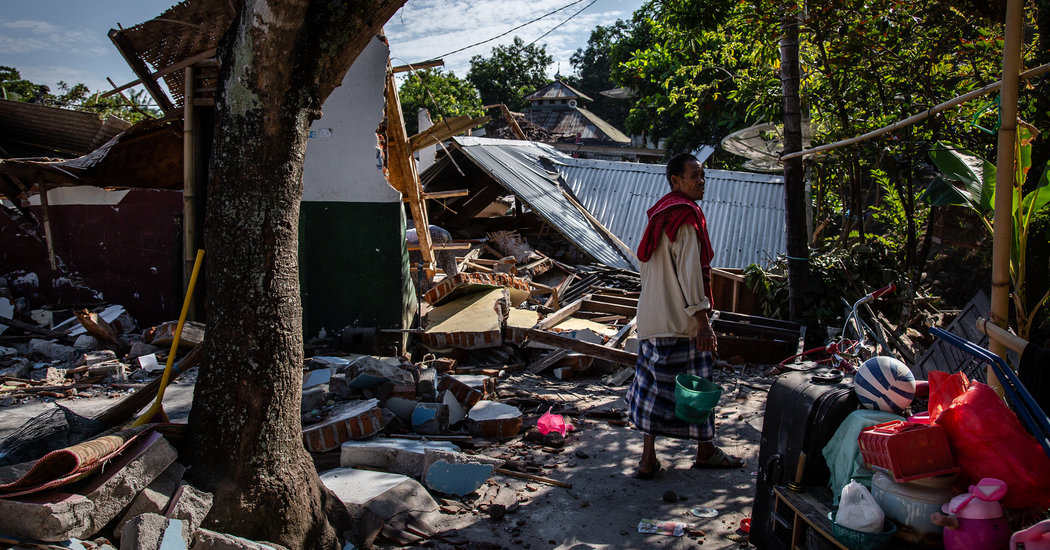 PEMENANG, Indonesia — When the earthquake struck off the coast of Lombok, Indonesia, three days ago, Lala Intan Komala lost her mother, her home and her livelihood.
Now, she and about 100 relatives have taken refuge in a large tent they built on a strip of land wedged between a peanut field and a banana grove. They have no idea how long they will be here or how they will rebuild their lives.
Help has been slow in coming.
"We lost our houses," said Ms. Lala, 19. "We lost our jobs. And the aid is very minimal."
The story of Ms. Lala and her clan is repeated across much of North Lombok, where the quake destroyed more than 42,000 structures and displaced about 156,000 people, officials said Wednesday, sharply increasing earlier estimates as data collection improved.
Sutopo Purwo Nugroho, a spokesman for Indonesia's disaster management agency, said 131 bodies had been recovered. The death toll is expected to rise.
Indonesia's Meteorological, Climatological and Geophysical Agency said that Sunday's quake registered as a magnitude 7. The United States Geological Survey revised its measurement downward to 6.9.
Indonesian officials said it was not unusual for agencies' numbers to conflict given differences in sensor locations and analysis.
Whether 6.9 or 7, the effect has been devastating. Lombok, an island not far from Bali, has been rattled by hundreds of aftershocks since the initial quake, some measuring as large as 5.6. Many of those whose homes remain intact are afraid to sleep indoors for fear the structures will collapse in the night.
Mr. Sutopo said in an interview that aid had been slow in reaching victims, especially those in far-flung areas.
"There are some refugees who have not received aid," he said, "especially in remote or isolated areas."
But, he said, the government had sent out 200 pickup trucks on Wednesday to deliver rice, cooking oil, drinking water and food staples.
In North Lombok, the region hit hardest by the quake, tent camps have sprung up in open fields near ruined villages. Some in the camps said they had received government deliveries of instant noodles and drinking water, but little else.
Increasingly desperate, many displaced villagers have taken to standing in the middle of the area's main road, seeking donations from passing motorists.
To slow traffic and attract attention, some locals stand in the middle of the road, holding out cardboard boxes for donations or flags and handwritten signs asking for assistance. Some even bring out plastic chairs and sit in the middle of the road with their donation boxes.
In the heavily damaged village of Pendanan, residents posted a spray-painted sign in English that read simply: "Help Us."
Usman Dipandanan, a farmer in Pendanan, stood on a stool in the road in front of his ruined house and held out a white plastic bucket as cars and motorcycles zipped by.
Mr. Usman, 50, said his mother and a 3-year-old nephew had died when the house collapsed.
His family has yet to receive government aid, he said, adding that he hoped to raise money to buy drinking water.
"This is our only way to survive," he said.
Farther north, on the road leading into Pemenang, about 200 people set up a temporary camp on a hillside above the highway.
Their village, Teluk Kombal, was completely destroyed. One boy died, and four survivors were pulled from the rubble.
Now the community faces the short-term problem of survival and the long-term question of how to rebuild.
"If we want to build a house, where do we get the material?" said Suhaili, 31, a clerk at a school that collapsed in the quake.
Mr. Suhaili, who like many Indonesians goes by only one name, said the community was trying to come up with its own recovery plan, rather than waiting for the government to act.
Below the camp, young men from the village took turns sitting on a chair or standing in the middle of the busy roadway collecting donations. By midday, they had collected rupiah notes worth about $70.
"This is the only way thing we can do to fulfill the daily needs in our lives," said Suhardi, 29, one of the collectors.
Ms. Lala, who shares the large tent in Pemenang with 100 members of her extended family, was working at a shop on the popular tourist island of Gili Trawangan when the quake hit.
Tourists and workers alike fled to the top of a hill on the small island and waited through the night in case the earthquake generated a tsunami.
Since then, nearly every business on Gili Trawangan has been shut. Ms. Lala and hundreds of others have been left without work.
Ms. Lala's extended family built their tent using bamboo they cut from the forest and large blue tarps they purchased. They mourn for Ms. Lala's mother, who was hit by debris as she tried to escape their collapsing house.
Little assistance has reached the clan, she said, in part because aid trucks stop at other camps first and give away all their supplies.
For now, with no home, no jobs and no resources, the family has few options.
"We can only wait," Ms. Lala said.