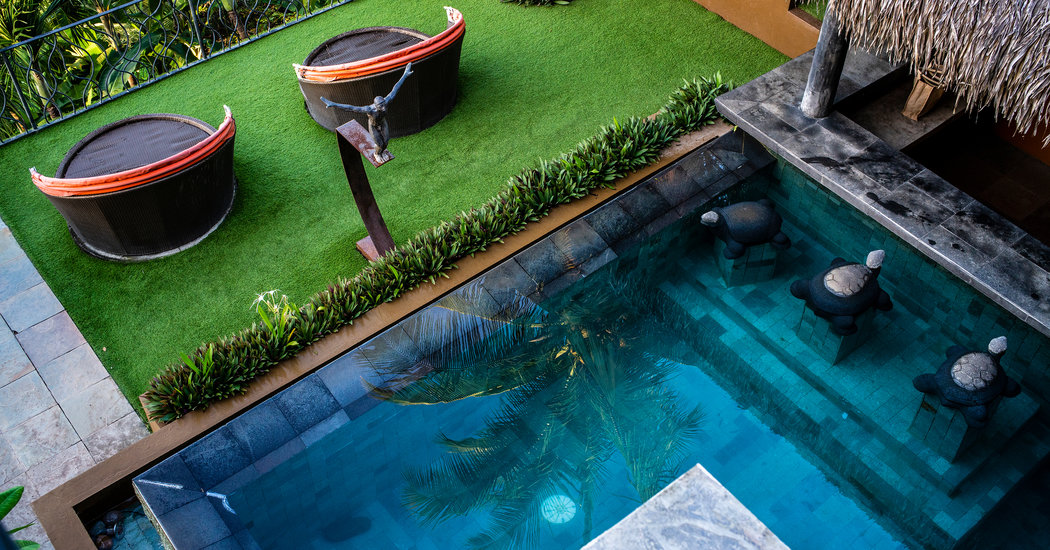 International real estate
Along the Pacific coast, Panama's beach communities are struggling to attract foreign investment, leading to more affordable homes.
An Oceanside Haven in Coronado
$2.75 MILLION
This Balinese-style villa built in 2008 is in the beach resort town of Coronado, on the southern coast of Panama, about 50 miles southwest of Panama City. Constructed of concrete block, with a zinc roof covered in palm leaves, the 7,400-square-foot home is bisected by an infinity pool and a garden area overlooking the Pacific Ocean.
The entrance to the five-bedroom, seven-bath property is through a breezeway facing the pool, with a kitchen and living room to the left and a dining room to the right, both of which have floor-to-ceiling sliding glass doors leading to the deck and pool area. The dining room has hand-carved doors of teak and an 11-foot table carved from one solid piece of Indonesian wood. (All of the furniture, including several pieces handcrafted in Bali, comes with the house.) The kitchen has ceramic-tile floors and dark teak cabinetry, hand-carved in Bali, as well as white recycled-glass countertops and an island.
Also on the ground floor are a full bathroom and a bedroom with a built-in wardrobe. Stairs ascend to the second floor, which has three more bedrooms. The master bedroom has ceramic-tile floors, dark wood décor and sliding glass doors that open to an oceanside balcony with a private shower. The master bath has porcelain tiles from floor to ceiling and dual Balinese sinks on a custom-made vanity. There is a large jetted spa for two and a walk-in shower. Two more bedrooms on the second floor are currently used as a dressing room and an office, one of which has an en suite bath.
Off the bougainvillea-covered outdoor deck, a self-contained bedroom and bathroom are shaded by mango trees. The 15-by-40-foot infinity pool with spa is tiled with green sukabumi stone from the Indonesian city of Java and has a swim-up bar with carved lava-stone turtle seats. A long, thatched pavilion lines one side of the pool with dining and lounge spaces, as well as a barbecue. On the other side is an Indonesian-style thatched pavilion with a hammock. In the rear of the house, two small lawns overlook the ocean, and several flights of stairs lead down to the beach.
A separate caretaker's unit has a bedroom, living area, kitchen and bathroom, along with a garden. There is a palm-covered parking area with room for three cars.
While ocean breezes are plentiful, the villa's living room and kitchen area has central air-conditioning, said Rafael Gangi, the president of Panama Sotheby's International Realty, which is listing the property. Other rooms have air-conditioning units.
The beach town of Coronado offers a range of amenities, from shopping malls, supermarkets and restaurants to health care clinics, a hospital, churches, a synagogue and international schools. The area also has golf, tennis and beach clubs, along with horseback riding and areas for all-terrain vehicle use, Mr. Gangi said. Tocumen International Airport Panama is about a two-hour drive from the villa.
Market Overview
Home prices in Panama remain about 10 percent below their peak before the global housing crisis of 2008, although the downturn didn't significantly affect the country until about 2012, said Lucia Haines, an owner of the Panama City brokerage Panama Realtor.
"I do believe that the worst of the correction is behind us, as overall sales volume has been steadily increasing, with a marked increase noted in the second half of 2017," Ms. Haines said.
Despite increased sales, prices have stayed soft due in large part to falling rental rates, said Kent Davis, founder of Panama Equity Real Estate. "Panama has always been a high-yield property market for investors looking to spend time in their properties and rent them out when they're gone," he said. "As rents have come down, so have prices."
Most foreign buyers seek properties in established Panama City neighborhoods, like Punta Pacifica, Cinta Costera and Costa Del Este, as well as two emerging areas, Ocean Reef and Santa Maria, said Jeff Barton, managing director of Panama City-based Punta Pacifica Realty. Apartment prices in Panama City range from about $150 to a little more than $200 a square foot, depending on the neighborhood, finishes and size, Ms. Haines said. Luxury condominiums in the capital's best neighborhoods sell for between $300,000 and more than $2 million, Mr. Barton said.
The coastal communities in and around Coronado haven't seen the recent increase in sales that the capital city has enjoyed. "The beach areas have been very slow for the past five years," Mr. Barton said, and have "seen little foreign investment after experiencing a significant phase of overbuilding."
In the Pacific beach communities, two- to three-bedroom homes sell for between $150 and $200 a square foot, he said, or about $200,000 to $400,000.
Who Buys in Panama
Foreign buyers come from various countries, brokers said, including the United States and Canada, as well as Venezuela, Colombia, Brazil, Russia and European countries like France, Germany, Spain, Italy, England and the Netherlands.
"Many of our buyers are retirees," said Jason Cohen, who owns the real estate agency Casa Solution, in the western town of Boquete, with his wife, Stephanie. "And we have a lot of buyers where one half of the couple is Panamanian or from a Central American country."
Recently, there has also been an influx of Chinese buyers, Mr. Barton said, particularly in Panama City. "We are experiencing an uptick from the Chinese after Panama established diplomatic relations with China in 2017," he said.
Buying Basics
There are no restrictions on foreign buyers in Panama, brokers said.
Mr. Gangi recommended hiring a reputable real estate agent who can suggest a good local attorney. The typical lawyer's fee is between $1,200 to $2,500, said Mr. Davis of Panama Equity Real Estate.
Buyers can expect to pay less than 1 percent of the home's sale price in total fees, which include legal, notary and registration fees, Mr. Barton said. Sellers usually pay about 2 percent in transfer taxes and the 5 percent real estate commission, Ms. Haines said.
In the past, many international buyers have chosen to buy real estate through a corporation to avoid an increase in property taxes, Mr. Cohen said. But a new law that will significantly lower property taxes as of January 2019 may make buying through a corporation less attractive, he said.
Banks will lend to foreign buyers, though it can be a lengthy approval process, brokers said. Rates are a bit high, at 6.5 percent, with banks usually loaning about 60 to 70 percent loan-to-value, Mr. Davis said.
Websites
Languages and Currency
Spanish; Panamanian balboa, American dollar (1 balboa = $1)
Taxes and Fees
This home was granted a 20-year tax deferment on construction, and property taxes are $500 a month until 2028.
Contact
Rafael Gangi, Panama Sotheby's International Realty, 011-507-226-5704; sothebysrealty.com
For weekly email updates on residential real estate news, sign up here. Follow us on Twitter: @nytrealestate.