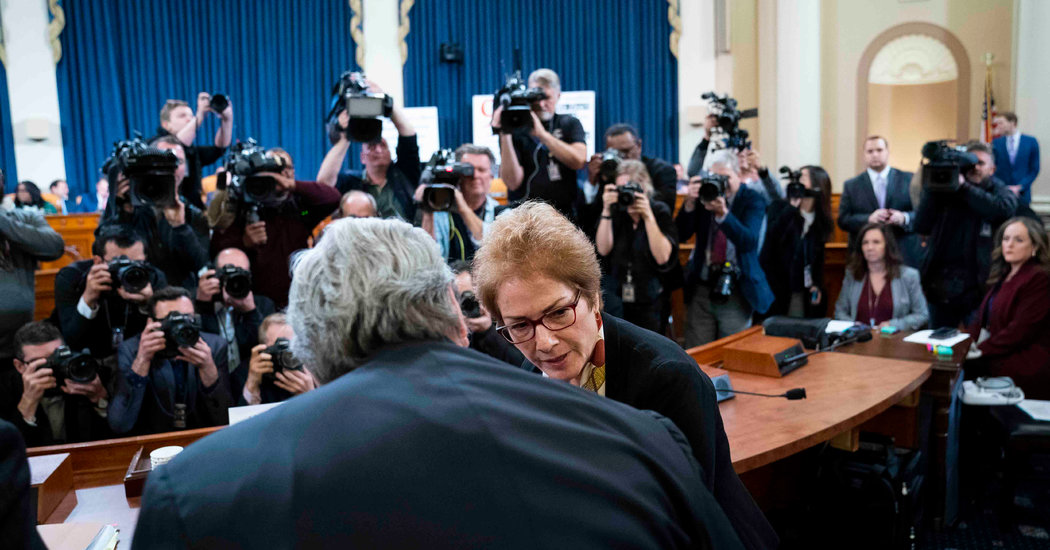 WASHINGTON — President Trump on Friday attacked Marie L. Yovanovitch, the former United States ambassador to Ukraine he summarily removed this year, even as she testified in the impeachment inquiry about how she felt threatened by Mr. Trump.
Did his behavior amount to witness tampering?
If the question is what could be charged in court, the answer is probably not. But impeachment is not limited to ordinary crimes. As House Democrats weigh bringing articles of impeachment against Mr. Trump — including one potentially based on his obstruction of congressional investigations — the president's Twitter onslaught may well have handed them more fodder.
As Ms. Yovanovitch was telling the House Intelligence Committee about the devastation and fear she felt this year when she was targeted first by Mr. Trump's allies and later by the president himself during a phone call with President Volodymyr Zelensky of Ukraine, Mr. Trump fired off a tweet denigrating her anew.
"Everywhere Marie Yovanovitch went turned bad. She started off in Somalia, how did that go?" Mr. Trump wrote, assailing her on Twitter to his 66 million followers.
Early in her career, Ms. Yovanovitch was a low-level diplomatic officer stationed in Somalia as that country was starting to slide toward the civil war that would leave it a failed state.
A few minutes after the president's tweet, Representative Adam B. Schiff, Democrat of California and the chairman of the Intelligence Committee, interrupted Ms. Yovanovitch's testimony to read it and ask her what the effect the president's attack on her would have "on other witnesses' willingness to come forward and expose wrongdoing."
She appeared momentarily uncertain how to respond.
"It's very intimidating," she said. She then paused, searching for words. "I can't speak to what the president is trying to do, but the effect is to be intimidating."
Mr. Schiff responded in a stern tone: "Some of us here take witness intimidation very, very seriously."
In a statement, Stephanie Grisham, the White House press secretary, denied that Mr. Trump's denigration of Ms. Yovanovitch rose to that level.
"The tweet was not witness intimidation," Ms. Grisham said. "It was simply the president's opinion, which he is entitled to. This is not a trial, it is a partisan political process — or to put it more accurately, a totally illegitimate, charade stacked against the president."
Mr. Trump has a history of using his platform to excoriate people who are in a position to serve as witnesses to his own potential wrongdoing, using Twitter and statements at his political rallies to criticize less well-known people by name, in humiliating and sometimes threatening ways.
The targets of his verbal assaults have included Michael D. Cohen, his former personal lawyer and fixer, who testified that Mr. Trump violated campaign-finance laws and fraudulently manipulated the value of his assets in financial forms; Donald F. McGahn II, his former White House lawyer, a key witness to several obstruction episodes in the special counsel's report; and James B. Comey, the former F.B.I. director, who testified that Mr. Trump privately pushed him to shut down a criminal investigation into his former national security adviser, Michael T. Flynn.
The tactic functions not just as an attempt to discredit his critics, but as a warning to deter others from coming forward.
At a minimum, it can unleash a cascade of abuse online and harassing messages from Mr. Trump's supporters, which can be especially unsettling for people who are not accustomed to being in the public eye.
But it can also raise fears that some unhinged person may go further: This year, a fervent Trump supporter, Cesar A. Sayoc Jr., was sentenced to 20 years in prison for mailing bombs to people and organizations that Mr. Trump had criticized, including prominent Democrats and journalists.
Federal witness tampering law, which is part of a broader obstruction of justice statute, makes it a felony, under some circumstances, to try to dissuade or hinder witnesses from attending or testifying in an official proceeding.
The president's tweet on Friday did not threaten Ms. Yovanovitch. But the law covers not just threats and intimidation, which are punishable by 20 years in prison, but mere harassment as well, a lesser but still serious offense punishable by three years in prison.
Still, even viewed as mere harassment, Mr. Trump's attacks on Ms. Yovanovitch on Friday would be challenging to prosecute under the witness tampering statute. Prosecutors would be hard pressed to convince a jury that he was trying to dissuade her, at least, from attending the hearing and testifying because he waited to lash out until after she was already in the hearing room and in the midst of testifying.
A hypothetical prosecution under that law would face severe constitutional challenges, as well. The Justice Department has taken the view that the Constitution makes sitting presidents temporarily immune from prosecution, and Mr. Trump's lawyers could argue that he had a First Amendment right to criticize her.
In fact, the president himself raised the issue at the White House on Friday afternoon when asked if he was guilty of witness intimidation, denying the charge and saying, "I want freedom of speech."
To the extent that Mr. Trump's targeting of Ms. Yovanovitch was less about shutting her up and more about making other government officials watching what she is going through think twice about defying the White House's direction not to cooperate with Congress, the witness tampering statute was not clearly written to cover that situation.
But when deciding what amounts to an impeachable offense, Congress is not limited to violations of ordinary criminal statutes. Lawmakers may also impeach a president for actions that are lawful, yet still constitute abuses of power.
House Democrats are already considering articles of impeachment focused on obstruction of Congress, including for Mr. Trump's efforts to push witnesses to defy subpoenas, and obstruction of justice, including for attempting to tamper with witnesses in the Russia investigation led by the special counsel, Robert S. Mueller III.
For example, Mr. Mueller's report recounted how Mr. Trump bullied Mr. McGahn in an attempt to get him to write a memo falsely denying that Mr. Trump had earlier sought to have Mr. Mueller fired. Mr. McGahn had already given a deposition about that earlier episode, so writing such a memo — which he refused to do — would have contradicted his account an and discredited him as a witness.
The Mueller report also recounted how Mr. Trump and his proxies had dangled the prospect of pardons in front of several potential witnesses in the special counsel investigation, while urging them not to "flip" on him and cooperate with prosecutors.
Against that backdrop, Representative Jim Himes, Democrat of Connecticut and a member of the Intelligence Committee, said that Mr. Trump's attacks on Ms. Yovanovitch amounted to "clear witness tampering" that could be cited in a forthcoming article of impeachment.
"The president chose to respond to a patriotic and superb public servant with lies and intimidation. Vintage Donald Trump," Mr. Himes said in a text. "Her boss disparaged and intimidated her not after, but during her testimony."
Nicholas Fandos contributed reporting.