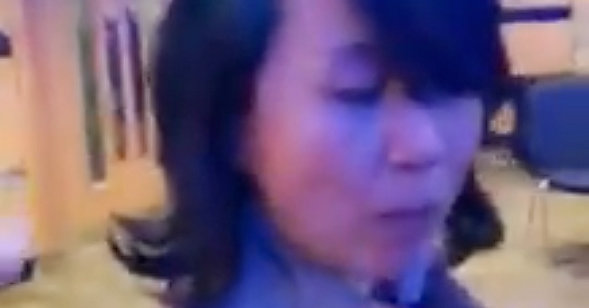 HONG KONG — The event on the sidelines of the Conservative Party of Britain's annual conference was meant to discuss "the erosion of freedom, the rule of law and autonomy in Hong Kong." It featured several generations of prominent democracy supporters from the former British colony.
Near the end of the talk Sunday in Birmingham, England, Benedict Rogers, a human-rights activist and critic of the Chinese government, was concluding his remarks by saying, "I am pro-China, not anti-China. I want China and its people to succeed."
Then a woman began shouting from the audience. "You are a liar. You are anti-China. You want to separate China," shouted the woman, according to attendees. "And you are not even Chinese. The rest are all traitors!"
A heckler at a political event is hardly unusual. The woman was no ordinary heckler, though. She was a reporter from China's state-run international broadcaster, CGTN.
One volunteer at the event, Enoch Lieu, tried to remove the reporter, when she slapped him, he said. Mr. Lieu said she slapped him again as others tried to escort her from the conference hall.
A video of the incident was posted online by Hong Kong Watch, a London-based human rights group that was a host of the event.
"Oh, how democratic U.K.! You're so proud of it!" the reporter said as she was removed.
The reporter, Kong Linlin, was arrested on suspicion of assault and later released pending an investigation.
Mr. Lieu said he approached the woman after Fiona Bruce, a member of Parliament who hosted the event, asked her to calm down. When she failed to, Ms. Bruce asked her to leave, he said.
He called Ms. Kong's behavior an attempt to silence participants.
"Her action is a direct assault on free speech right at our party conference," Mr. Lieu wrote afterward. "Her action cannot be tolerated."
The Chinese Embassy in London denounced the hosts of the talk and said Ms. Kong was herself assaulted for merely asking questions.
The event "boosted the arrogance of the anti-China separatists," the embassy said in a statement.
"In a country that boasts freedom of speech, it is puzzling that the Chinese journalist should encounter obstruction in such a way and even assault at the fringe event when she simply raised a question and expressed her opinions," the statement continued. "This is completely unacceptable."
China Central Television, the parent company of CGTN, also backed Ms. Kong. In a statement Monday, the network "expressed sympathy" with her.
"We demand the British side earnestly adopt measures to protect our reporter's rights and ensure such a preposterous event will not occur again," the network said.
China Central Television, also known as CCTV, is a powerful voice of the Chinese state, with dozens of channels and deep pockets to fuel an international expansion. It has tried to cultivate an image of doing serious journalism in its work overseas, something the image of one of its reporters heckling participants during a political conference could undermine.
But it did play well at home. On Chinese social media, many people said they supported the actions of Ms. Kong. One article that was widely circulated among CCTV journalists compared her to Hua Mulan, the legendary Chinese female warrior popularized in Disney films.
He Yanke, a CCTV reporter, reposted the network's response on Weibo, the Chinese social media service, and added, "Very good! We are together with you!"
Still, others said that her acts were an embarrassment, and that a foreign reporter would not get away with such behavior in China.
"Imagine if an American female reporter yelled all of a sudden and beat police while a Communist Party congress was discussing American issues," Hung Huang, a media entrepreneur and commentator, wrote on Weibo. "Is that O.K.?
Mr. Rogers, who is chair of Hong Kong Watch, said Ms. Kong was abusing her privileges as a journalist to try to intimidate people at the event.
"To then physically assault a party conference delegate in this way is unacceptable," he said in a written statement. "Is this a sign of China's increasing aggression and bullying, well beyond its borders?"
Two years ago CCTV rebranded its international networks as CGTN, part of an effort to build a stronger global presence. One recruiter's email said it was seeking to hire more than 350 journalists in London, BuzzFeed News reported in June.
President Xi Jinping sent a letter of support during the rebranding, urging the network to "tell China's story well, spread China's voice well, let the world know a three-dimensional, colorful China, and showcase China's role as a builder of world peace."
Claire Fu and Luz Ding contributed research from Beijing.