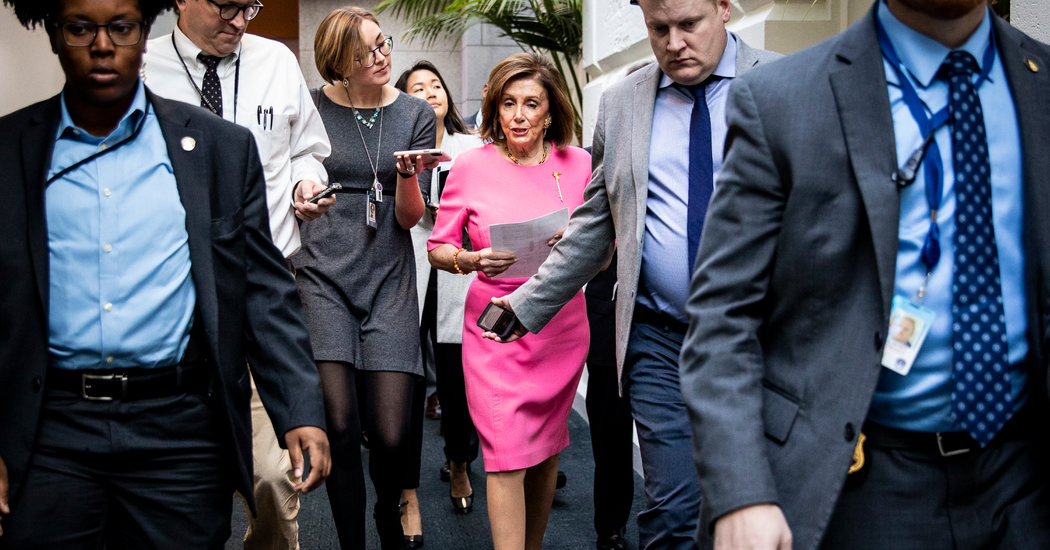 WASHINGTON — The House on Tuesday voted to extend government funding for another month, rushing to ward off a government shutdown and setting up a pre-Christmas clash over spending just as the House is likely to be considering whether to impeach President Trump.
With just days before funding for the entire government is set to lapse on Thursday, lawmakers effectively postponed the spending fight for another day, approving another stopgap spending bill exactly two months after the first spending bill passed the chamber. The measure would extend funding through Dec. 20 for all federal government departments and agencies, as well as a number of health care and community programs.
That sets up a potentially explosive set of votes just before Christmas, when the House may be considering impeachment articles against Mr. Trump just as it is staring down a deadline to avoid a disastrous government shutdown.
The specter of last year's 35-day shutdown drove a slim bipartisan margin on Tuesday, as most lawmakers agreed that a temporary spending bill maintaining current levels of funding for another four weeks was preferable to an encore of the breach last year, which lasted into January.
Lawmakers also included additional funds to accommodate the Census Bureau's preparations for the 2020 survey, provide funds for a 3.1 percent military pay raise and stave off an automatic cut to highway funds. The legislation, which passed the House on a 231 to 192 margin, is expected to pass the Senate later this week, and will be signed by the president, Senator Mitch McConnell of Kentucky, the majority leader, said on Monday.
The bill "will allow additional time to negotiate and enact responsible long-term funding for priorities that make our country safer and stronger and give working families a better chance at a better life," said Representative Nita Lowey, Democrat of New York and the chairwoman of the House Appropriations Committee.
Left unresolved, however, are the dozen must-pass bills that would maintain funding for the remainder of the fiscal year, which began on Oct. 1. Lawmakers on the traditionally bipartisan Appropriations Committees have failed to reach an agreement over funding Mr. Trump's signature campaign promise to build a wall between the United States and Mexico — the same fraught debate that led to the nation's longest government shutdown nearly a year ago.
"The administration, and the Republicans and the Democrats, are very wary of a shutdown," said Senator Richard C. Shelby, Republican of Alabama and the chairman of the Senate Appropriations Committee. "It helps no one. Everybody loses."
Reminded that he offered a similar optimistic message a year ago, Mr. Shelby said, "Yeah, and I believe that."
The measure had its share of critics in both parties. Some lawmakers voted against it in a show of solidarity for responsible governing and a need to provide full-year funding. Representative Kay Granger of Texas, the top Republican on the House Appropriations Committee, noted on Tuesday that "no business in the world could survive on temporary funding, doled out on a month-to-month basis."
Others specifically objected to provisions related to extending or reviving certain government surveillance powers that trace back to the aftermath of the 2001 terrorist attacks. One provision would reauthorize for 90 days a system shut down earlier this year that permitted the National Security Agency to access and analyze bulk logs of Americans' domestic phone logs.
The same part of the resolution would also briefly extend expiring F.B.I. surveillance powers, such as one that permits agents working on national security cases to get court orders to obtain relevant business records or to swiftly follow a wiretapping target who changes phones in an attempt to evade surveillance, for three more months. In effect, the resolution would delay until March a surveillance debate that advocates had been gearing up to have in November and early December.
"Congress should have ended this beleaguered spying program and enacted meaningful surveillance reform a long time ago," said Neema Singh Guliani, a senior legislative counsel for the American Civil Liberties Union. "It is disappointing that Congress is instead extending spying powers that have repeatedly been used to violate Americans' privacy rights, and trying to bury this extension in must-pass funding legislation."
Representative Justin Amash of Michigan, the House's sole independent, said his effort to add an amendment to the measure removing what he described as "the Patriot Act provisions" was rejected.
Over the summer, lawmakers and the White House reached a bipartisan agreement to raise government spending for the next two years, offering a rough framework for defense and domestic programs. The dozen bills will establish how that money will be divided across the federal government, but lawmakers have not agreed on top spending levels for each of the bills.
Republicans have pushed to adjust funding to accommodate the administration's request for billions of dollars in wall funding, while Democrats have vowed to deny any money for that purpose. Democrats have also objected to replacing military funds that the president earlier this year unilaterally transferred to wall construction, after Congress again denied Mr. Trump wall money in the regular funding process.
"We have well over a trillion dollars' worth of decisions to make, I don't know why we would go to that," Speaker Nancy Pelosi of California said on CBS's "Face the Nation." "I think that his comments about the wall are really an applause line at a rally, but they're not anything that he's serious about."
The traditionally bipartisan appropriations process has become particularly rife with division in the Senate, where 60 votes are needed to advance major legislation. While a package of four spending bills passed in late October, most Senate Democrats blocked a procedural vote that would allow a second package that would fund the Pentagon and a number of labor, health and education programs to move forward.
Democrats said that Republicans have not engaged in fair negotiations over raising spending limits for domestic bills, while Republicans have blasted their counterparts for violating the terms of the budget agreement.
Optimism peaked on Thursday, after Steven Mnuchin, the Treasury secretary and a key broker of the budget deal, huddled with Ms. Pelosi, Ms. Lowey and Mr. Shelby to resolve the impasse. But negotiations fizzled over the weekend, again leaving lawmakers without an agreement on the spending limits.
"We've got to figure out a way to bridge that gap," said Senator Shelley Moore Capito, Republican of West Virginia and the top Republican on the appropriations subcommittee responsible for the Department of Homeland Security bill.
The temporary fix that the House approved Tuesday also includes additional funds to counter the spread of ebola in Africa and an extension of funding for community health centers. It also includes a payment to Maya Rockeymoore Cummings, the widow of Representative Elijah E. Cummings, who died last month, a "death gratuity" that Congress traditionally approves for the surviving family of a sitting member who dies.
Left out of the spending bill, however, was a critical provision that would replenish $255 million for historically black colleges, tribal colleges and higher education institutions that serve Hispanic students in order to boost science, technology, engineering and math — or STEM — over the next two years. Funding ran out Sept. 30 — the end of the fiscal year — although the Education Department has assured funding will continue through the current school year.
Ms. Pelosi, in a statement Monday, blamed Republicans for the removal of the provision. Senator Lamar Alexander of Tennessee, the chairman of the Senate Education Committee, blocked passage of a measure that would have provided the funding, calling instead for a rewrite of parts of the Higher Education Act.
Proponents of the program vowed to continue fighting for the funding.
"After having worked so long for H.B.C.U.s and their issues to remain bipartisan, we are perplexed to be in the middle of a partisan 'tug-of-war' with our number one priority," said Lodriguez V. Murray, the senior vice president of public policy and government affairs at the United Negro College Fund. "We will continue to fight for it, as our colleges need it and so do the students. We started a campaign for it and we will not stop."
Erica L. Green and Charlie Savage contributed reporting.