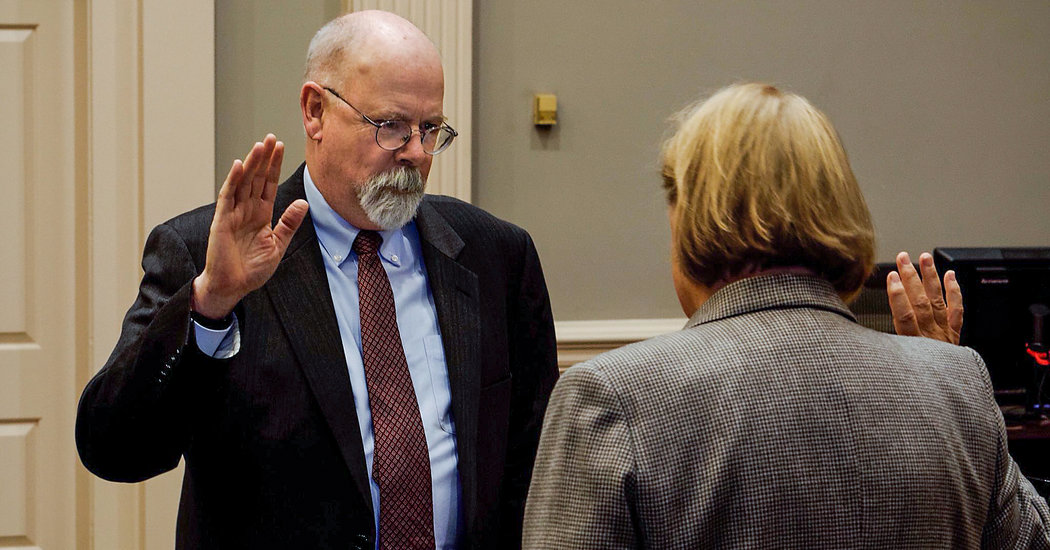 WASHINGTON — Whether investigating charges of torture by the C.I.A., rolling up an organized crime network or prosecuting crooked government officials, John H. Durham, the veteran federal prosecutor named by Attorney General William P. Barr to investigate the origins of the Russia inquiry, burnished his reputation for impartiality over the years by keeping his mouth closed about his work.
At the height of the Boston mob prosecution that made his name, he not only rebuffed a local newspaper's interview request, but he also told his office not to release his résumé or photo.
That wall of silence cracked this month when Mr. Durham, serving in the most politically charged role of his career, released an extraordinary statement questioning one key element of an overlapping investigation by the Justice Department's inspector general, Michael E. Horowitz.
Mr. Horowitz had found that the F.B.I. acted appropriately in opening the inquiry in 2016 into whether the Trump campaign wittingly or unwittingly helped Russia influence the election in Donald J. Trump's favor. In response, Mr. Durham, whose report is not expected to be complete for months, released a caveat-laden rebuttal: "Based on the evidence collected to date, and while our investigation is ongoing, last month we advised the inspector general that we do not agree with some of the report's conclusions as to predication and how the F.B.I. case was opened."
The statement seemed to support comments made half an hour earlier by Mr. Barr, who assailed what he called "an intrusive investigation of a U.S. presidential campaign," based "on the thinnest of suspicions." Mr. Durham's decision to go public in such a politically polarized environment surprised people who have worked with him. They found it out of character for him to intervene in such a high-profile way in an open case.
"It's fair to characterize what John did as unusual in terms of his past practice and I don't know what the rationale was," said Kevin J. O'Connor, a former United States attorney for Connecticut who supervised Mr. Durham for several years in the early 2000s. "But I know John well enough to know that he did it because he — not the A.G. or anyone else — thought he had an obligation to."
Others have been less willing to give Mr. Durham the benefit of the doubt, and it is clear he has placed his reputation for impartiality on the line by accepting this latest assignment.
Mr. Durham's decision to speak out seemed to supply political fuel to Mr. Trump, who has repeatedly blasted the Russia inquiry as a "hoax" and a "witch hunt." At a campaign rally in Hershey, Pa., the day after Mr. Barr and Mr. Durham issued their statements, Mr. Trump called F.B.I. agents involved in the Russia inquiry "scum."
"I look forward to Bull Durham's report — that's the one I look forward to," added Mr. Trump, who appointed Mr. Durham as the United States attorney for Connecticut in 2017.
The inspector general's report makes no substantive reference to Mr. Durham's investigation. But before the report's release, Mr. Durham got into a sharp dispute with Mr. Horowitz's team over a footnote in a draft of the report that seemed to imply that Mr. Durham agreed with all of Mr. Horowitz's conclusions, which he did not, according to people familiar with the matter. The footnote did not appear in the final version of the report.
A former Justice Department investigator who knows both Mr. Barr and Mr. Durham, a Republican, said that while the men were aware of each other's professional reputations, they are in no way close. Mr. Barr, who was unfamiliar with Mr. Durham's recent work, made quiet inquiries before appointing him to lead the investigation, this person said.
The potential explosiveness of Mr. Durham's mission was further underscored by the disclosure that he was examining the role of John O. Brennan, the former C.I.A. director, in how the intelligence community assessed Russia's 2016 election interference.
Mr. Durham is known in New England's close-knit law enforcement community for working long days on his own cases, and providing sought-after guidance on others'.
Wearing gunmetal-frame glasses and a drooping goatee, he rises early and dresses in the dark, often mismatching his suit jackets and pants. His reputation for discretion, on top of a long record of successful high-profile prosecutions, are among the reasons he has been a go-to person when Washington — under Republicans and Democrats alike — needs someone to handle sensitive tasks.
Mr. O'Connor, who was associate attorney general in 2008, was among those who recommended Mr. Durham lead an inquiry into the C.I.A.'s destruction in 2005 of videotapes depicting the torture of two operatives of Al Qaeda.
That investigation, started under an administration that had supported the use of so-called enhanced interrogation techniques, continued into the Obama administration, which brought a very different agenda to the issue. After President Barack Obama took office, Mr. Durham's brief was expanded to include a criminal investigation into the C.I.A.'s role in the deaths of two detainees in overseas locations, based on allegations of mistreatment by their interrogators.
Mr. Durham completed the torture investigation in 2012. The Justice Department, under Attorney General Eric H. Holder Jr., declined to prosecute anyone, saying that "the admissible evidence would not be sufficient to obtain and sustain a conviction beyond a reasonable doubt."
John A. Rizzo, the C.I.A.'s former acting general counsel, was questioned for more than eight hours in the investigation.
Mr. Durham "didn't personally question me but he did the agency people who had contemporaneous knowledge of the plan to destroy the tapes, and he was very tough with them," Mr. Rizzo, who retired from the C.I.A. in 2009, said in an interview.
Despite the political uproar at the time, "there were no leaks and he certainly didn't issue any public statements," Mr. Rizzo recalled. "I just don't see him bending to political pressure, so I was surprised he made a statement here."
Those who know him portray Mr. Durham as the consummate straight arrow who is unlikely to have bowed to pressure from Mr. Barr or anyone else in his current assignment. Mr. Durham declined to be interviewed for this article.
"He believes in four things: his family, his profession, his religion and the Boston Red Sox," said Hugh F. Keefe, a Connecticut defense lawyer who says Mr. Durham is so by the book, he once asked Mr. Keefe whether he had reported a free Red Sox ticket to the I.R.S. "If anyone thinks they can lead him like a horse to water, they're mistaken."
Last year, Mr. Durham, a staunch Catholic, delivered rare public remarks at the University of St. Joseph in West Hartford, Conn.
The topic was his prosecution of John Connolly Jr., an F.B.I. agent jailed for racketeering, obstruction of justice and murder stemming from his collaboration with Boston's notorious Winter Hill gang, led by James (Whitey) Bulger, an F.B.I. informant.
In a preface to his presentation, Mr. Durham said, "It is as important for the system for prosecutors to protect the secrecy of proceedings, not because we want them to be secret, but because we're not always right." He added: "Maybe accusations that are lodged against somebody are untrue. And again, we can destroy the person or persons if that information gets out."
Mr. Durham was born in Uxbridge, Mass., and received his law degree at the University of Connecticut in 1975. After a stint providing free legal advice to the Crow Indian tribe as part of what is now AmeriCorps, he worked as an assistant state's attorney in Connecticut until 1982, when he began a 35-year career as an assistant United States attorney, serving in a range of roles leading organized crime and public corruption prosecutions.
He won 119 convictions from 1983 to 1989, including against associates of the Genovese, Gambino and Patriarca crime families, and provided evidence instrumental in convicting the Gambino boss John Gotti in New York.
In 1989, fishermen found the body of William (The Wild Guy) Grasso, the Patriarca state boss from New Haven, dead of a gunshot wound in weeds near the Connecticut River.
Mr. Durham, who colleagues said "could hear grass grow" on surveillance recordings, led a prosecution that linked mobsters in Connecticut and Rhode Island, even unveiling the first recorded mob-induction ceremony. Mr. Durham secured a raft of racketeering convictions against men linked to Mr. Grasso's murder, gutting the Providence-based Patriarca mob. His doggedness, even after a note with his home address on it was found in a mobster-occupied Hartford jail cell, earned him the nickname "Bull."
In 1999, Attorney General Janet Reno appointed Mr. Durham to lead an investigation into corrupt links, rumored for years, between F.B.I. agents and their criminal informants in Boston. Prosecutions of Mr. Bulger and his accomplice Stephen (the Rifleman) Flemmi uncovered a relationship with F.B.I. agents, a retired Massachusetts state trooper and others, in which the mobsters exchanged cases of wine, a stolen two-carat diamond ring, and money for "the keys to the kingdom of all organized crime information in Boston," Mr. Durham told the college audience last year.
In late 2000, he uncovered government memos indicating that F.B.I. officials were involved in framing four men for the 1965 murder of a mobster, to protect a hit man who was one of the bureau's informants, a scheme likely known to the bureau's director at the time, J. Edgar Hoover. Mr. Durham alerted defense lawyers. Two of the four men had died in prison, but the surviving two were released, and the government paid a $100 million civil judgment in the case.
Mr. Durham and his team worked amid speculation that the Justice Department would pull the plug on what was becoming a deeply embarrassing prosecution. In 2000, a colleague told The Boston Herald that Mr. Durham would rather "pull an Archibald Cox" and resign than submit to pressure.
In a Washington Post op-ed this month, Mr. Holder cautioned Mr. Durham, whom he said he has been proud to know for at least a decade, about joining Mr. Barr in disputing the inspector general's findings. "Anyone in Durham's shoes would do well to remember that, in dealing with this administration, many reputations have been irrevocably lost," he wrote.
Kitty Bennett contributed research.