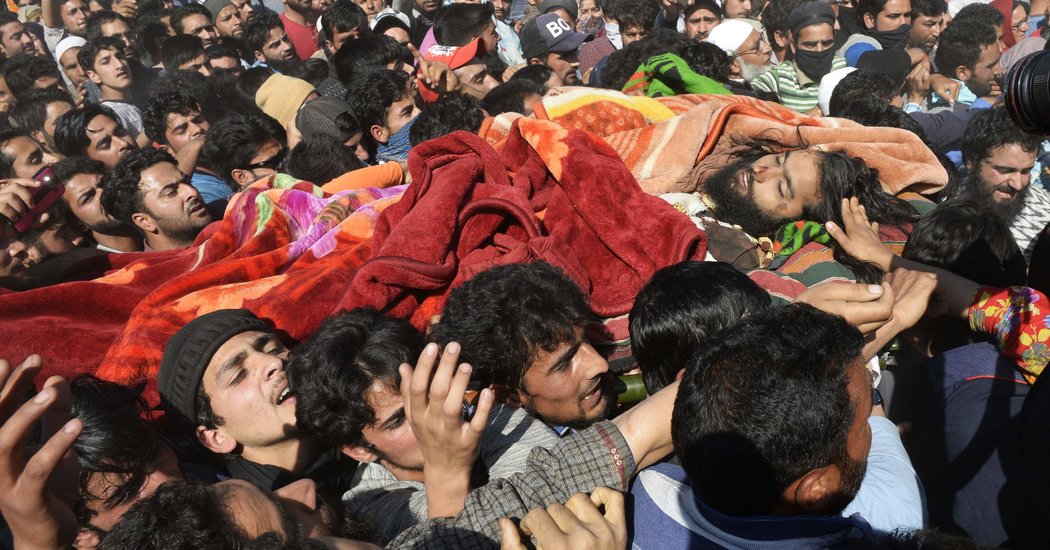 "Thousands?"
We drove closer to the militant's village and started seeing trucks packed with women in colorful scarves headed in the same direction. Kashmiris streamed in from the woods around us. Even blocks away I could hear the thunderous chant: "Tiger, Tiger, Sameer Tiger!"
As I waded into the crowd, I felt overwhelmed. People were pressed so close to me, wailing, chanting, pushing and shoving to get within touching distance of the funeral pyre. I felt thousands of eyes on me. I was the only foreign journalist for miles.
But here's what surprised me: Even in that mournful, highly emotional state, nobody hassled me. Quite the opposite.
Many Muslims in India feel persecuted these days, because of India's poisonous politics that have spurred Hindu supremacists to kill Muslims, who, in India, are a minority. The politics of the Middle East are not what matters here. Instead of the anger and resentment I've felt in other parts of the Muslim world — much of it justified — here I found two things. First, fear. And second, a desire simply to be heard.
Soon I was surrounded by young men eager, almost desperate, to share their experiences about living in Kashmir, which is not easy. One helped guide me through the crowds to the pyre, and I found myself just a few feet away from the corpse.
I had never actually met Sameer Tiger. I was willing to, but there was never one place where the two of us would have felt safe. He wasn't going to come to town. And I definitely wasn't going to rendezvous with a wanted militant in some deserted apple orchard.
So this was our meeting. He was lying on his back, face pale, clothes soaked in blood. I stood below him, notebook in hand.
Soon enough I was pushed back through the crowd to the street, my notebook almost untouched. I didn't do many interviews. I had seen enough.