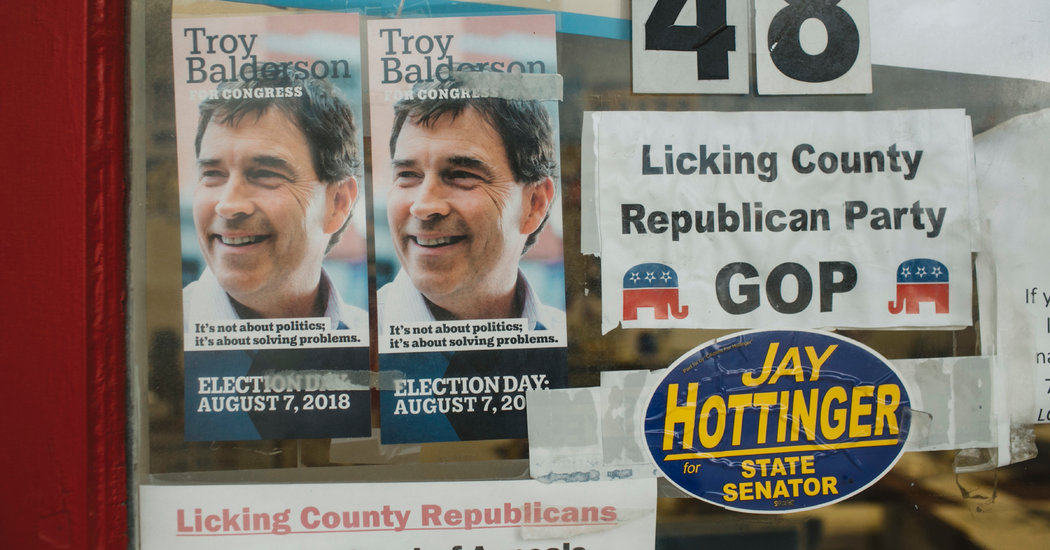 Republicans had a brush with trouble in Ohio, where a result had still not been declared in a special election to fill a House vacancy. Elsewhere, an activist sweep on the left failed to materialize.
Suburbanites are more fired up than rural voters
The most significant harbinger from the Ohio race may not be the narrow margin, but the turnout gap between the most and least heavily populated parts of a district that absorbs the close-in suburbs of Columbus and rural stretches of central Ohio.
In both Franklin County, which includes Columbus, and Delaware County, the fast-growing suburb just north of Ohio's capital, 42 percent of voters turned out. But in the five more lightly populated counties that round out the district, turnout ranged from 27 to 32 percent.
This is an ominous sign for Republicans: The highest-income and best-educated elements of the electorate — those deeply uneasy with President Trump — are showing the most interest in voting. Defending a few dozen districts that are either more heavily urban or feature a similar demographic mix as Ohio's 12th District, Republicans will need to find a way to win back suburbanites or better galvanize rural voters. If they do not, their House majority will slip away.
The activist wing of the Democratic Party mobilized for several of the night's biggest races, trying to replicate the insurgent victory of Alexandria Ocasio-Cortez in New York earlier this summer — and for the most part falling short.
In Michigan, Abdul El-Sayed, a youthful candidate for governor backed by Ms. Ocasio-Cortez and Senator Bernie Sanders of Vermont, lost a primary by about 20 percentage points to Gretchen Whitmer, a former Democratic leader in the state legislature. And in Missouri, Representative William Lacy Clay turned back a challenge from Cori Bush, who campaigned alongside Ms. Ocasio-Cortez and framed her candidacy in similar terms.
The left still displayed real political force: Mr. El-Sayed and Ms. Bush both won more than 30 percent of the primary vote as underdog candidates. But the night was, on the whole, a display of strength by more conventional Democrats and a reminder that Democratic primary voters across the country are not necessarily motivated chiefly by liberal ideology.
Read more about Tuesday night's results
Conor Lambs do not grow on trees
When Democrats captured a special House election in Pennsylvania earlier this year, they did so with a candidate who hailed from a well-known local political family, served as a Marine and did a stint as a federal prosecutor. Tall, clean-cut and proud to show off his skills with a rifle, Representative Conor Lamb "looked the part," as Mr. Trump likes to say.
Running in somewhat of a less forbidding district in Ohio on Tuesday, Danny O'Connor, a 31-year-old county official, was hailed by Democrats for mounting a strong campaign. But he was no Conor Lamb. Mr. O'Connor took a vacation out of the country after winning the primary this year, as some local Democrats noted.
Far more important, he just did not have the sort of compelling biography that Mr. Lamb wielded. That may have made only a small difference, but it could prove decisive in an election that may be decided by fewer than 1,000 votes after absentee and provisional ballots are counted. Even in a turbocharged environment such as this for Democrats, candidates still matter.
Women break through in governors' races
Ms. Whitmer was not the only woman to claim a major-party nomination for governor on Tuesday night. In Kansas, Democrats selected Laura Kelly, a state senator, to compete for the governorship in a red state where Republican strife may have created a political opening for Democrats.
[Get full results from Kansas here.]
Their victories bring to 11 the number of women nominated for governorships this year — a breakthrough in a political arena, executive offices, that has been especially unfriendly to women in the past.
In some places, like Georgia and Maine, female candidates nominated this year could be the first women ever elected to lead their states. But that would not be the case in Michigan and Kansas: In both states, women have served as governors in the past. And in Kansas, Ms. Kelly won her primary with the help of one such former governor, Kathleen Sebelius, who supported her candidacy forcefully.
It was a big night for labor
After years of successive defeats across the Midwest, labor unions asserted themselves convincingly on Tuesday night.
In Michigan, powerful unions led by the United Automobile Workers helped secure the Democratic gubernatorial nomination for Ms. Whitmer. And in Missouri, voters struck down a law that barred private-sector unions from collecting mandatory dues from workers who decline to become union members. The Missouri vote was a lopsided win for labor, with about two in three voters opposing the so-called right-to-work law.
If the results were encouraging for unions, their bigger test will come in November, when candidates like Ms. Whitmer give them a chance to reclaim some power in states like Michigan, Ohio and Wisconsin, where Republicans have controlled government for the better part of a decade and repeatedly used it to curtail union power.
Alexander Burns is a national political correspondent, covering elections and political power across the country, including Donald Trump's 2016 campaign. Before coming to The Times in 2015, he covered the 2012 presidential election for Politico. @alexburnsNYT
Jonathan Martin is a national political correspondent. He has reported on a range of topics, including the 2016 presidential election and several state and congressional races, while also writing for Sports, Food and the Book Review. He is also a CNN political analyst. @jmartnyt