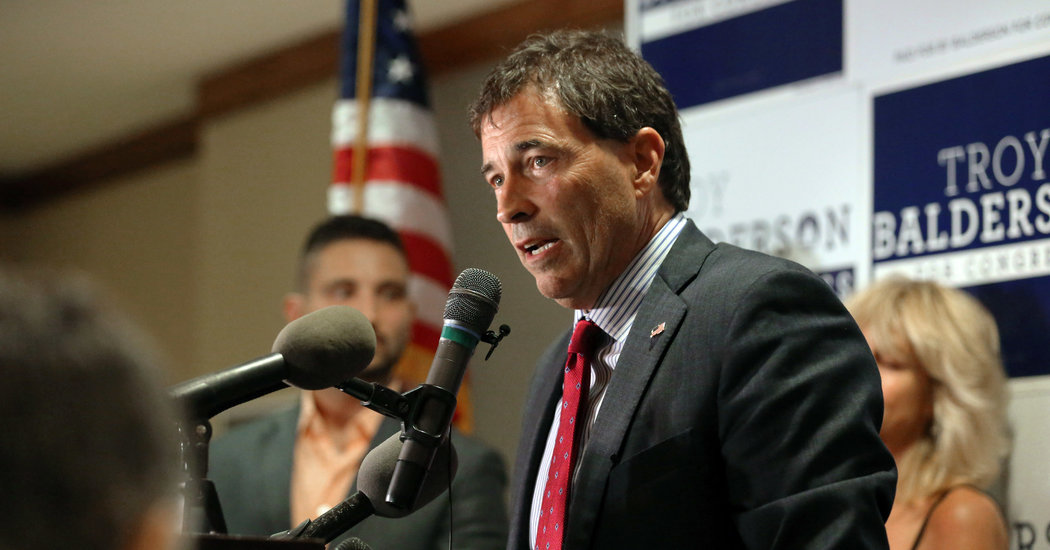 Josh Wickham, 38, a community college administrator, voted for Mr. Trump in 2016 but for Mr. O'Connor on Tuesday. He said he wanted a Democratic-majority House to be a check on the president, especially over some conservative social positions the White House has promoted. A sister of Mr. Wickham's is married to another woman and is "terrified," he said, of a conservative Supreme Court reversing same-sex marriage.
The special election was set in motion earlier this year by the resignation of Pat Tiberi, a nine-term incumbent who quit midway through his term to take over a business association back in the state capital. Republicans initially believed they could hold the district with relative ease, so long as they nominated a mainstream candidate. And so the party worked aggressively to steer Mr. Balderson, 56, through a contested primary that he barely won.
But Mr. O'Connor, the 31-year-old county recorder in Franklin County, which includes Columbus and is the most Democratic-leaning part of the district, proved unexpectedly formidable as a challenger, collecting more money for his campaign than Mr. Balderson and assailing the Republican as a threat to popular health care and retirement-security programs. And Mr. O'Connor aligned himself in his rhetoric with Gov. John R. Kasich, Ohio's Republican chief executive who is an outspoken critic of Mr. Trump, and who withheld his endorsement from Mr. Balderson until the last week of the race.
With Ohio Republicans divided and Mr. Balderson mounting a plodding effort of his own, Republican outside groups — including the National Republican Congressional Committee and the Congressional Leadership Fund, a powerful "super PAC" — had to bail him out with independent ad campaigns. And despite fears about unsettling swing voters, Republicans ultimately called on Mr. Trump to help stir up support for Mr. Balderson among conservatives who were mostly tuned out of the race.
Mr. O'Connor may have handed Mr. Balderson a decisive gift in the final stages of the race when he seemed to soften his pledge to oppose Ms. Pelosi in a television interview. The brief fumble gave Republicans a valuable opening to attack Mr. O'Connor as a conventional Democratic partisan in a district that leans well to the right.
It remains to be seen whether Republicans can deploy their Ohio rescue strategy to the same effect in other areas of the country: Democrats are contesting dozens of more moderate Republican-held districts this fall, and the G.O.P. will not be able to recreate a five-to-one spending advantage across the entire House battlefield. But by dragging Mr. Balderson to victory, the party avoided a defeat that would have dealt a crushing blow to its morale with three months left in the campaign.