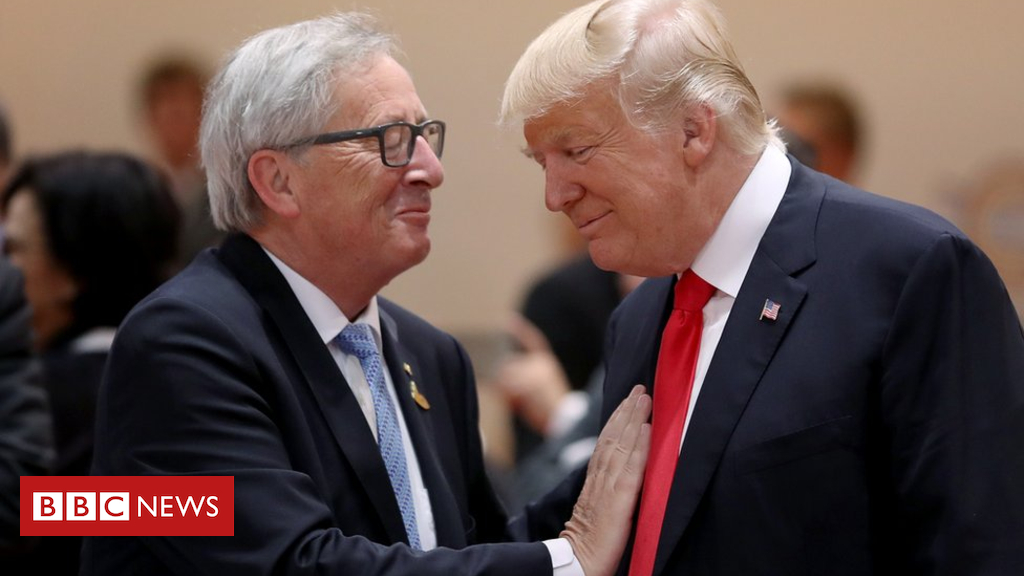 "Trade tariffs are the greatest," President Donald Trump has declared before Wednesday's vital US-EU talks aimed at averting an all-out trade war.
An ominous message for the head of the EU's executive, Jean-Claude Juncker, as he heads to Washington. Both sides have already slapped tariffs on billions of dollars of imports, but a lot more is at stake.
Will they get on?
At first glance the two men look like chalk and cheese but there are plenty of similarities.
Both see themselves as consummate deal-makers with the personal touch. Neither is known for sticking to the scripts prepared by their advisers. Each has said that relations with Russia should be less confrontational.
At the G7 summit in Canada, Donald Trump described European Commission President Jean-Claude Juncker as "a brutal killer". Mr Juncker replied that it was unusual for someone from Luxembourg to be treated as a threat.
So the banter is flowing already.
Why are they meeting?
The EU and the US are embroiled in a trade war, although Brussels would never describe it that way.
The US government has applied tariffs of 25% on imports of steel from the EU and 10% on aluminium, alleging that US national security is threatened.
The EU retaliated with levies on American exports worth more than $3bn, including iconic items like bourbon, jeans and motorbikes.
Now US authorities are considering hitting back with measures to limit imports of European-made cars.
Inevitably President Trump explained it in a tweet: "If these Tariffs and Barriers are not soon broken down and removed, we will be placing a 20% Tariff on all of their cars coming into the U.S. Build them here!"
What's Juncker's message?
The EU thinks that the rationale for the American measures on aluminium and steel - that it's all about national security - is ridiculous. A challenge has been lodged at the World Trade Organization.
The European Commission has already sent the US authorities an 11-page document which argues that targeting European car companies would be counterproductive because 120,000 American jobs are directly reliant on them.
And Brussels fears for the future of the rules-based order under President Trump, but you get the impression they quite enjoy playing the role of saviour of the system.
Does Trump hate the EU?
It looks that way.
President Trump recently described the European Union as "a foe".
He sees the EU's trade surplus with the US as a problem. He relishes Brexit.
And he really doesn't like the EU's "tax lady" - the European Commissioner for Competition, Margrethe Vestager, who has repeatedly fined American tech firms millions and millions of euros.
She has confirmed that she is a woman and she does work on tax, but that she doesn't have a problem with the USA specifically.
Can they solve anything?
The European Commission has said the trip is part of a "dialogue" designed to "de-dramatise" the situation. This is EU code for "Don't expect too much."
At the start of hostilities, the EU dangled the prospect of a free trade deal that would slash tariffs on goods flowing between the US and Europe. That offer has been withdrawn because the EU does not like the idea of negotiating under threat.
Is Juncker up to this?
Jean-Claude Juncker has had to fend off allegations that he was drunk at a Nato summit after television cameras caught him struggling to walk.
He said he was suffering a bout of the painful nerve condition, sciatica. His advisers asserted that his work wasn't affected and that he got on a plane to China the next day.
Then there was a slightly weird interlude where Mr Juncker privately gave a false date of the Washington meeting to demonstrate that no-one in Brussels could keep a secret.
"And I was successful in that endeavour because the incorrect information was passed straight on to the press," he said at the EU leaders' summit in June.
But this is a case where he is entitled to say he speaks for the whole European Union because trade is one of the areas where member states have handed control to Brussels.
Before flying to Washington, Mr Juncker spoke to the leaders of France, Germany, the Netherlands and Austria.
What do EU member states think?
So far the 28 member states have stuck together, but everyone knows that US action on cars would hurt Germany the most, and EU countries have a habit of thinking of themselves rather than the European project when vital national interests are treated.
Chancellor Angela Merkel has appealed for unity, saying "the European Union will hopefully act as united again as it has done now".
But France's finance minister has already warned that the idea of solving the problem with a trade deal for cars poses a risk to the European automotive industry by opening it up to more global competition.