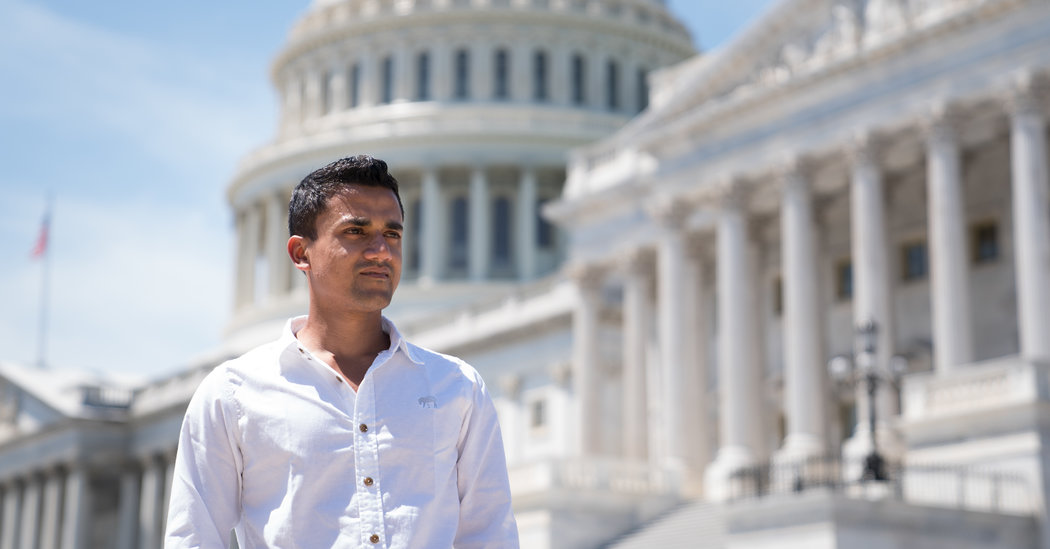 The Australia Letter is a weekly newsletter from our Australia bureau chief, who's just returned to Sydney after a trip in New York. Sign up to get it by email.
______
Imran Mohammad survived on Manus Island through sheer discipline.
He got up every morning at dawn to run, cooked for large groups at night and in between he wrote a 1,200-page autobiography, by hand, in English.
But the experience of Australia's offshore detention center — where he was held despite his status as a Rohingya refugee from Myanmar — also nearly broke him.
When I first met him in Manus, he whispered in public spaces, his eyes ever-darting, as if trying to hide from threats unseen. When we said goodbye, I remember thinking: If this guy ever gets out, he's going to succeed wildly, or he's going to be crushed by modern life.
Now he is in the United States — and I'm still not sure which way he's heading.
We met in New York last week. He'd been resettled in Chicago a few weeks earlier, and he was traveling with another Rohingya refugee from Manus and an Australian couple from Queensland who flew to the United States to see them after years of long-distance support.
As a foursome, they were a case study in hope and trauma.
Imran looked physically stronger. He told me his life in the United States, as part of the refugee resettlement deal first brokered by President Barack Obama, started with elation.
"It was just incredible to be out of Manus," he said over a breakfast of coffee and eggs near Times Square. "I've been wanting to be a free man my whole life, and when the immigration officer said 'Welcome to America' — that was all I wanted to hear."
But the more we talked the more Imran revealed that he was still haunted by Manus and by Australia's policy of indefinite detention for asylum seekers trying to get to Australia by boat.
He'd seen people die in Manus, decline into depression, or become addicted to medication. Some were attacked. And he clearly felt conflicted about his departure.
"It's horrible," he told me. "We lived together for the past five years. They become like family then suddenly you're leaving them behind."
He still stays in touch with people on the island, keeping their struggle in the front of mind. In May, another Rohingya refugee died in what appeared to have been a suicide, throwing himself from a moving bus. It was the 12th death in Australia's offshore detention camps since 2013, and the third suicide on Manus since refugees like Imran started being moved to the United States six months ago.
Imran's own transition is moving slowly.
He has only three months of government assistance. He still can't work as he waits for identification documents. He lives in a building with immigrants from all over the world, many of whom express frustration with a rising tide of American bigotry.
Imran is tougher than he looks; he fled Myanmar by boat at 16 and is now 24. But he admitted struggling with the demands of American life.
"I'm expected to function as if I've been here for years," he said. "People are more interested in hearing about your happiness than your sadness."
Isolation, depression, ambition — all three are blowing through his new life.
Sandra and Len Fulham are what amounts to shelter.
Imran calls them "my Australian mum and dad."
They run a veterinary clinic in Mount Isa, a small town in Queensland, and like many other Australians outraged by their government's actions on Manus and Nauru, they're countering official policies with personal compassion.
They first connected with Imran — and Faisal Mohammad, his traveling companion and roommate on Manus and in Chicago — through Facebook in 2015.
Before long, Sandra and "the boys," as she calls them, developed a daily habit of messaging about their lives.
Imran told me Sandra and Len sent him clothes, phone credit and books on Manus. The Fulhams also promised to visit wherever he ended up, prompting a sudden trip to Chicago and a road trip to New York and Washington, D.C.
"We just thought we'd give them the best experience we could," Sandra said.
Lovers of stars and sky, the Fulhams usually travel only for astronomical events like eclipses. But for the boys, they made an exception, sharing an enthusiastic adventure tempered by thoughts of what might have been.
Sandra was blunt: "I'm proud of them for how their coping but I'm disappointed that it has to be in America."
In Australia, she said, helping the boys adjust would have been easier.
Len said he still couldn't fathom Australia's tolerance for cruelty and waste.
"They've spent $2 million keeping Imran incarcerated," he said. "They could have gotten him a high school education, a college degree and started him in a good business."
Together, across great distances, they've created a clear alternative to the fear-driven border policies spreading through the United States, Europe and Australia. They're living proof that immigration works best when people stretch beyond their own experiences to connect.
But it's work. It takes time and emotional labor.
And as I returned to Australia after three weeks in the United States, I wondered if it was enough.
The divisions over immigration are now viral and spreading, with identity winning out over democracy in Israel, and with voters in many countries still demanding everything of immigrants and very little of those who resist them.
Sandra said she believed that Imran would find a way to succeed, and that he would help Faisal do the same. I hope so, and I'll stay in touch with them to track their progress.
But what Sandra and I are less certain of is whether the global tide will turn toward generosity, and if it does, when.
"It wouldn't take many compassionate people for life to be a lot happier," Sandra said.
Now, below, here are our stories of the week from around the world and the region, followed by a call for your story ideas as we add additional reporting capacity.
As always, we hope you'll join our Facebook group for more discussion, share this newsletter, tell your friends to sign up and send feedback to [email protected].
______
Totally switching gears from the introduction above, I can't get this story out of my mind. Who eats across a 15-hour time frame? Who eats three meals across only eight hours? Maybe I'm just still jet-lagged and unsure of my own appetite, but regardless, it's fascinating research worth digesting.
______
This may haunt (or excite) you, too.
Scientists have found a lake on Mars, beneath an ice cap — a discovery that offers an exciting new place to search for life forms beyond Earth.
• The Comedy-Destroying, Soul-Affirming Art of Hannah Gadsby: Another great take on the world's favorite anti-comedy comedian.
______
And We Want to Know …
I usually end my newsletter with a recommendation, but we have some additional writers coming aboard soon, and I wanted to see what you all think of potential beats and themes.
A few ideas we've been kicking around:
Religion and Faith: Australia lacks the strict separation of church state found in the United States, creating interactions across the government (especially involving education) that seem to be rarely explored. Where are the tension points, and who are the people and places shaping how faiths of all kinds affect Australian life?
Oceans: We've done a lot of in-depth ocean coverage already (the Great Australian Bight; assisted evolution and coral reefs) but is it worth expanding into other areas, from the business of the seas to more in-depth looks at the impact of climate change?
Aussie Values: What does it mean to achieve the Australian dream today and who is restricted from that dream? Is the country as egalitarian as it thinks, and if not, what's being overlooked as Australia has become one of the richest, most urbanized countries in the world?
If you have tips or ideas within any of these categories — or just a vote in support of one or the other — please let us know at [email protected].
And feel free to send us your own ideas.
What are the kinds of stories or areas of coverage in Australia and the region that would make you or those you know read more of The New York Times and subscribe?
Damien Cave is the new Australia bureau chief for The New York Times. He's covered more than a dozen countries for The Times, including Mexico, Cuba, Iraq and Lebanon. Follow him on Twitter: @damiencave.