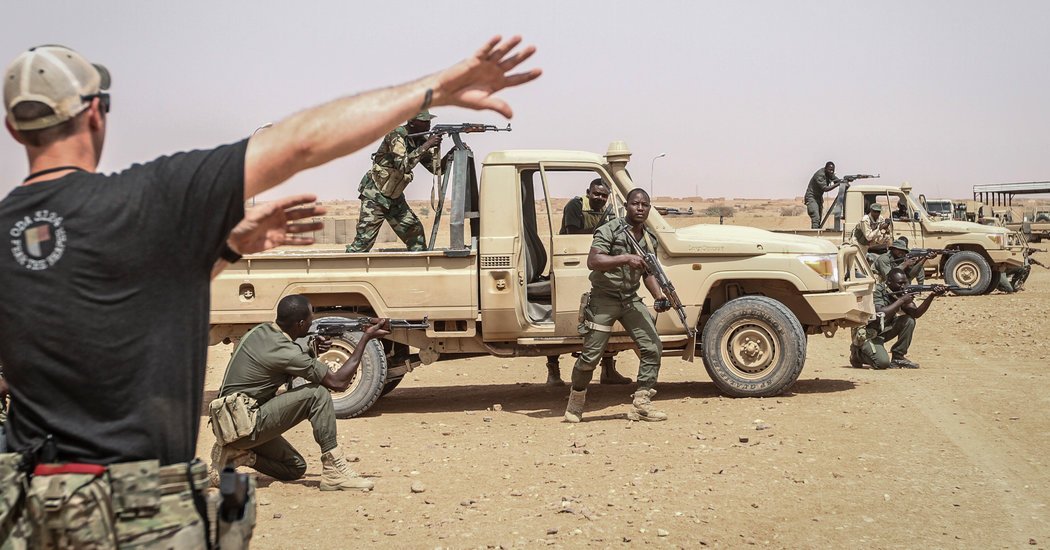 WASHINGTON — The general in charge of United States Special Operations forces in Africa has ordered American troops under his watch to "plan missions to stay out of direct combat or do not go," according to two military officials familiar with the new guidance.
The order, issued by Maj. Gen. J. Marcus Hicks, is among several new directives for the commandos in Africa after an Oct. 4 ambush in Niger that killed four American soldiers, including two Green Berets.
The series of directives, dated May 2, May 4 and May 5, were issued just days before the Pentagon is expected to release the results of an investigation into the soldiers' deaths outside the western Nigerien village of Tongo Tongo.
Already, military officials from the United States Africa Command have begun briefing Congress and family members of those soldiers on the lengthy report, which is expected to outline some of the changes to operations. A Senate Republican official who has read the Pentagon findings said they leave the decision to pursue disciplinary action to senior officials at Special Operations Command and the Department of the Army.
Additionally, the Army Special Forces Group that has been assigned to Africa since 2016 may close two outposts — one in northeastern Niger and another in an undisclosed location in North Africa, according to one of the military officials. Both officials spoke on the condition of anonymity because they were not authorized to discuss the deliberations.
Since the Oct. 4 ambush, Special Operations forces have gradually reduced the number of missions on which American advisers accompany African troops on risky operations. Those that are approved must first be vetted by officers up the chain of command who are required to take a tougher, more cautious approach when weighing the risks involved.
American commandos are now only sent on missions with local forces that are determined to have significant strategic effect, like building a new base or clearing extremists from a large area. Armed drones or other protective aircraft must accompany such missions.
If those conditions are not met, the American troops will work from fortified command centers to advise African forces on intelligence, logistics, artillery and other aspects of big operations that are important — but not as flashy as front-line combat against a range of groups aligned with Al Qaeda or the Islamic State.
Those changes were outlined in the new directives that General Hicks issued last week, formalizing guidance he had messaged to commanders over the past few months. They also prohibited units from relying on a specific kind of mission planning process — as was used in the fateful Oct. 4 patrol — that gave more autonomy to troops on the ground.
That process had allowed units to go on operations that were approved by lower-ranking officers; a lieutenant colonel needed only to be notified about the mission. Now, missions may need to be approved by a colonel stationed in Germany.
That is a significant change for commandos who are used to making fast judgments about missions, and the move reverses guidance issued last year by the Special Operations Command in Africa.
"We've adjusted the level with which they're approved," General Hicks said in a recent interview in Niamey, Niger's capital. "We've been very deliberate about ensuring that communication is absolutely seamless at every level."
He declined to be more specific but said his command had already made changes in its operations based on internal reviews.
By focusing on larger-scale operations instead of smaller, tactical-level training, General Hicks said that American advisers aimed to build up the ability of Niger's security forces to tackle broader counterterrorism missions.
Two months after the Oct. 4 ambush, a firefight in a different part of Niger killed 11 Islamic State extremists. By then, senior commanders had imposed stricter limits on military operations in the West African country.
In that mission, 21 Green Berets and 12 American soldiers were working with a battalion-size Nigerien army force that was accompanied by armed Nigerien aircraft. No American or Nigerien forces were harmed in the December gun battle, which the Pentagon first acknowledged in March in a terse line in an unclassified report to Congress.
The combat — along with at least 10 other previously unreported attacks on American troops in West Africa from 2015 to 2017 — indicated that the deadly Oct. 4 ambush was not an isolated episode in a country where the United States is building a major drone base.
In the weeks after the ambush, Defense Department officials said they would complete its investigation of the soldiers' deaths by January. Instead, it has taken almost seven months for the Pentagon to publicly release its findings, expected as early as this week.
The narrative of what happened in the African scrub in October has shifted several times, and the investigation is expected to lay much of the blame on junior officers instead of senior commanders.
The leader of the ill-fated team of Americans soldiers in Niger had warned before the mission that his troops did not have the equipment or intelligence necessary to carry out a kill-or-capture raid against a local extremist.
Defense officials said the report found that the team leader did not clearly outline that his team was going after the extremist, Doundoun Cheffou, who is suspected of having played a role in the kidnapping of an American aid worker, Jeffery Woodke. It describes planning and risk assessment failures, and concluded that the team had not trained as a unit for an adequate amount of time.
It remains unclear how the team leader's superiors could not have known what his unit's mission was. The team leader, Capt. Michael Perozeni, was eventually tasked with a second mission — one approved by multiple officers that specifically ordered his team to go Mr. Cheffou's campsite. It ended hours later, in the ambush.
Helene Cooper contributed reporting.