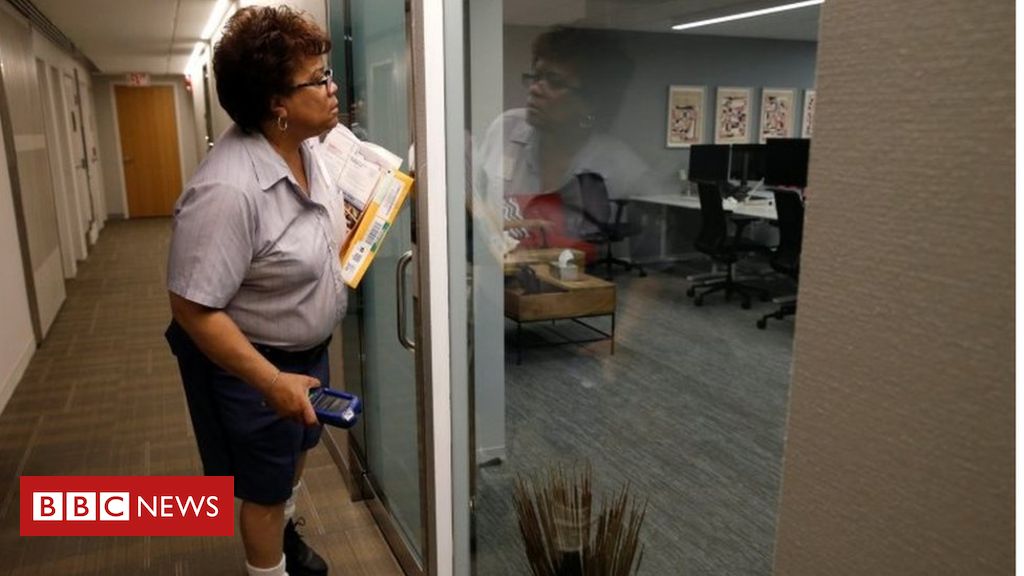 Are Cambridge Analytica and its parent SCL Elections as dead as they seem?
The businesses issued a statement on Wednesday, saying they had started bankruptcy proceedings, blaming a "siege of media coverage" related to the Facebook data-harvesting scandal for the decision.
The document added that staff were being laid off as a consequence.
But the role of two other London-registered operations has been questioned.
They are Firecrest Technologies Ltd and its parent, Emerdata Ltd.
Alexander Nix, the ex-chief of Cambridge Analytica, and Julian Wheatland were listed as directors of Emerdata but also as directors of some of the wider SCL Group of companies.
Christopher Wylie - a former Cambridge Analytica worker who divulged details about its alleged efforts to swing elections - is among those who have suggested that the two companies could pick up where Cambridge Analytica left off.
"Remember: Cambridge Analytica specialises in disinformation!" he tweeted on Wednesday evening.
"We need to make sure their shutdown is not just some rebranding or a way to hide from investigations."
The BBC attempted to contact Firecrest and Emerdata - both list accountancy firm PKF Littlejohn's Canary Wharf office as their registered address.
However, the woman who answered the phone at PKF Littlejohn said that it was "not prepared to make any comment" on the matter.
PKF Littlejohn's office is also listed as SCL Group's contact address.
A spokesman for Cambridge Analytica did not respond to a request to clarify if there is a relationship between the companies
Both Channel 4 News and the New York Times have reported that Nigel Oakes, a British director of the SCL Group, has said that Emerdata was set up to acquire and roll together Cambridge Analytica and SCL Group under a new name.
Billionaire family
Emerdata has no website, but its listing on Companies House says it is engaged in "data processing, hosting and related activities".
The firm's records reveal the nine-month-old business became involved in a flurry of activity in the days surrounding the Observer newspaper's expose of the Facebook data harvest, and Channel 4 screening a hidden camera video showing Cambridge Analytica chief Alexander Nix discussing potential ways to discredit politicians.
This activity included the appointment of Rebekah and Jennifer Mercer as directors.
The two women are daughters of the hedge fund billionaire Robert Mercer, who is reported to have been one of Cambridge Analytica's major investors.
And the contact address given for Rebekah Mercer is the same location as Cambridge Analytica's New York operation.
Neither of the sisters had been directors of Cambridge Analytica or other SCL Group businesses before.
In addition, Mr Nix - who had been one of Emerdata's directors - had his post terminated.
He was replaced by Cambridge Analytica's chief data officer and acting chief executive, Dr Alexander Bruce Tayler.
A New-York based investigative journalist has tracked other alleged links between SCL and Emerdata.
Wendy Siegelman told the BBC that she was particularly intrigued by Emerdata's appointment of the Chinese businessman Johnson Chun Shun Ko as one of its directors in January.
Mr Ko had not previously been a director of either Cambridge Analytica or the SCL Group.
"He has a business partnership with Erik Prince, who plays a key role in the Trump-Russia investigation," she said.
"And [President Trump's former chief strategist] Steve Bannon has reportedly been a very close associate of Mr Prince."
Mr Bannon co-founded Cambridge Analytica and recently said he had coined its name.
"I wonder if Bannon is still operating in the background even though he's not a director," added Ms Siegelman.
Firecrest describes itself as a "business and domestic software" developer.
It was only created on 7 March, while the Observer newspaper report was still being prepared.
Somewhat bizarrely, Alexander Nix was appointed and then stood down as its director the same day
Dr Tayler has been in charge ever since.
Bankruptcy law
Even if Emerdata and Firecrest are intended to carry out similar work to Cambridge Analytica, UK insolvency law prevents them simply walking away with its data.
"All the assets are now under the control of the administrator, so the directors no longer have any powers to do anything," said Nick Hood, a consultant to the insolvency specialist Opus Restructuring.
"In a high-profile case like this, the administrator would look at the intellectual property of the firm, consider how best to market it and might well talk to the people who used to run Cambridge Analytica to see if they are prepared to pay a reasonable market price for those assets.
"But no insolvency practitioner would simply allow the assets to be taken, as he would be for the high jump."
Mr Hood added that any sale would leave a paper trail stating who the new owner or owners were.
"It's a very transparent process," he said.
The Information Commissioners Office has already made it clear that it intends to keep track of what happens next, as part of its investigation into the use of personal data by political campaigns.
"The ICO will continue its civil and criminal investigations and will seek to pursue individuals and directors, as appropriate and necessary even where companies may no longer be operating," it said in a statement.
"We will also monitor closely any successor companies using our powers to audit and inspect, to ensure the public is safeguarded."
Cambridge Analytica has denied any wrongdoing and claims an "independent investigation", carried out at its request, failed to find evidence to support the allegations made against it.
However, others - including Observer journalist Carole Cadwalladr - remain unconvinced.