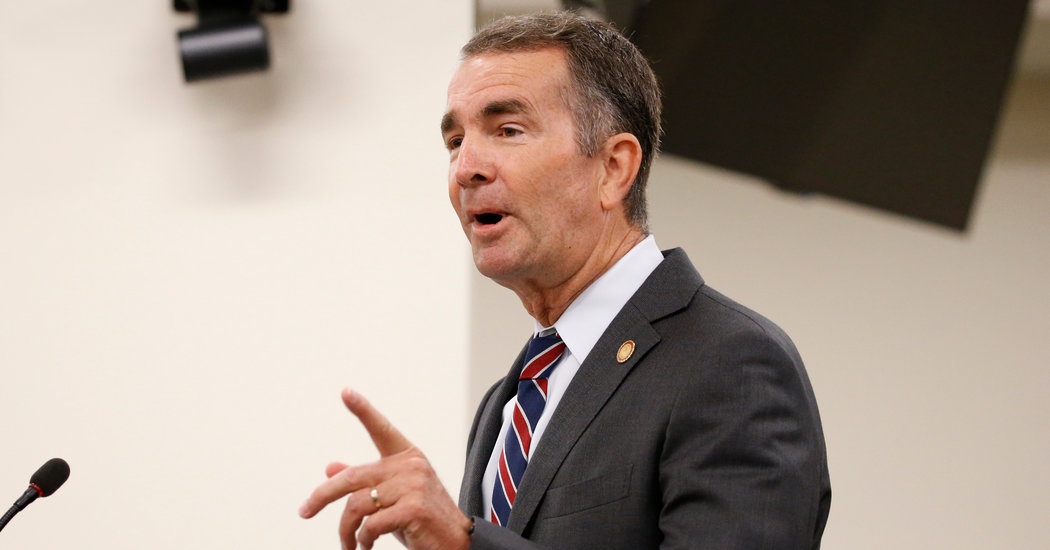 A task force assembled by Gov. Ralph Northam to help purge discriminatory and racist language still on the books in Virginia has recommended repealing almost 100 laws, according to a report released Thursday.
Many of the laws, some of which are no longer enforced or have been invalidated, stem from the state's segregationist past, including Jim Crow laws and Virginia's Massive Resistance policy, a coordinated effort to thwart federally mandated laws to integrate schools, transportation and neighborhoods. Other laws prohibited interracial marriage and imposed a poll tax designed to prevent black Virginians from voting.
"Repeal of these outdated, unjust, and in many cases plainly racist Acts of Assembly is an important step in recognizing and correcting the sins of the past," Cynthia Hudson, Virginia's chief deputy attorney general and chair of the governor's commission, said in a statement.
"If we're going to move forward as a Commonwealth," Mr. Northam said on Twitter, "it's time that Virginia takes steps to right old wrongs and remove the racially discriminatory language that's still on our books."
The task force, called the Commission to Examine Racial Inequity in Virginia Law, included lawyers, law professors, scholars, judges and state officials. The commission identified 98 laws written from 1900 to 1960 for state lawmakers to consider striking when the legislative session resumes in January.
At a news conference on Thursday, Mr. Northam acknowledged that many of the laws identified for repeal were no longer enforced or had been overturned, but said it was still important to strike discriminatory and racist language from the state's code "because words matter and so do actions."
The Democratic governor assembled the nine-person commission in June, several months after a racist photograph from his medical school yearbook page surfaced — with one figure in blackface and another in a Ku Klux Klan robe — inciting vociferous appeals for his resignation, including from members of his own party.
Mr. Northam's initial response to the scandal was bungled, but he has since embarked on a campaign to repair damaged relationships with black constituents and lawmakers, which included the task force.
And in a turn of events, the embattled governor has moved from a precarious perch to solid ground.
In November, the state made a historic partisan shift from red to blue when Democrats took control of both chambers of the legislature and consolidated power across the state government. Now, Mr. Northam is poised to be one of the most consequential Democratic governors in the country.
The governor has goals to strengthen L.G.B.T.Q. protections and gun restrictions. He could also clear the path to remove Confederate statues across the state, an issue that has drawn national attention since a deadly confrontation in Charlottesville erupted between white nationalists and individuals who supported local officials' plans to remove a statue of Robert E. Lee from the college town.
The commission did not make any specific recommendations for handling the laws governing the statues, according to the report, but said it "will continue its careful and deliberate review of the Acts concerning the Confederacy and will await orderly judicial or legislative actions."
Next year, the commission is scheduled to go deeper, the report said, and will seek out language that appears to be race-neutral or nondiscriminatory, but has "the effect of perpetuating discrimination and racial inequity."
Delegate Lamont Bagby, who heads the Virginia Legislative Black Caucus, made it clear that the governor had brought the idea of the commission to the group.
Speaking to members of the committee and a small audience at Thursday's news conference with Mr. Northam, Mr. Bagby praised the governor and said that oftentimes, a report or committee signals that an issue would be swept under the rug.
But, Mr. Bagby said, "the fact that you all have been so committed to doing the work, and doing the work in a fashion that puts us in a position to do something in this coming session, is commendable."
Ms. Hudson, the chief deputy attorney general, said the interim report was an important first step to shedding some of "the worst parts" of the state's history and building a more equitable future.
"Read it, remember, and never let it happen again," she said.