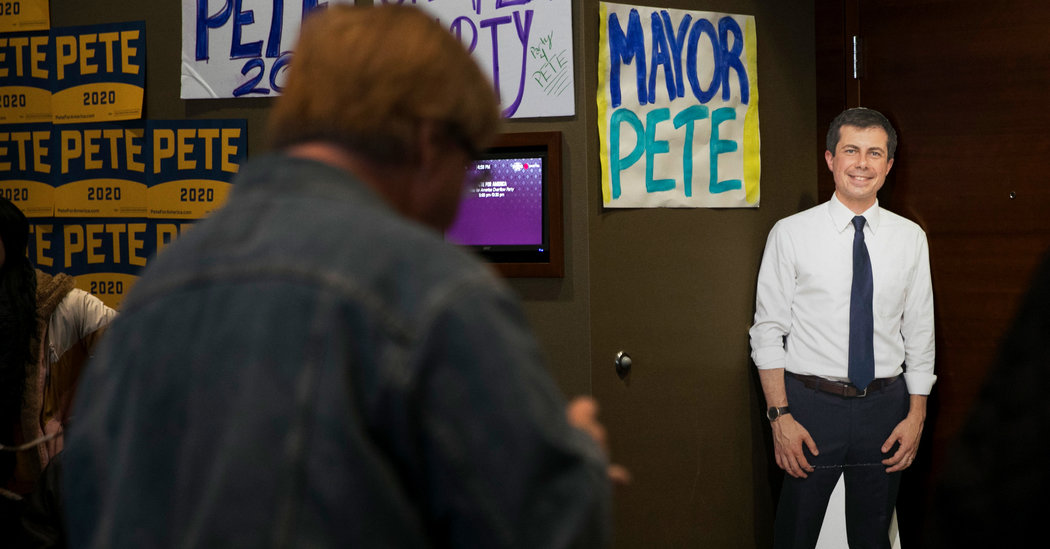 WAVERLY, Iowa — Joseph R. Biden Jr. was mingling with a handful of mayors backstage at a conference in Washington when an uninvited guest appeared.
It was Mayor Pete Buttigieg of South Bend, Ind., who'd launched an exploratory committee for his presidential run the day before, stopping by to say hello. Mr. Biden turned to greet Mr. Buttigieg, a man less than half his age.
"Hello, Mr. President," Mr. Biden said, in a voice dripping with condescension.
In the still-crowded Democratic presidential field, one man has triggered an outpouring of resentment and angst.
It's not Donald Trump.
As Mr. Buttigieg, the millennial mayor of a town smaller than a New York City Council district, rises in the polls, he has struck a nerve with his Democratic rivals.
Many of their campaigns have griped privately about the attention and cash directed toward Mr. Buttigieg. They say he is too inexperienced to be electable and that his accomplishments don't merit the outsize appeal he has with elite donors and voters. His public punditry about the race has prompted eye rolls from older rivals who view him as a know-it-all.
And in a field where most candidates find themselves strapped for cash, they snipe at his ability to raise more than anyone else in the primary field except for Senator Bernie Sanders of Vermont.
More than a dozen participants in the Democratic campaign — including rival candidates and campaign aides — spoke on condition of anonymity to discuss their views about Mr. Buttigieg candidly. They conveyed an annoyance at the McKinsey consultant certitude with which Mr. Buttigieg analyzes and makes pronouncements about the primary.
Recently, though, some of the aggravation has spilled out into the public.
Last weekend, on the Showtime program "The Circus," Mr. Buttigieg declared that the presidential contest is "getting to be a two-way" race between him and Senator Elizabeth Warren of Massachusetts.
The remark, which Mr. Buttigieg later kinda-sorta apologized for, unleashed a flood of pent-up vitriol from his opponents.
"Who's it two ways?" Mr. Biden said. Told Mr. Buttigieg said it would be himself and Ms. Warren, Mr. Biden smirked as he ducked into a waiting SUV and said, "Well, good, I hope they do well."
Senator Kamala Harris of California, whose fall in public polling has come at the expense of Mr. Buttigieg's rise, called the comment "naïve" Sunday during an interview on CBS.
It's an annoyance that has been building slowly since the summer. Asked in June about Mr. Buttigieg's qualifications to be president relative to the female candidates in the race, Senator Amy Klobuchar of Minnesota was unsparing in her assessment.
"Could we be running with less experience than we had? I don't think so," she said. "I don't think people would take us seriously."
Campaign aides acknowledge privately that Mr. Buttigieg triggers some of his rivals. But they dismiss the criticism as little more than sour grapes. Over last weekend in Iowa, he drew crowds of several hundred people in towns that numbered just a few thousand.
"This is not a contest for who is the most established, it's a contest for who is the most convincing," Mr. Buttigieg said during an interview aboard his campaign bus in Waverly. "The better we do, I imagine the more we'll feel some heat, but that just means we're doing well."
Mr. Buttigieg emerged from near-political obscurity to become a leader in the race, surpassing a flotilla of far more experienced governors and senators in the process. He now holds a commanding position in Iowa, one of the biggest bank accounts in the primary race and a string of field offices in the early voting states that is among the most of any candidate in the field.
Even if Mr. Buttigieg fails to capture the nomination, he's already won himself a coveted place in the political universe — as even those supporting other candidates acknowledge.
"I hope he doesn't enter the realm of dreamland and thinks he actually can get the nomination," said Mitchell Draizin, a donor backing Mr. Biden, who has met with Mr. Buttigieg several times. "He could end up being the big winner out of this whole thing even though he won't be president."
That's part of what infuriates his rivals, who acknowledge Mr. Buttigieg's political talent but also see him as benefiting from certain advantages.
Over the summer, a simple mention of Mr. Buttigieg's name during a conversation in the Senate chamber between Senator Cory Booker of New Jersey and Ms. Klobuchar was enough to make Ms. Klobuchar extremely agitated, according to witnesses.
Ms. Klobuchar, during an interview last weekend in Iowa, declined to answer when asked if Mr. Buttigieg is qualified to be president. Instead she pointed to his electoral record, which she said shows no signs he could beat President Trump in a general election.
"I think it's important to look at someone's track record to see what's happened when they've run statewide," she said. "There's got to be some value put on someone that has been able consistently to show that they can bring people with them. Not in one fluke race, but every single time."
In his only run for statewide office, a 2010 bid for Indiana state treasurer, Mr. Buttigieg lost.
It's not unheard-of for one candidate in a large presidential field to become unpopular with the others. In 2004, established Democrats made no secret about their dislike for Howard Dean, the relatively unknown governor of Vermont who said he represented "the Democratic wing of the Democratic Party." During the 2008 Republican primary, Mitt Romney was so disliked by his rivals that only Ron Paul would speak with him backstage before debates. Barack Obama wasn't popular among his rivals at the beginning of his 2008 race.
"It is a natural thing when a young candidate comes along and has success for other candidates who feel like they've toiled in the vineyards to resent it," said David Axelrod, the chief strategist for Mr. Obama in 2008. "I think they'd like him better if he weren't doing as well."
While Mr. Buttigieg rose from a total unknown to a fund-raising colossus, frustration about his strength in the race grew. His campaign's say-yes-to-everything media strategy won him attention others craved, which led to him posting field-leading fund-raising totals while senators and governors found themselves begging for $1 contributions just to qualify for the party's debates.
Former Representative Beto O'Rourke of Texas, another younger candidate with limited government experience, was particularly aggrieved by Mr. Buttigieg, whom he viewed as "a human weather vane" that represented the worst of politics, according to an O'Rourke aide. Mr. O'Rourke, who raised about a third as much money as Mr. Buttigieg, dropped out of the race last Friday.
Julián Castro, the former housing secretary, has taken the most direct public aim at Mr. Buttigieg. He said Mr. Buttigieg isn't trusted by minority voters who comprise a vast portion of the Democratic Party's coalition and suggested the South Bend mayor is reverse engineering political positions to fit the moment.
"It is very risky to nominate a candidate that can't attract black and Latino voters," Mr. Castro said during an interview. "He's going by the old playbook of following the focus groups, going by what political consultants tell you. If we've learned anything from Donald Trump, unfortunately in a bad way, it's that focus grouping and poll testing ain't the way that you're going to win."
As he's increased his national profile, Mr. Buttigieg has taken care to cultivate important Democratic donors, party officials and strategists, an effort helped by his failed bid for the chairmanship of the Democratic National Committee in 2017. Many former Obama staffers, including Mr. Axelrod, have heaped praise on Mr. Buttigieg. Some donors and strategists who are backing Mr. Biden say they're keeping a close eye on Mr. Buttigieg, as well.
In recent weeks Mr. Buttigieg has grown more aggressive in his attacks on his rivals, further angering them. Around Labor Day, he began defining himself as the centrist alternative to Ms. Warren and Mr. Sanders. Then during the October debate in Ohio, he attacked Ms. Warren on health care, Mr. O'Rourke on gun control and Representative Tulsi Gabbard of Hawaii on foreign policy.
His supporters said it was about time Mr. Buttigieg adopted a more aggressive posture.
"It's probably helped him a tiny bit to stand his ground against the others," said Ed Menuey, 65, a retired John Deere computer programmer from Waterloo, who came to see Mr. Buttigieg in Waverly. "If you're going to be president you're going to have to stand up and say what you really think."
At the Iowa Democratic Party's Liberty and Justice Celebration last weekend in Des Moines, Mr. Buttigieg drew the coveted first speaking slot, when the 16,000-seat arena was mostly full. He used the opportunity to describe Ms. Warren as a divisive character more interested in fighting than in achieving progressive policy outcomes.
Ms. Warren responded minutes later with a line interpreted as a shot back at Mr. Buttigieg and his campaign operation.
"I'm not running some consultant-driven campaign with some vague ideas that are designed not to offend anyone," she said.
By the time Gov. Steve Bullock of Montana spoke, last on the program, only Mr. Bullock's supporters remained. Speaking to reporters afterward, Mr. Bullock suggested Mr. Buttigieg was incapable of building a winning coalition, and dismissed his mayoral triumphs in South Bend.
"He got 9,000 votes in a college town that last voted for a Republican in 1964," Mr. Bullock said.
On the bus in Waverly, Mr. Buttigieg said his rivals had been unfailingly polite to him in their private interactions, though he acknowledged that his success may have irked those who have seen years of presidential campaign planning tossed aside by his rise.
"I'm not going to comment," he said, "on the emotions of my competitors."