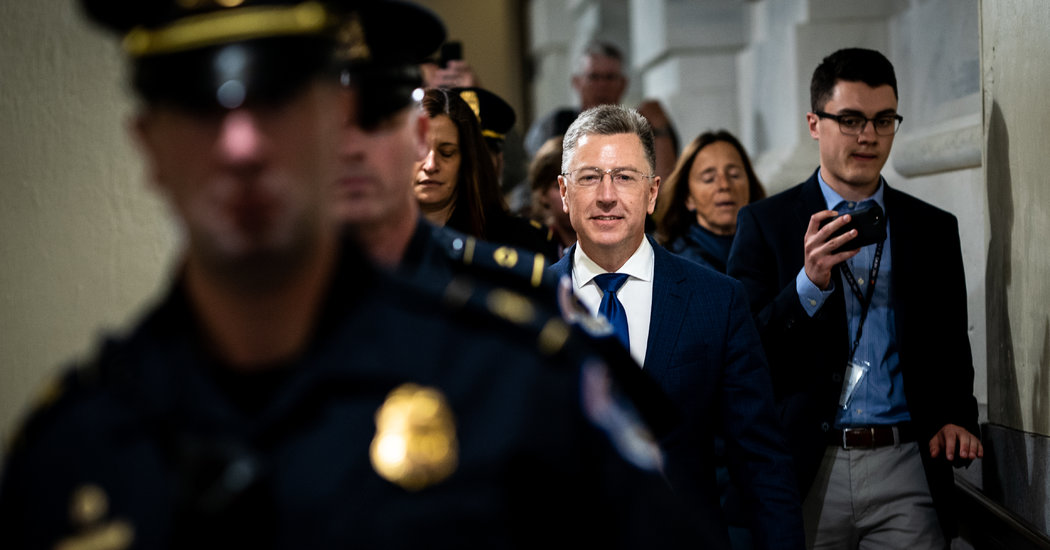 WASHINGTON — As the impeachment inquiry has picked up speed in recent weeks, Americans have heard a lot about the "three amigos" — a trio of Washington figures who worked with President Trump's personal lawyer, Rudolph W. Giuliani, to carry out Mr. Trump's plan for Ukraine to investigate his political rivals.
Tuesday afternoon, the first of the amigos — Kurt D. Volker, Mr. Trump's former special envoy to Ukraine — will testify before the House Intelligence Committee.
Mr. Volker is a career diplomat who served as the United States' permanent representative to the North Atlantic Treaty Organization under President George W. Bush and was most recently the executive director of the McCain Institute for International Leadership, a Washington-based research group affiliated with Arizona State University.
In 2017, he volunteered to be Mr. Trump's envoy to Ukraine, but resigned abruptly on Sept. 27, one day after the release of an explosive whistle-blower's complaint that revealed he had been working as a go-between to connect Ukrainian officials to Mr. Giuliani in a back-channel effort at shadow diplomacy.
Republicans and Democrats both believe Mr. Volker has something important to say.
Democrats are eager to have him testify because of text messages between him, Mr. Giuliani and another of the amigos, Gordon D. Sondland, Mr. Trump's ambassador to the European Union. The messages reveal that Mr. Trump was trying to pressure President Volodymyr Zelensky of Ukraine to investigate a discredited theory about Ukraine's involvement in the 2016 elections, as well as former Vice President Joseph R. Biden Jr. and his son Hunter, by dangling two things Mr. Zelensky coveted: a White House meeting with Mr. Trump, and $391 million in military aid that Congress had approved for Ukraine, but which the president was refusing to release.
(Mr. Sondland will testify Wednesday; the third amigo, Energy Secretary Rick Perry, is not on the list of witnesses.)
"Heard from White House — assuming President Z convinces trump he will investigate / 'get to the bottom of what happened' in 2016, we will nail down date for a visit to Washington," Mr. Volker wrote to a top aide to Mr. Zelensky on July 25, the same day that the two presidents spoke by phone in a conversation that is now central to the inquiry.
But Republicans believe Mr. Volker can help exonerate Mr. Trump, because during his closed-door testimony he said that he was not aware of any quid pro quo that tied the investigations Mr. Trump sought to military aid. Mr. Volker plans to testify that he was out of the loop at key moments during the events in question.
Mr. Volker was the first witness to testify in the impeachment inquiry behind closed doors in October. He told investigators that "at no time was I aware of or took part in an effort to urge Ukraine to investigate former Vice President Biden." He said that Mr. Biden was "never a topic of discussion" in the text messages. But the messages include references to Burisma, the Ukrainian energy company on whose board Hunter Biden served.
On the surface, Mr. Volker appears more loyal to Mr. Trump than the other career diplomats who have testified. In 2016, he pleaded with two former Republican officials not to publish a letter promoting the "Never Trumper" movement.
Mr. Volker, 54, began his government career as an analyst with the C.I.A., and joined the State Department as a Foreign Service officer in 1988. His overseas assignments included London, Brussels and Budapest. He rose through the ranks, eventually becoming the deputy assistant secretary of state for European and Eurasian affairs under Mr. Bush, but was pushed out when President Barack Obama took office.
While serving as the unpaid, part-time special envoy, Mr. Volker also worked as a strategic adviser to BGR Group, a firm that has lobbied on behalf of Ukraine. But the Ukraine inquiry cost him his job at the McCain Institute, established by former Senator John McCain, which Mr. Volker had led since 2012. He resigned last month, saying the investigation would be a distraction.