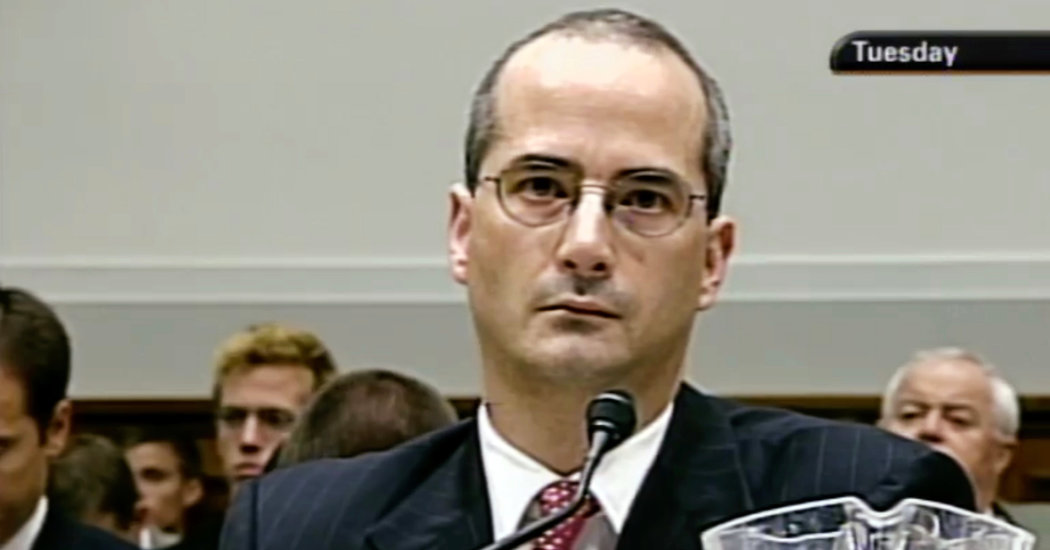 WASHINGTON — The complaints came to the National Security Council's top lawyer within hours of each other in early July. Two senior aides said they feared that one of President Trump's top political appointees was improperly pressuring Ukrainian officials to help the president's political fortunes.
The lawyer, John A. Eisenberg, remained impassive, taking notes as the aides conveyed their concerns, according to congressional testimony released Friday. He promised one official he would follow up and shared the complaints with the White House counsel, who advised him to raise them with Mr. Trump.
But instead of briefing the president, Mr. Eisenberg and his deputy decided that while the efforts of the appointee — Gordon D. Sondland, the ambassador to the European Union — were unorthodox, they were not criminal, according to a person briefed on their decision. Mr. Eisenberg set aside the concerns of the senior aides, one of whom who would go on to describe Mr. Sondland to impeachment investigators as a national security risk because he was so unprepared for his job.
Mr. Eisenberg would come to the same conclusion again and again when confronted with revelations that Mr. Trump had ordered up a shadow Ukraine policy to advance his personal interests: However disturbing the facts, no one involved violated the law.
Mr. Eisenberg has emerged as a central figure in the impeachment inquiry, appearing frequently in the new transcripts. House investigators want to question him, but he skipped a scheduled deposition this week.
Officials have also blamed Mr. Eisenberg for the decision to store on the White House's most secure server a reconstructed transcript of the July 25 call in which Mr. Trump pressed Ukraine's president to announce investigations that could benefit him politically. White House lawyers are conducting an internal review on the handling of the call record.
But Mr. Eisenberg denies that he ordered the transcript placed in the system, which is typically reserved for more highly classified files, according to the person briefed on his actions. He directed only that access to the document be restricted to prevent leaks and White House officials overly interpreted his order, the person said.
Mr. Eisenberg, 52, served a decade ago as a Justice Department lawyer who worked on surveillance law. Interviews with more than two dozen current and former colleagues paint a portrait of a meticulous, conservative lawyer with a tightly wound and introverted, sometimes prickly manner.
Former associates questioned whether his experience made him an awkward fit for his current role, which requires rendering legal judgments in fast-moving crises arising from military and intelligence operations. The Trump transition team selected Mr. Eisenberg over many prominent Republican national security lawyers who had signed "Never Trump" statements.
A White House spokesman said Mr. Eisenberg, one of the longest-tenured White House aides, was an "honorable and skilled" official and declined to address questions. Friends said Mr. Eisenberg was focused on his job and had discounted as false much of the public account of his handling of the Ukraine crisis.
"Does John understand that people are saying things about him that are half-truths and are particularly irritating to anyone who knows the other half? Yes, he's aware," said former Attorney General Michael B. Mukasey, whom Mr. Eisenberg worked under as a national security aide. "But he understands that this is Washington."
Math Major to Surveillance Expert
Mr. Eisenberg grew up in Southern California and went on to major in math at Stanford University — an unusual focus for a future Yale-educated lawyer that is reflected in how he thinks and argues about the law, friends said.
During the George W. Bush administration, Mr. Eisenberg landed at the Justice Department's powerful Office of Legal Counsel, where he came to focus on national security.
In Mr. Bush's second term, Mr. Eisenberg was among a few executive branch lawyers who tried to put its contentious warrantless surveillance program onto firmer legal footing. Mr. Bush began the program after the Sept. 11 attacks based on an expansive claim of executive power, even though a 1978 law required court orders for wiretaps on domestic soil.
Mr. Eisenberg and the other lawyers developed a creative legal theory for why a court could lawfully issue orders blessing the program. They persuaded a judge in 2007 to do so. But another judge balked, and the administration turned to Congress to enact a new surveillance law instead.
Mr. Eisenberg was methodical and careful, according to former colleagues. "He is a guy that is very much about the rules," said John Yoo, a Bush administration lawyer who wrote disputed legal opinions initially approving the surveillance program and whose opinions backing the C.I.A.'s torture of detainees made him a divisive figure.
But his focus can be rigidly formalistic. Later as an aide to the deputy attorney general, Mr. Eisenberg became involved in a policy dispute with F.B.I. officials, one person who worked with him recalled.
On paper, the deputy attorney general supervises the F.B.I. like any other Justice Department component. But as a matter of bureaucratic and political reality, the F.B.I. director — then Robert S. Mueller III — enjoyed more clout and independence.
When Mr. Eisenberg triumphantly pulled out an organizational chart to make the point that their boss worked for his boss, the F.B.I. officials responded only with eye rolls.
A Turbulent White House
After a stint in private practice during the Obama administration, Mr. Eisenberg joined the Trump White House at the start as the legal adviser to the national security adviser at the time, retired Lt. Gen. Michael T. Flynn of the Army.
Mr. Eisenberg is credited with providing a check on Mr. Flynn, as he did when he instructed the national security staff to halt all work on a proposed nuclear plant project in which Mr. Flynn had a conflict of interest.
Mr. Eisenberg also tried unsuccessfully to protect Mr. Flynn. Days into the Trump presidency, F.B.I. agents questioned Mr. Flynn at the White House as part of the Russia investigation. Mr. Eisenberg found out as the interview was happening and rushed to Mr. Flynn's office, according to a person familiar with the encounter, which was first reported in the book "The Apprentice" by the Washington Post journalist Greg Miller.
But it was too late: The agents were saying goodbye. The affair ultimately prompted the firing of Mr. Flynn, who later pleaded guilty to lying to the F.B.I. during the interview.
Defending Trump
Mr. Eisenberg's handling of the Flynn episode parallels his approach to the Ukraine crisis, friends said. In both cases, he checked excesses but maintained deference to executive authority.
As the Ukraine affair emerged, administration officials came to Mr. Eisenberg with concerns. Each time, he reviewed the complaints and concluded that no one had potentially committed a crime. He regularly consulted his deputy, Michael Ellis, and checked in with Pat A. Cipollone, the White House counsel.
Mr. Eisenberg ultimately alerted the Justice Department about Mr. Trump's July 25 call, but only after the C.I.A.'s top lawyer, Courtney Simmons Elwood, informed him at the beginning of August that a C.I.A. officer had anonymously conveyed a general complaint about it.
Mr. Eisenberg initially told Ms. Elwood that he was aware of the call and saw no issues. She eventually persuaded him to consult with the Justice Department. She asked him to describe the concerns about the call, during a regularly scheduled phone call on Aug. 14 with John C. Demers, the head of the department's National Security Division, according to people briefed on the call.
Mr. Eisenberg reiterated that he saw no criminal matter but began reading portions of the transcript, according to several people briefed on the discussion. Ms. Elwood cut him off, saying that she did not need to learn details of the call. So Mr. Demers went to the White House the next day to read its reconstructed transcript, the people said.
The relationship between the C.I.A. and the Justice Department grew tense as each side grappled with whether to take up the call as a criminal matter. But Mr. Eisenberg had already made his determination that no criminal wrongdoing had occurred, said the person familiar with his actions.
His conclusion showed that Mr. Eisenberg at best failed to grasp the political gravity of complaints that raised the prospect that the president was abusing his powers, even if he was not strictly violating a criminal statute, critics said.
Defenders of Mr. Eisenberg insisted that the full picture of how the White House has handled the Ukraine affair remains hidden from view and that his record shows he knows the difference between personal and national interests.
"There is a line between President Trump's personal interests and the interests of the President," Mr. Yoo said. "John would see that line. How that line falls on the Ukraine mess will depend of the facts."
Danny Hakim contributed reporting.