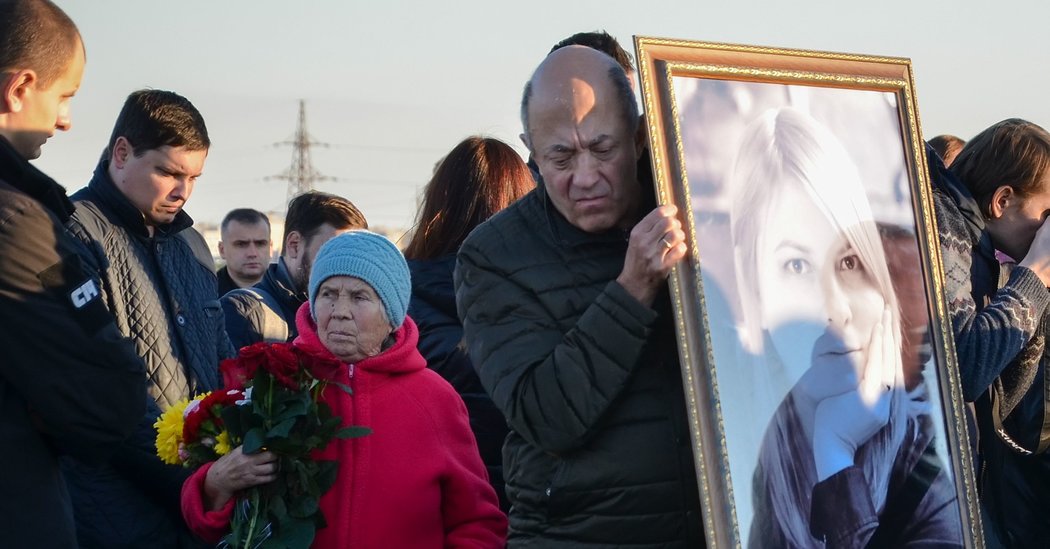 WASHINGTON — On the April night she answered a 1 a.m. phone call instructing her to take the next plane back to Washington, Marie L. Yovanovitch, the ousted United States ambassador to Ukraine, was at her home in Kiev — after having just finished hosting an event to honor a young anticorruption activist who had been killed in horrific fashion.
The activist, Kateryna Handziuk, was outside her home in the Ukrainian city of Kherson in July 2018 when someone splashed her with a quart of sulfuric acid, severely burning more than 30 percent of her body. After 11 surgeries over three months, Ms. Handziuk succumbed to her excruciating wounds. She was 33.
In public impeachment hearings, the former ambassador testified Friday about the chronology of her abrupt recall from Ukraine after a campaign of unsubstantiated allegations against her that reached President Trump. Speaking before a House committee, she also spotlighted Ms. Handziuk's story, and underscored why she had been honoring her legacy that April night in an official award ceremony attended by Ms. Handziuk's father.
"She very tragically died because she was attacked by acid, and several months later died a very, very painful death," Ms. Yovanovitch testified. "We thought it was important that justice be done for Katya and others who fight corruption in Ukraine because it's not kind of a tabletop exercise there. Their lives are in the balance."
Ms. Handziuk, an outspoken critic of graft and political corruption in Kherson, a city in southern Ukraine near Russia-occupied Crimea, was among dozens of activists who human rights groups say have been attacked in the former Soviet republic now at the center of impeachment proceedings. Five men were convicted of carrying out the attack. But Ms. Yovanovitch said on Friday that "those who ordered this have not yet been apprehended."
Her appearance helped make real the abstract concept of the fight against corruption in Ukraine, which has been a central theme of an impeachment inquiry examining whether Mr. Trump distorted American diplomacy for his own political gain. Her comments showed how, even as Ukraine fights Russian-backed separatists for territory in its eastern regions, a parallel fight is being waged by activists and journalists who risk their safety to expose wrongdoing by politicians, mob bosses and oligarchs who often work in tandem against democratic overhauls long urged by the United States and Europe.
Speaking of the slain activist, and others carrying on that effort, Ms. Yovanovitch said, "The message was: This could happen to you, if you continue her work."
Among Ms. Handziuk's causes had been focusing attention on police passivity in the face of attacks on fellow activists. Two weeks before Ms. Handziuk became a victim herself, a leading anticorruption activist in Kiev, Vitaliy Shabunin, suffered chemical burns after someone dumped a caustic antiseptic over his head at a public protest, temporarily dying his skin green.
Her death stirred outrage across Ukraine, prompting protests in at least five cities. It also drew recognition from the very top of the State Department. In March, Secretary of State Mike Pompeo hosted a Women of Courage awards ceremony at the State Department, in which Ms. Handziuk was one of the honorees.
"It's also important that we pause to recognize and honor those women who paid the ultimate price for their courageous efforts, women like Kateryna Handziuk of Ukraine, who dedicated her journalism career to uncovering and calling out corruption," Mr. Pompeo said. "Even after a brutal acid attack, which ultimately claimed her life three months later, Kateryna refused to be silenced. From her hospital bed, she demanded justice, setting a powerful example for her fellow citizens."
Less than two months after that event, while hosting Ms. Handziuk's father at her home in Kiev to present him with the award, Ms. Yovanovitch received a 10 p.m. call from a senior State Department official first warning that there were unspecified "concerns" about her among senior levels of the department. A follow-up call three hours later advised her to take the next plane back to Washington.
On the first anniversary of Ms. Handziuk's death this month, Ms. Yovanovitch's acting successor in Kiev, William B. Taylor Jr., recorded a video tribute posted by the American Embassy there. "We urge justice for Katya and her family. We remember her and we will continue to push for the kind of Ukraine that she gave her life for," Mr. Taylor, currently the chief of mission in Kiev, said.
Just two days later, Mr. Taylor himself testified before the House. Trump administration officials had set up an "irregular, informal channel" of diplomacy there, he said, one that hampered the American effort to help Ukraine defeat corruption.