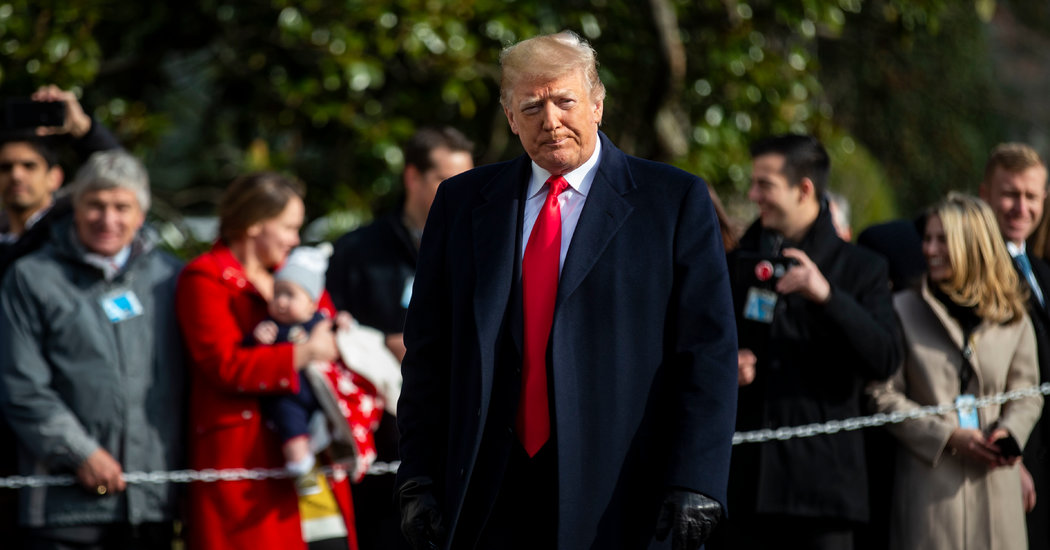 WASHINGTON — President Trump extended his timeline on Tuesday for choosing a new chief of staff to succeed John F. Kelly, telling reporters that he was in "no rush" and that the search process could drag on for weeks as the White House scrambles to find a suitable candidate to lead the West Wing at a pivotal moment.
"We have a lot of people that want the job, chief of staff," Mr. Trump told reporters in the Oval Office after engaging in a heated back-and-forth about a border wall and a government shutdown with the Democratic leaders Senator Chuck Schumer of New York and Representative Nancy Pelosi of California. "We'll be seeing what happens very soon. We're in no rush."
Mr. Trump added that it would take another "week or two" to make a decision, citing a period of time he often invokes but almost never sticks to.
The extended timeline is the latest sign of how Mr. Trump was caught on his back foot after his top candidate for the position, Nick Ayers, Vice President Mike Pence's chief of staff, declined to agree to the terms of the job that the president requested.
On Saturday, after he announced Mr. Kelly's departure, Mr. Trump told reporters that he planned to announce a successor "over the next day or two," and top White House aides like Jared Kushner, the president's son-in-law, were telling allies that Mr. Ayers was a done deal.
But now, Mr. Trump is back to square one, and he is even praising the person he has been desperate for months to be rid of. "We have a wonderful chief of staff right now," the president said, explaining why he was suddenly in no rush to make a change.
Mr. Kelly is not playing a lead role in choosing his successor, according to people familiar with the process. It is Mr. Ayers, who is still well regarded by the Trump family, who is reaching out to potential candidates. Mr. Kushner, who pushed for Mr. Ayers, is also playing a role in the search.
But one senior administration official said it was not clear whether Mr. Kushner and Mr. Trump had the same names in mind for the job.
"The president will make the right choice for chief of staff when he's ready," Mr. Kushner said Monday night in an interview with Sean Hannity on Fox News. "Hopefully he'll choose somebody he's got great chemistry with, great relationship with, who will help him navigate the next couple years."
Mr. Kushner's comments underscored a key factor that was lacking in Mr. Trump's relationships with his first two chiefs of staff, Reince Priebus, the former Republican National Committee chairman, and Mr. Kelly: personal chemistry.
The president posted on Twitter on Tuesday morning that "many, over ten, are vying for and wanting the White House Chief of Staff position," pushing back against reports that he is having trouble recruiting.
In reality, the number of people actively expressing interest is far smaller.
David Bossie, a former campaign aide, is publicly campaigning for the job, and Representative Mark Meadows, a hard-right Republican congressman from North Carolina, has made it clear that he would be interested in the position if it were offered to him. But others who have been considered — like Steven Mnuchin, the Treasury secretary; Robert Lighthizer, the United States trade representative; and Mick Mulvaney, the director of the Office of Management and Budget — have so far made it clear that the timing is not right for them to leave their current posts.
Mr. Bossie, who is scheduled to meet on Friday with Mr. Trump at the White House, appeared to be making a pitch based on his experience with the congressional oversight process, gleaned from his work as a House investigator during President Bill Clinton's impeachment.
In an interview with Mr. Trump's favorite morning program, "Fox & Friends," Mr. Bossie said the president needed a chief who would be "able to handle what is the subpoena cannon — somebody who will understand what the House is going to do to him and White House staff in trying to drag them into a legal process and an investigative process that will slow down the success of this White House."
For his part, Mr. Meadows described himself as "more of a strategy guy" to reporters on Monday.
People close to Mr. Trump said that he will almost certainly want assurance that someone would accept the job before he actually offers it.
Last year, when Mr. Kelly was on the ropes, some former White House advisers started to float the idea of doing without a chief of staff. Stephen K. Bannon, the former chief White House strategist, for instance, pitched the idea of running the West Wing how Mr. Trump "ran the 26th floor of Trump Tower," that is, a structure in which Mr. Trump was the axle of power and all of his aides were there spokes.
But even Mr. Bannon said on Tuesday that he does not think that model would work anymore.
"The Democrats are about to unload a relentless investigatory apparatus on this White House, the likes of which this town has never seen," he said. "This is not the 26th floor and this is not the Trump Organization. You need discipline, grit, close order drill — in short, an experienced taskmaster who knows Capitol Hill."