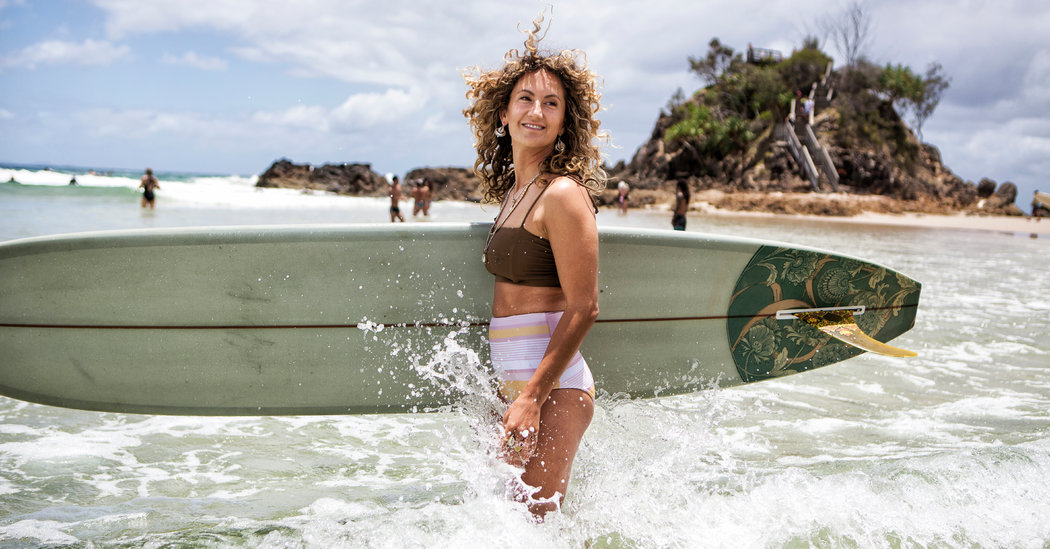 STREET STYLE
Playful looks abound in this beach community where the waves become a runway — hiding out as far east as you can go in Australia.
Celeste Twikler, jewelry designer
When dressing, comfort is always my top priority. It's got to be effortless, ready to go. I'm not into buying the newest, latest and greatest — every now and then I'll buy a staple piece. I love my bikinis to have a bit more coverage. This one is from a local designer, Saint Helena, and I love them because they are feminine and offer that coverage. I don't want to be coming of a wave and worrying about where my bottoms and tops are. The girls surfing here at The Pass are pretty stylish. The wave can be a bit of a runway, there are lots of girls in high cut bikinis and jewelry. I'm not into it as much but I can appreciate the beauty of it. It's fun. There are so many female surfers here, it is a female-dominated line up now, hence why I think fashion and surfing is popular here. The waves are relaxed and mellow, everyone is happy to share. Party waves!
Yahndi Deenay
I believe that the ego is your flavor, so my style changes from tribal to angelic, fairy, gypsy. I like to dress with a sense of magic and elemental mysticism. I paint my face every day, I feel naked if I don't and each day my face paint is different. Today's paint in more representative of my tribal heritage. I'm given a lot of my clothes from people's throw-outs and I'll go through them and make adjustments to suit my style. I like to clown around. People need more silliness in their life. Byron is full of fringe dwellers like myself.
Kamil Kustosz and Carley Hague with Myrtle Kustosz, 4, Iris Kustosz, 6, and Feather
Carley, designer: I'm heavily into dressing in vintage finds, there are so many amazing unique pieces to be found and the reuse of clothes is important to me as a stop to consuming. I'm hugely inspired by my granny's house, as a child I remember visiting and being mesmerized by her collection of colorful and eclectic things she had collected on her many travels. We're on a journey to find a new home. We like it here and we keep returning, there are so many like-minded people. The Byron Bay area feels like home for us, there is such a lovely attitude here, you're free to wear what you like and be who you want to be.
Kamil, fashion photographer: I grew up in Poland and I used to dress in gray and black. Poland has that Eastern European vibe, you don't want to stand out, and you want to be invisible. There are a lot of judgments in the small towns and dressing like this can bring unwanted attention and lead to trouble. I first met Carley in London. The way she dressed seemed more like me so I started to dress that way too. It felt liberating. She makes a lot of my clothes and has a real talent for styling. I like to dress for comfort and color. This shirt I wear is a Christian Dior and is from a second hand shop.
Feather: The reason I call myself Feather, I was going on a trip to Africa on my own because my husband had passed away about 6 months prior. I never collected feathers at that stage, I had nothing to do with feathers, I got out of the shower the morning I was leaving and there was a white feather on the bathroom floor. I picked it up and started collecting feathers. I was writing poetry at the time so I called myself lone feather. I've been collecting feathers ever since and have also incorporated feathers into my dress style. It's a hot climate and the sea also inspires me, it's very influential in what I wear. I wear a lot of white, blues, turquoises and always cowrie shells. I've lived by the beach for about 40 years. You have the freedom to go overboard, nobody takes to much notice if you do so. Don't let age define you, wear anything you want to wear, there's no fashion police around here.
Takahiro Sato
I feel the best today. The style here is absolute freedom, I feel so happy to be here.
Kiata Miakoda and Mandy Peters, 58, designer and visual artist
Kiata: My sense of style is very personal, not really reflecting the external world. I love to dress according to my whim and that's usually very feminine styles. When I was younger, I used to have a lot of pain in my heart and I started to self-harm as a way to externalize my inner pain. When I reached the age of 16, I got my first tattoo and I realized that it was the same pain I was experiencing from harming, a surrender, so I started to get tattooed. Every single tattoo that I have represents a process that I was going through in my life. I turned my emotional pain and scars into beauty. I used to love sitting for full days; my latest one, last week, I sat for 6 hours straight, and it was an amazing experience. I have both arms full and a full back.
Mandy: I'm a hunter and gatherer, I find things and put them together. Ever since I was a little girl I've wanted to put more color in the world. I use the Lady of Guadalupe a lot. I have no attachment to Catholicism; for me it's an aspect of the goddess. One of my main things is for people to take themselves less seriously. Be a joke unto yourself, which is one of my mottos. And keep them guessing! I'm quite shy, people find that hard to believe because of the way I dress. Frida Kahlo is a big inspiration for me, I love her story. I too have had a lot of health issues, I think that is part of my journey.
Parina Johansson
It doesn't matter how good-looking the clothes are, if they are not comfortable then I'm not wearing it. I love dresses that are floaty and airy and that I do not need to wear underwear underneath. If I wear a black dress like today, then I need to also wear something with a lot of flowers. My skin is so earthy, so I like to wear a lot of colors. I like Byron Bay because there are so many people free to dress the way they want to. I've never been to a place that wasn't a festival that has people so freely and unapologetically dressed the way they want to dress. I really love that. I'm originally from Sweden, there is a mentality there of "this is fashion and this is how you are supposed to dress," it's more judgmental.
Cam Giddings and Brock Favorito
Brock: I like to be expressive. We both have the long hair, it's a surfer look. Girls like it. The long hair looks like the "I don't care" look, but really you have to put more effort into maintaining it, so it's definitely to impress the girls. I like to take it chilled, not make any plans. Stay as close to the ocean as I can. Being outdoors is a priority.
Cam: I love the lifestyle here. Being in my twenties, there are plenty of other people the same age doing the same thing. It's a massive mixed culture, its very communal. It's easy to meet people here.
Jango, 34, artisan, and Natalie King, 28
Jango: I travel around the world collecting precious stones and making jewelry to sell. I'm originally from Japan, I used to live and work in Tokyo. It was too busy, so I quit and started traveling around to mines worldwide, collecting stones. The embellishment on my vest is from Ethiopia and the feathers in my hat I found on the street in Bali. I like that the things I wear have unique memories attached to them.
Natalie: I pretty much like to be able to go swimming whenever I can so I'm always in a bikini and then I'll just chuck some pants on. Utility pants are my go-to so I'm ready to do anything. I like to be able to feel feminine and also strong and grounded at the same time. The jewelry I'm wearing around my neck I have made myself from stones that I have found. Byron is full of a mix of styles, it's a great place to come, lose yourself and then redefine yourself.
Lynzi Montgomery
I dress quite eclectically. When I'm in Byron, I dress to match the hippie vibe and wear anything that's beach-friendly. When I'm in the city, I'll dress much quirkier, but I like to shop in Byron for the local labels.
Louella Beale, community worker, and Jesse Steeb, 21, gardener
Louella: All my pieces are either gifts from friends or secondhand clothes. These earrings are a gift from Peru, they are of a sacred mythical bird. I made my own head crown. I grew up in Sydney and the first time I came here I found my place, my people, I had found the Promised Land. We are all the black sheep here, of course. We are all the people who didn't work out in the mainstream, so we accept each other, so people here dress with a sense of individuality.
Jesse: My mum has taught me the most about having style. All of the items I have on today are from markets or from my mum's drawer. She is a big inspiration to my style. I had really bad style for a long time, she would subtly make suggestions, now we are very similar in style. I used to only dress in suits, only brands like Hugo Boss, but that didn't feel right anymore with my changing lifestyle, I wanted to look more flowery, colorful, alternative and special. This is also how I ended up in Byron Bay. People could be so much more beautiful if they could be brave enough to wear what they feel like. I'm impressed by the way the women dress in Byron.
Tabatha Beck
I'm a really funky street style person and every day depends on my mood and energy. I live here in a beautiful paradise, so I'm enjoying it. Known as the rainbow region, it is all about inclusion here. My favorite tattoo of mine is on my hand. It means self-love. I have been through a really tough time in my life. It reminds me to love myself.