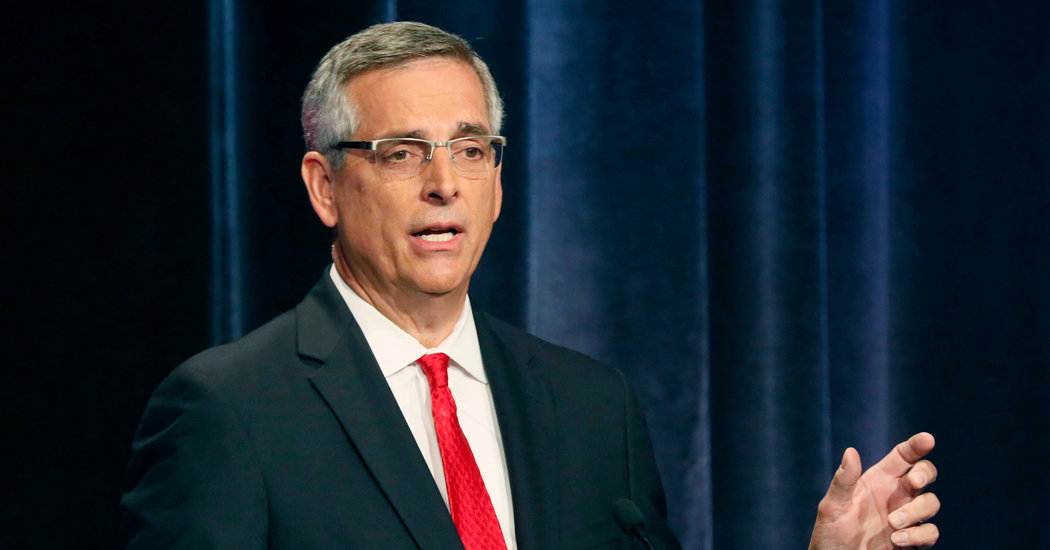 Widespread anger in Georgia over a voting system that Democrats believed to be rigged against them was not enough to prevent a Republican candidate from winning a runoff on Tuesday for secretary of state, the chief overseer of the state's elections.
Brad Raffensperger, an engineer from the Atlanta suburbs and a member of the State House, defeated John Barrow, a Democrat who supported overhauling the election system that some in his party said had helped Republicans "steal" the closely fought Georgia governor's race last month.
The Associated Press declared Mr. Raffensperger the winner at about 10:20 p.m. Eastern Time. Uncertified tallies at 11 p.m. showed Mr. Raffensperger with about 53 percent of the vote in the runoff, compared with 47 percent for Mr. Barrow.
[Check out live results in the Georgia runoff.]
Mr. Raffensperger, 63, largely supported the status quo in Georgia's election system, and said during the campaign that he was running for secretary of state "to make sure that only American citizens are voting in our elections."
He told supporters at a victory party Tuesday night, "I'm going to make sure that elections are clean, fair and accurate," the A.P. reported.
Democrats have assailed the election stewardship of Brian Kemp, the Republican who continued to serve as secretary of state while he ran for governor. He narrowly defeated Stacey Abrams, a former minority leader in the Georgia House, who was seeking to become the nation's first black female governor.
Ms. Abrams did not acknowledge defeat until 10 days after Election Day, after extended wrangling over the counting of absentee and provisional ballots. When she did, she declared that Georgia had suffered an "erosion of our democracy" on Mr. Kemp's watch.
Ms. Abrams and her allies believe that Mr. Kemp oversaw what amounted to a system of voter suppression aimed at Democrats and minority voters, with policies that purged more than one million voters from the rolls and suspended thousands of new registrations over personal data that did not exactly match other government databases.
Mr. Kemp maintained that the policies were fair and necessary to prevent voter fraud.
Mr. Barrow, 63, echoed many of the criticisms of the state electoral system lodged by Ms. Abrams and her supporters, though with less vehemence. A former congressman with a penchant for centrism, he declared in one memorable campaign commercial, "I'm a Democrat, but I won't bite you."
Ms. Abrams threw her fund-raising and organizational support behind Mr. Barrow in the runoff, and recorded a radio ad praising him and promising to keep working "until we guarantee a fair fight for future elections."
But Mr. Barrow, who had survived a decade in Congress in a conservative-leaning district by courting moderates from both parties, did not think he could win solely on liberal outrage over the voting system. He ran ads in the runoff focused not on voting rights, but on Mr. Raffensperger's tax liens.
One issue on which Mr. Raffensperger and Mr. Barrow agreed was Georgia's electronic voting machines, which critics say leave an inadequate audit trail and are susceptible to hacking. Both candidates said they favored updating the machines.
In the Nov. 6 election, the secretary of state race was even closer than the governor's race. Mr. Raffensperger led Mr. Barrow in final tallies by only about 20,000 votes out of 3.9 million cast, and fell nearly a percentage point short of the outright majority needed to avoid a runoff under Georgia law.
Turnout appeared to be much lower in the runoff. At 11 p.m., with more than 90 percent of precincts reporting, fewer than 1.5 million total votes had been tallied.