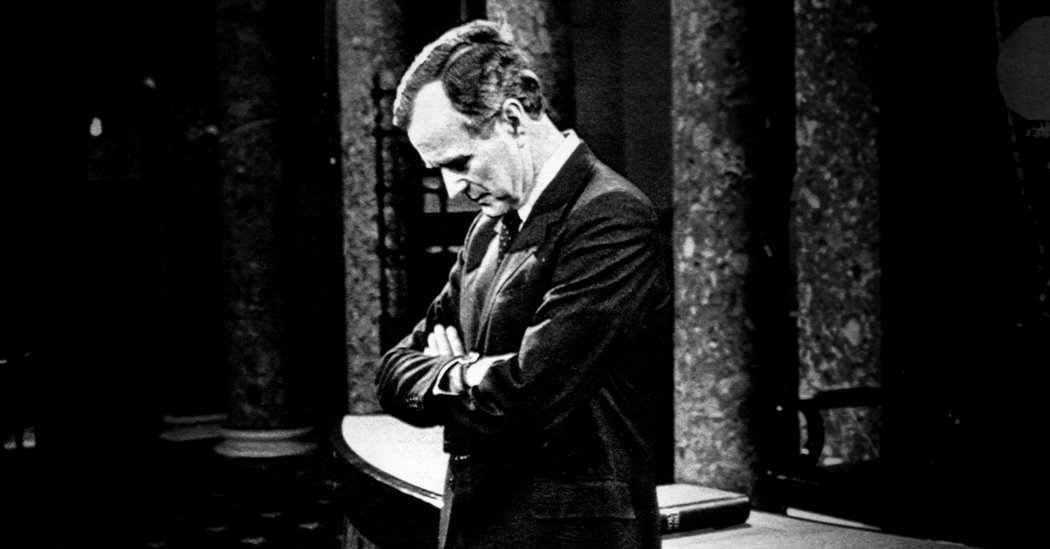 George Bush had been fading in the last few days. He had not gotten out of bed, he had stopped eating and he was mostly sleeping. For a man who had defied death multiple times over the years, it seemed that the moment might finally be arriving.
His longtime friend and former secretary of state, James A. Baker III, arrived at his Houston home on Friday morning to check on him.
Mr. Bush suddenly grew alert, his eyes wide open. "Where are we going, Bake?" he asked.
"We're going to heaven," Mr. Baker answered.
"That's where I want to go," Mr. Bush said.
Barely 13 hours later, Mr. Bush was dead. The 41st president died in his home in a gated community in Houston, surrounded by several friends and members of his family. As the end neared on Friday night, his son George W. Bush was put on the speaker phone to say goodbye. He told him that he had been a "wonderful dad" and that he loved him.
"I love you, too," Mr. Bush told his son.
Those were his last words.
Mr. Bush's final days, as recounted on Saturday by Mr. Baker, who saw him repeatedly at the end and was in the room when he died, were remarkably peaceful after an eventful 94-year life that took him from the skies of the Pacific during World War II to the Oval Office at the end of the Cold War.
[Read about the legacy of former President George Bush.]
"I can't even hardly talk about it without welling up," Mr. Baker said in a telephone interview. "It was as gentle a passing as I think you could ever expect anyone to have. And he was ready."
In addition to his doctors and caregivers, others in the room with Mr. Bush were his son Neil Bush and his wife, Maria, and son, Pierce. Marshall Bush, a granddaughter, was there. So were Susan Baker, the former secretary's wife; Jean Becker, the former president's longtime chief of staff; and the Rev. Dr. Russell Jones Levenson Jr., rector of St. Martin's Episcopal Church in Houston.
Mr. Bush lost his wife, Barbara, in April but told friends he was not yet ready to die. He had been suffering for years from a form of Parkinson's disease that made it impossible for him to walk and increasingly made it difficult for him to speak. But he was intent on making it back to his family home in Kennebunkport, Me., for the summer.
When he returned to Houston in the fall, he was somewhat diminished. He and Mr. Baker went out for oysters on the half shell two weeks ago. "Then things sort of went downhill from there," Mr. Baker said.
Mr. Bush did not get out of bed the last few days. Former President Barack Obama visited him on Tuesday while in town for an event with Mr. Baker. By Thursday, he had stopped eating and was losing weight. He told his medical team that he did not want to go back to the hospital, where several times in recent years he had been treated and seemed close to death, including most recently just after Mrs. Bush's death.
When Mr. Baker came to the house early on Friday morning, though, Mr. Bush seemed to rally a bit and began to eat again. He had three five-minute soft-boiled eggs, a favorite, as well as a bowl of yogurt and two fruit drinks. "Everybody thought this is going to be a great day and he's back and he's bounced back again," Mr. Baker said.
Mr. Baker left around 9:15 a.m. but decided to return in the evening when he and Mrs. Baker were on the way to dinner with some friends. "He was sitting up in bed and was able to converse with people," Mr. Baker said.
But on the way home from dinner, the Bakers received a phone call urging them to come back to Mr. Bush's house. They arrived about 8:15 p.m. "He had slipped considerably," Mr. Baker said.
Ronan Tynan, the Irish tenor, had called earlier in the day to ask if he could drop by, and when he showed up, Ms. Becker asked him to sing to the president. Mr. Tynan sang two songs, the first "Silent Night" and the second a Gaelic song.
As he sang "Silent Night," Mr. Baker said, "believe it or not, the president was mouthing the words."
Mr. Baker held Mr. Bush's hand and rubbed his feet. Prayers were said. The other children were called so they could tell their father goodbye.
There was no prolonged period of labored breathing. At 10:10 p.m., the former president was gone.
"If those things could be sweet," Mr. Baker said, "it was sweet."