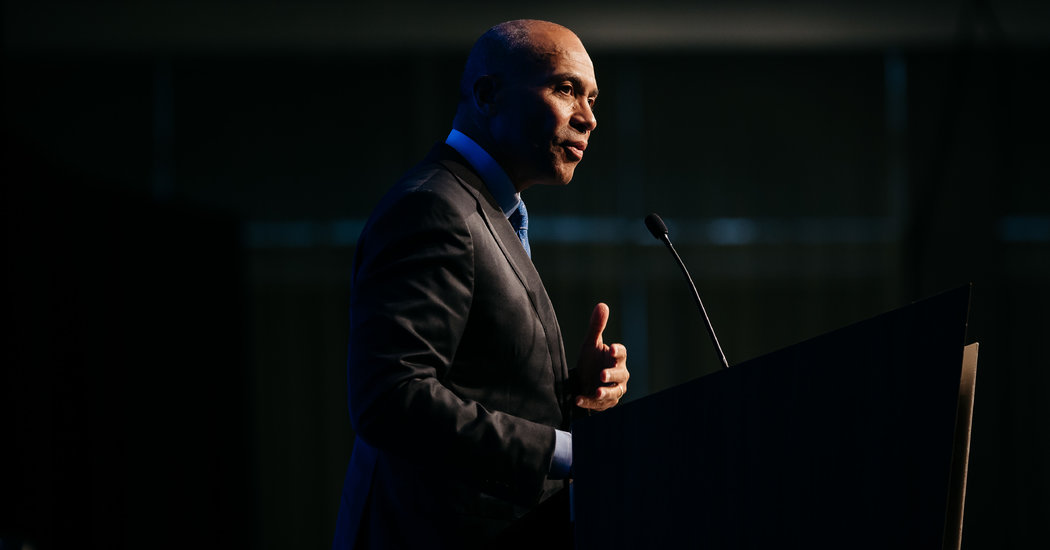 Deval Patrick, the former two-term Democratic governor of Massachusetts, plans to announce shortly that he will not run for president in 2020, according to a person close to Mr. Patrick.
Mr. Patrick had been discussing a possible run with associates and had been traveling around the country to support Democratic candidates in the midterm elections. But he had also expressed some reluctance about a possible presidential run, telling David Axelrod, a former Obama adviser, that he wasn't sure there was a place for him.
"It's hard to see how you even get noticed in such a big, broad field without being shrill, sensational or a celebrity — and I'm none of those things and I'm never going to be any of those things," Mr. Patrick said in a podcast interview in September with Mr. Axelrod.
The person who confirmed Mr. Patrick's decision, and spoke on condition of anonymity late Tuesday night to share confidential information, declined to say why Mr. Patrick would not run.
Mr. Patrick's decision was first reported by Politico. He was not expected to make any announcement Wednesday due to the national day of mourning for President George H.W. Bush.
Since leaving the governor's office in 2015, Mr. Patrick has been a managing director for Bain Capital, running a $390 million fund designed to invest in socially-responsible businesses.
Some political observers had raised questions about whether his association with Bain Capital, as well as past business dealings, might be considered a negative for Mr. Patrick in a Democratic primary contest, particularly in light of tension in the party between Democrats who support business-friendly politics and those with anti-corporate or anticapitalist views.
Already, social media memes had appeared attacking Mr. Patrick's Bain connection.
Steve Elmendorf, a Washington lobbyist and former Democratic operative, said the large field of candidates said to be considering a run for the Democratic nomination will likely shrink dramatically.
"As they look at the enormity of it and the money and the staff, and the fact that Donald Trump will begin attacking you immediately and — do you really want to do this? And the big question with Deval Patrick and a lot of others in that group is, 'Where do you get the money?'" Mr. Elmendorf said.
Other considerations were believed to include Mr. Patrick's family. His wife, Diane, a labor attorney, had been hospitalized with depression early in his first term as governor under the weight of negative media articles. She first entered the hospital under an assumed name but later openly discussed her illness. Mr. Patrick had recounted the episode in his 2011 book "A Reason to Believe."
"She hated the campaign and wanted to have a limited role," said Dan Payne, a Massachusetts political consultant who was involved in Mr. Patrick's first race.
The Times reported that earlier this year Valerie Jarrett, Mr. Obama's former senior adviser, and Michelle Obama had walked Mrs. Patrick though the demands and expectations of a national campaign, according to Democrats briefed on the discussions.
Mr. Patrick was also one of several African-American politicians who were considering a Democratic nomination bid. Senator Cory Booker of New Jersey and Senator Kamala Harris of California are expected to announce their intentions in the coming weeks.
Supporters of Mr. Patrick had earlier this year formed the Reason to Believe PAC, which had raised about $500,000. Much of the money came from Paul Fireman, a private equity investor who ran Reebok. The organization supported a number of progressive candidates in the midterm elections and had recently been holding "meet-ups" in key primary states around the country that appeared to be aimed at garnering support for Mr. Patrick and other progressive candidates.