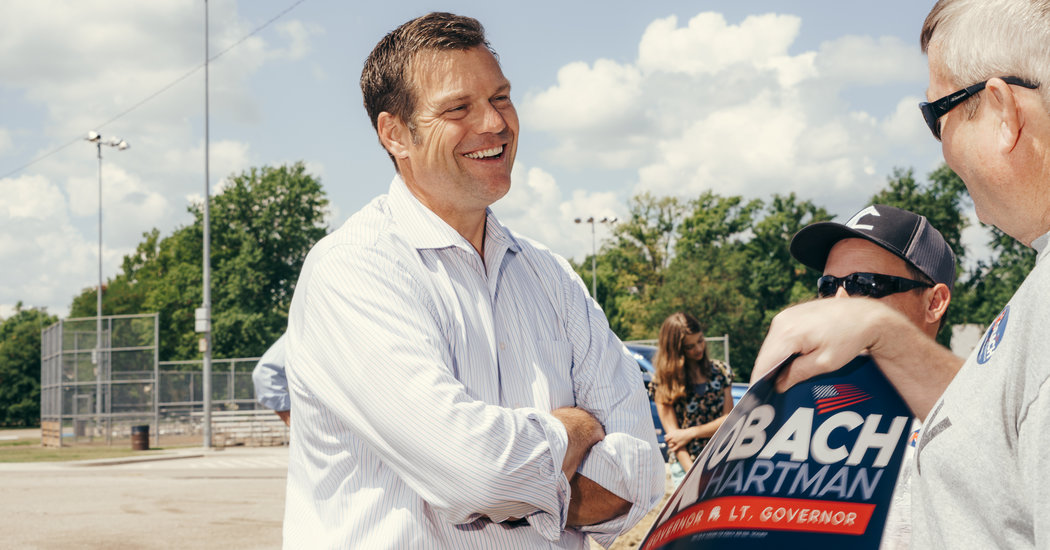 President Trump turned aside the advice of party officials and intervened in the Kansas Republican primary for governor Monday, throwing his support behind the polarizing secretary of state, Kris Kobach, one day before voters go to the polls there.
In a tweet that Republican governors and some of his own aides had sought to avert, Mr. Trump called Mr. Kobach "a fantastic guy" and offered his "full & total endorsement."
Mr. Kobach is running against Gov. Jeff Colyer, who succeeded Sam Brownback, and a handful of other Republicans in a contest that had been highly competitive. But Mr. Trump's blessing is now likely to lift Mr. Kobach, who is best-known for his hard-line views on immigration and voting rights.
The Republican Governors Association and a number of high-level party operatives counseled Mr. Trump against siding with Mr. Kobach, because polls show he is unpopular with the general electorate in Kansas and would provide Democrats an opening to take back the governorship. But Mr. Trump has grown fond of his king-making abilities after weeks of successfully intervening for candidates who went on to win Republican nominating contests from South Carolina to Georgia to Alabama.
Further, Mr. Kobach was an early and loyal supporter of Mr. Trump, endorsing him shortly before Kansas's presidential nominating caucus, and has developed a rapport with the president's eldest son, Donald Trump, Jr. And he served earlier this year as a member of the administration's short-lived voter integrity commission.
Mr. Trump telephoned some of his political advisers Monday morning to raise the possibility of getting behind Mr. Kobach, according to a Republican official familiar with the call. They relayed to him that if the party nominated a firebrand like Mr. Kobach for governor, it could have a ripple effect in the House, energizing Democrats in a pair of competitive Kansas congressional races. But Mr. Trump indicated he felt an abiding loyalty to Mr. Kobach and wanted to help an ally, the official said.
West Wing aides had hoped to keep the Kansas race away from Mr. Trump's line of sight, but were uneasy about what he may do during an extended, and unsupervised, trip to his New Jersey golf resort. And that is where the president unfurled his endorsement, blindsiding the governor's association and Mr. Colyer, who just a few days ago praised the president in an interview, and made the case for why he should not side with Mr. Kobach.
In a separate interview last week, Mr. Kobach said he spoken with Mr. Trump on the phone the previous day and that the president was aware of his polling strength in the primary. But he did not reveal much more, smiling when asked if he thought Mr. Trump would weigh in.
Kansas Republicans were already facing headwinds in this year's election because of how much Mr. Trump has energized liberals and moderates, as well as lingering unhappiness with Mr. Brownback, who left the governor's post with dismal approval ratings.
Democrats were elated, and pointed also to Mr. Trump's intercession in the Florida race for governor, where the president has backed Representative Ron DeSantis, a frequent Fox News surrogate, over the establishment favorite and state agricultural commissioner, Adam Putnam.
"Just like in Florida and Georgia, Donald Trump is bringing chaos to Republican primaries," said Jared Leopold, a spokesman for the Democratic Governor's Association. "It's extraordinary to see a Republican president endorse against a sitting Republican governor and the R.G.A."