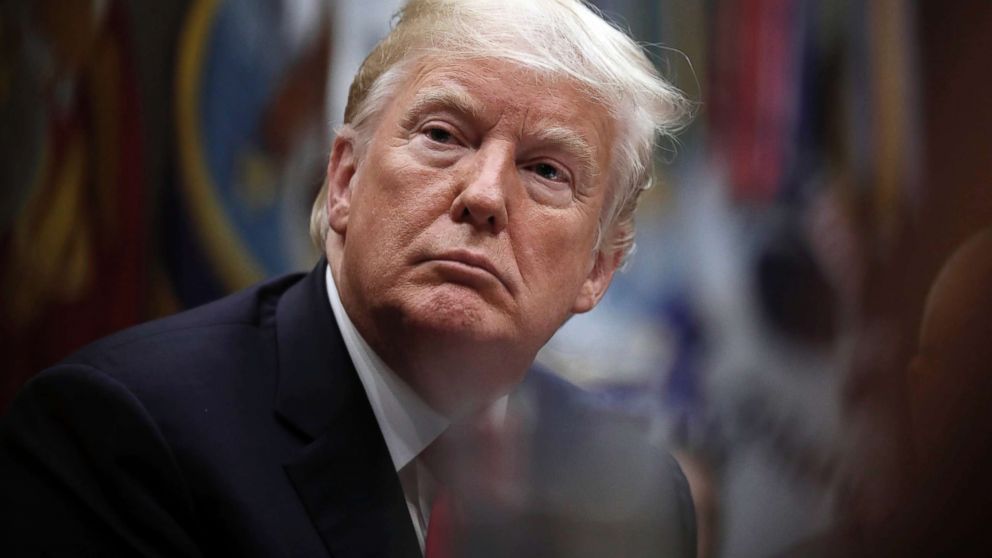 The TAKE with Rick Klein
The GOP midterm slate hasn't been hijacked by an army of Roy Moores and Don Blankenships and Kelli Wards, to name three failed Senate candidates who pledged loyalty to President Donald Trump.
But Trump's push to put himself on the midterm ballot nonetheless puts his style of politics everywhere – and potentially on the ballot, too.
In Florida, his hand-picked candidate for governor launched the first day of his general-election campaign by warning Floridians that the "last thing we need to do is monkey this up." His African-American opponent called it a "bullhorn" instead of a "whistle call," and said he took a "page from the campaign manual of Donald Trump."
Trump said he didn't hear the comments. But his own words and own conduct speak loudly enough.
The president campaigns in Indiana on Thursday for the first time since telling evangelical leaders earlier this week that Democrats would "overturn everything that we've done and they'll do it quickly and violently."
The RUNDOWN with MaryAlice Parks
He consistently called for rewriting NAFTA, and during the 2016 presidential campaign he bashed his opponent for supporting the initial trade deal.
In fact, it was always one of the biggest applause lines during Sen. Bernie Sanders' campaign stump speeches.
Fast-forward to today – and President Trump's insistence on being tough on two of America's closest trading partners arguably puts him more aligned with the independent Democratic Socialist senator than with traditionally free trade-minded Republicans.
Of course, although progressives like Sanders also wanted to modify the trade agreement, that does not mean they will like the new version Trump comes up with. Democrats and labor unions have pushed for increased environmental and labor standards to be included and it's not clear if those are priorities for the president.
Nonetheless, this week, with so much other news swirling, it would be easy to dismiss Trump's work on trade as a deliberate White House effort to distract from the headlines. But it's a cause that might resonate with a huge swath of voters, especially those frustrated by a decline in domestic manufacturing. A new deal could be, among other things, a real political win for the president.
The TIP with John Verhovek
The Texas GOP is bringing memes into one of this cycle's most anticipated Senate matchups.
The state's Republican Party is going after Democratic Rep. Beto O'Rourke, for what it claims is his refusal to debate Sen. Ted Cruz. (It's important to note that there have been various debate proposals — just none agreed to by both campaigns.)
After O'Rourke addressed his 1998 arrest for drunk driving in an op-ed proposing a plan to reform the criminal justice system, the Texas GOP trolled him, tweeting out O'Rourke's mugshot Monday overlaid with the words: "Sorry. Can't debate. Had a little too much to drink."
The Texas GOP also tweeted out an old photo of O'Rourke from his punk rock band days with "Sorry, can't debate. We have a gig." written over the photo. Republican strategist Jeff Roe then tweeted that the photo is embarrassing because O'Rourke is wearing a dress.
The episode shows the GOP's broader strategy as it tries to paint O'Rourke as too liberal for the generally conservative Texas electorate. That strategy has kept Republicans in power in the state, but it's one that, this cycle, will be put to the test.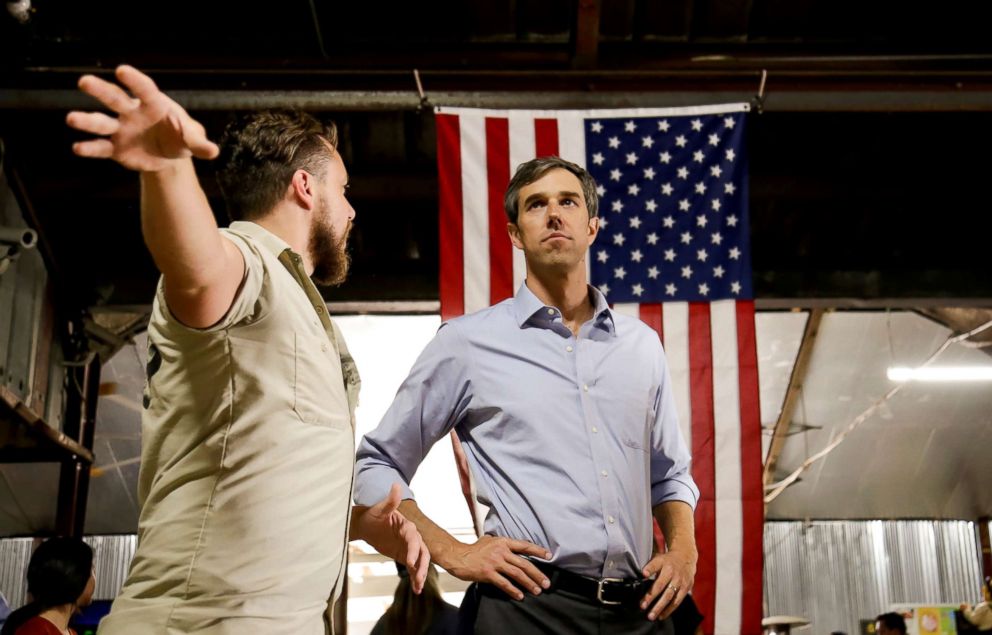 WHAT YOU NEED TO KNOW TODAY
Sen. John McCain's memorial service begins at 1 p.m. EDT in Phoenix, Arizona. Two of McCain's children and former Vice President Joe Biden pay tribute, among others.
McCain's casket departs Arizona and arrives at Joint Base Andrews around 7:30 p.m. He lies in state at the U.S. Capitol on Friday.
President Trump travels to Indiana this evening for a campaign rally in Evansville, a city located just between St. Louis, Missouri, and Louisville, Kentucky.
Vice President Mike Pence makes remarks at the at the 100th anniversary of the American Legion, a U.S. veterans organization, in Minneapolis, Minnesota at 11:30 a.m.
QUOTE OF THE DAY
"No, I'm a Democrat. I ran as a Democrat, I am a Democrat. The values that I hold are consistent with the values of the Democratic Party. In fact I think they are the values shared by the majority of Floridians." – Tallahassee Mayor Andrew Gillum, the Democratic nominee for Florida governor, responding to President's Trump's tweet calling him "a failed Socialist Mayor." Gillum has been endorsed by Sen. Bernie Sanders.
THE PLAYLIST
ABC News' "Start Here" Podcast. Thursday morning's episode features ABC News White House correspondent Tara Palmeri on White House counsel Don McGahn's impending exit: "It's not so much shocking that he's leaving. It's shocking that he's actually lasted this long." And, ABC News' Claire Brinberg recaps the New York gubernatorial debate between Andrew Cuomo and Cynthia Nixon. https://bit.ly/2Ohkpz8
ICYMI: ABC News' "Powerhouse Politics" Podcast. On Wednesday's epidsode, ABC News' Chief White House Correspondent Jonathan Karl and Political Director Rick Klein interviewed Gov. Steve Bullock, a Democrat leading the red state of Montana. Is he running in 2020? Tune in to find out. https://bit.ly/2w091jE
NEED TO READ
Mueller asks for more time to decide whether to retry Manafort on deadlocked counts. Special counsel Robert Mueller asked a Virginia federal judge Wednesday for more time to decide whether to retry former Trump campaign chairman Paul Manafort on the ten counts a jury deadlocked on last week in his financial crimes trial. (Lucien Bruggeman and Trish Turner) https://abcn.ws/2MGDH3y
After weeks of uncertainty, Papadopoulos decides to accept plea deal with Mueller. The decision puts to rest weeks of public hand-wringing by his wife, Simona Mangiante Papadopoulos, who has been acting as an informal spokeswoman for her husband. (Matthew Mosk and Lucien Bruggeman) https://abcn.ws/2wEND2X
FBI official disputes Trump's claim that Hillary Clinton server hacked by China. The official says the FBI has still found no evidence that the server was compromised by anyone. (Mike Levine) https://abcn.ws/2PiV6fr
Andrew Cuomo says he won't run for President in 2020 during New York Governor's debate with Cynthia Nixon. Cuomo, who is seeking his third term as New York Governor, pledged not to run for President against Donald Trump in 2020, instead pledging to serve four full years as governor, if re-elected."I'm running for Governor, not President," Cuomo said. (Christopher Donato) https://abcn.ws/2BZuK0k
DeSantis says Floridians can't 'monkey this up' by electing African-American Democrat as governor. "That last thing we need to do is monkey this up by trying to embrace a socialist agenda with huge tax increases and bankrupting the state," DeSantis, an outspoken supporter of President Trump, said on Fox News. (Lissette Rodriguez) https://abcn.ws/2MBjD2x
Trump warns change would come 'violently' if Republicans lose in midterms. President Trump told Evangelical leaders during a closed door dinner at the White House that there will be "violence" if Democrats take control in the November election. (Meridith McGraw) https://abcn.ws/2PLBdyZ
'He's my hero': Mourners, some traveling for hours to get to Arizona, remember John McCain. The doors to the Arizona State Capitol building where Sen. John McCain's casket was lying in state didn't open to the public until 2:00 p.m. local time Wednesday, but that didn't stop Frank Xavier Marcial and his wife from getting in line at 7:15 a.m. (Meghan Keneally) https://abcn.ws/2wB5SGu
Google Maps briefly renames Senate office building after John McCain. For a few hours on Wednesday, the legislative process was moving a lot faster on Google Maps than it was on Capitol Hill. (Ali Rogin) https://abcn.ws/2Plj8Xr
EPA to revisit air pollution rule for power plants. The move comes just a week after EPA announced that its proposal to alter regulations regarding greenhouse gas emissions from power plants to give states more authority to set goals to reduce emissions instead of setting a national goal. (Stephanie Ebbs) https://abcn.ws/2N4ewau
Powerhouse Politics: Democratic governor of Montana says 'no secret recipe' as he eyes 2020. Steve Bullock is a rare political animal these days. He's the Democratic governor of a red state that Trump won by 20 points in 2016. He's in favor of abortion rights and was the first sitting governor in Montana to officiate a same-sex wedding. And he's a proud gun owner. (Avery Miller) https://abcn.ws/2LC7eGg
White House counsel Don McGahn expected to leave job in fall, Trump says. Don McGahn, the White House counsel, will be leaving his position in the fall, President Trump announced in a tweet Wednesday morning. (Alexander Mallin) https://abcn.ws/2woRC4c
'They just kind of avoided each other': POLITICO takes a look at how Trump and White House counsel Don McGahn's relationship collapsed. https://politi.co/2okeTQb
An unexpected victim of the trade disputes between the Trump administration and Canada narrowly avoided a harsh blow Wednesday: Canadian newspapers, which were initially going to see tariffs imposed on them, were spared because "American paper producers are not harmed by newsprint imports," the New York Times reports. https://nyti.ms/2PMHmuH
The Note is a daily ABC News feature that highlights the key political moments of the day ahead. Please check back tomorrow for the latest.