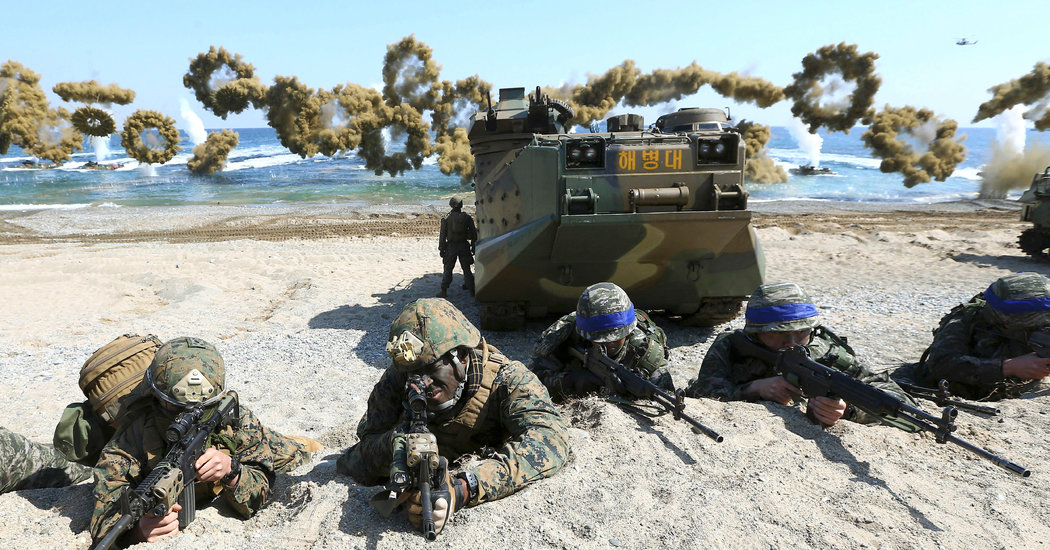 SEOUL, South Korea — For six decades, joint exercises held by the militaries of South Korea and the United States have been the most visible and celebrated display of the alliance. Each year, their Marines storm South Korean beaches together, their tanks spew orange-red flames and their warplanes run mock bombing raids on imaginary North Korean nuclear targets.
Such scenes, broadcast on prime-time television, have been a frequent reminder for South Koreans of how much the country depends on the alliance for its security.
Now they are dealing with a jarring new reality: an American president who does not like the drills, at least in part because they cost too much. President Trump, who in June suspended the exercises after meeting with the North's leader, Kim Jong-un, reaffirmed his misgivings on Wednesday, saying he saw "no reason at this time to be spending large amounts of money on joint U.S.-South Korea war games."
His remarks on Twitter came a day after his defense secretary, Jim Mattis, seemed to open the door to resuming the drills. Mr. Trump said he could do so "instantly" if he chose, and that, if he did, the joint exercises would be "far bigger than ever before."
Mr. Trump has objected to the cost of the American military presence in South Korea since he was a presidential candidate. Those persistent complaints, along with his often-confusing stance on the alliance, have unsettled many South Koreans, some of whom fear that Mr. Trump could strike a deal with North Korea that would leave their security compromised.
"We sometimes wonder, 'Is he really the president of our ally?'" said Moon Seong-mook, a retired general affiliated with the Korea Research Institute for National Strategy, a conservative think tank in Seoul. "He is so confusing. Is he really the shrewd negotiator he says he is, with us missing the method behind his madness, or is he just plain impulsive?"
South Korean officials say the suspension, which President Moon Jae-in supported, was needed to reduce tensions with the North and to coax it into negotiating about giving up nuclear arms. Both the South Korean and American militaries say the suspension will not affect their readiness to respond to a threat from the North.
But not everyone is convinced. About 60 percent of the officers of the combined South Korean-United States Forces Command, which coordinates the joint drills, are set to leave for other posts in a year because of routine rotations, according to Kim Min-seok, a former Defense Ministry spokesman who is now a columnist on military affairs at the JoongAng Ilbo, a major South Korean newspaper.
After two years, Mr. Kim wrote in June, 90 percent of the officers will have been replaced, meaning that few would be left with experience in conducting joint exercises, if they have not resumed by then. "If war breaks out in a situation like this, it is inevitable that there will be great impediments in combat operations," he wrote.
At the same time, American negotiators have begun demanding that South Korea contribute much more to the cost of the United States military presence, citing the expense of the drills as a major factor, according to officials familiar with the ongoing talks.
There has been no definitive estimate of how much the drills cost. But South Korean news media have put the combined figure for both countries at $72 million a year, rising sharply if more aircraft carriers or long-range bombers than usual are deployed, as they were last year.
Both Seoul and Washington have said they will restart the joint drills if North Korea fails to follow through on its vague commitments to denuclearization.
But many in South Korea fear the allies have already given away too much, while the North has given no clear sign that it truly intends to give up its nuclear arsenal. In a survey published this month by South Korea's National Assembly Research Service, more than 53 percent of the respondents said it was a mistake to suspend the exercises.
Conservative South Koreans, in particular, worry that Mr. Trump, eager to strike a nuclear deal with Mr. Kim, might bargain away joint military drills permanently, thus weakening the rationale for keeping American troops in South Korea. That outcome would leave South Koreans feeling extremely vulnerable, given the North's conventional weapons pointed at Seoul, and its 1.2 million-strong army, which analysts say is one of the world's largest.
Cheon Seong-whun, an analyst at the Asan Institute for Policy Studies in Seoul, said that Mr. Trump, in his negotiations with North Korea, was making the mistake of treating the North's nuclear weapons program and Washington's alliance with South Korea as bargaining chips of "equal value."
"Even if North Korea gives up its nuclear weapons — I doubt it will — what about the North's other weapons of mass destruction, like biological and chemical weapons, and its massive standing army?" Mr. Cheon said. "The ending of joint exercises is an integral part of North Korea's strategy to weaken the South Korea-U.S. alliance and drive out the American troops from South Korea."
The American military currently has 28,500 troops in the country. Some of its joint exercises with South Korea are conducted largely through computer simulations. For others, thousands of American military personnel based in Japan and the United States, as well as American aircraft carriers and submarines, join the forces based in South Korea to rehearse a counterattack against North Korean invasion.
These exercises have also helped the United States project its military prowess in East Asia, where China is fast expanding its military might. The drills with the South Koreans are among the largest joint field exercises the United States stages with an ally abroad.
North Korea has long insisted that it would not relinquish its nuclear weapons program unless the United States ended its "hostile policies." It has cited the joint military drills as a prime example of such American hostility, calling them rehearsals for invasion and using them as a pretext for bolstering its totalitarian control of its people.
North Korea has often responded to the joint exercises with its own massive military drills. But Pyongyang has found it increasingly difficult to do so, especially since the economic collapse and famine endured the North in the 1990s. Its military, like the rest of the country, is plagued by a lack of spare parts and fuel.
Some analysts in South Korea say that ending the drills could help Mr. Kim persuade his people, especially hard-line generals, to accept denuclearization and focus on rebuilding the North's economy.
"Whenever there was a major joint military exercise in South Korea, the North Korean economy was virtually paralyzed for two or three months, as people and factory workers were mobilized for civic defense drills," said Kim Yong-hyun, a professor of North Korean studies at Dongguk University in Seoul.