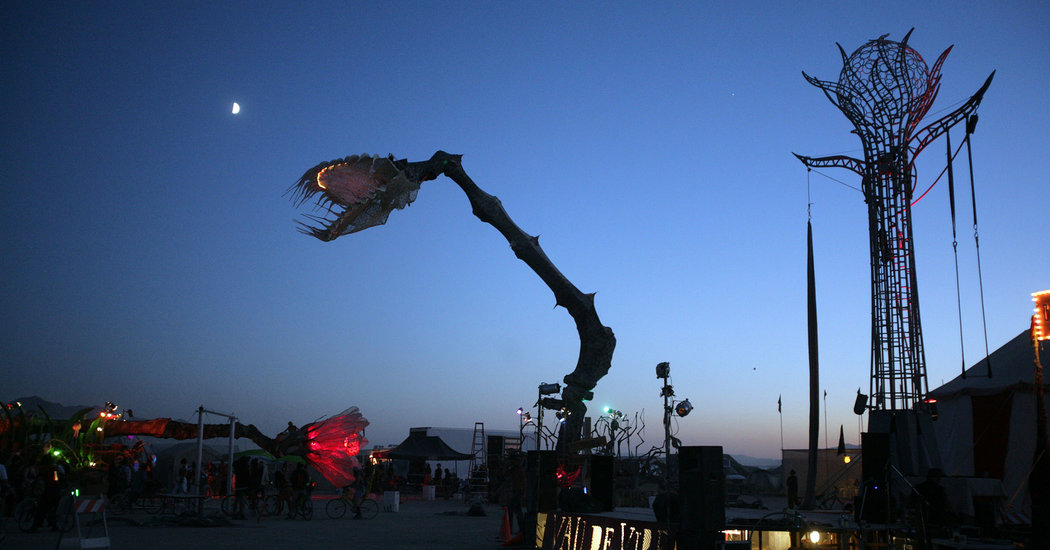 A dust storm overwhelmed the road to Burning Man this week. Clouds of billowing white dust obscured the caravan of cars snaking through the barren Nevada desert, according to recent news reports. Travelers parked in ditches and covered their faces with kerchiefs until the squall passed.
The drive is an August ritual for more than 70,000 attendees who have descended upon Black Rock City for nearly three decades and are gathered this week to build colossal art installations and dance nude in the scorching summer heat. (You can watch it live here.) First came the artist hippies in the 1990s. Insanely rich tech moguls arrived on their private jets two decades later. Models and celebrities followed.
Last year, politics seeped into the parade of whirligigs and hat-festooned cyclists when a group of President Trump impersonators arrived, and booths were set up for voter education. And in what may be a nod to how mainstream the counterculture jubilee has become, sculptures from the festival are on display for the first time at the Smithsonian American Art Museum in Washington.
Kevin Kelly, a media executive prominent in Silicon Valley, has been attending Burning Man since the mid-1990s. Then, he was one of the few people to bring his young daughters. Now, he said, the playa (as the main square is called) is burbling with scores of youngsters whose parents pay from $425 to $1,200 to attend.
"It has become almost a cliché at this point," Mr. Kelly said in an interview. Burning Man "is, maybe, aspirational."
[Sign up for the Morning Briefing newsletter to get a look at what you need to know to begin your day.]
The first event was held in 1986 when the founder, Larry Harvey, gathered a group of friends at Baker Beach in San Francisco, where he torched an eight-foot-tall wooden man. Lore suggests he was commemorating the end of a romantic relationship. Each year, more friends — and even more strangers — showed up to watch. The fire marshals came, too, and demanded Mr. Harvey and his band of merrymakers go away.
The event moved to Black Rock Desert, about 140 miles north of Reno, in 1990. The New York Times Magazine wrote about Burning Man in 1994 when it was a (relatively) low-key three-day event over Labor Day weekend. "1,600 people came to stare into the fire," The Times wrote. The man-like statue was 40 feet tall and made of wood and neon lights, and the festival was described as a spiritual-mystical experience and "an excuse to party in the desert."
The festivities had a techno hippie carnival feel (think exhibitionism, drugs and body paint) which later turned into something of a sprawling frat party for the technogentsia (think exhibitionism, drugs and body paint).
At its heart, Burning Man embraced anti-consumerism and an ethos that embraced radical self-expression. "If all your self-worth and esteem is invested in how much you consume, how many likes you get or other quantifiable measures," Mr. Harvey told The Atlantic in 2014, "the desire to simply possess things trumps our ability or capability to make moral connections with people around us."
But while the festival is based on the ethos of inclusivity, underrepresentation persists. In Burning Man's 2017 census, 77 percent of attendees identified as Caucasian, 4.9 as Hispanic, and one percent as black.
A new short documentary, "In Pursuit of Happiness: Black at Burning Man," explores the disparity, interviewing many black attendees about their range of experiences, some positive, some negative.
Mr. Harvey, the founder, was criticized after an interview with The Guardian in 2015 in which he said, "I don't think black folks like to camp as much as white folks." He said then too that the organization had previously hired a diversity consultant, but that it would not set up racial quotas.
[Read more about the documentary and an interview with the filmmaker, Gina Levy.]
By the early 2000s, more than 25,000 people made the trek to Black Rock, many of them from the San Francisco Bay area and Europe. In 2000, Rick Marin, a writer for The Times, went with a group of Silicon Valley friends and described a scene both enthralling and ridiculous.
Their happy-face piñata went missing. They camped on Anal Avenue. He met a Black Rock Ranger, a member of the group that polices the grounds, named "nude Marty." Mr. Marin was happiest, though, at Space Cowboy, a tented, themed rave where he was welcomed by a group clad in Western gear. "Besides the nudity, the lure of Burning Man is aesthetic," he wrote.
Outsiders sought to capitalize on the festival's carefree-for-all attitude. In 2002, festival organizers sued Voyeur Video, which videotaped nude participants for five years and sold the tapes for $29.95 on a pornographic website. According to a complaint filed in July 2002, people were filmed changing clothes or in their private campsites. Burning Man prevailed and the videos were no longer sold.
Brian Doherty, the author of "This Is Burning Man: The Rise of a New American Underground," began attending the festival in 1995. He said the experience for Burners, the term for attendees who embrace the 10 principles of communal involvement, had not changed much in the last 20 years. "They really have created an American ritual," he said. "You will see people dressed in fuzzy sweaters. People will be whimsical. You will see big art."
What has changed is that the festival, like an old San Francisco neighborhood, has became gentrified. In 2011, tickets sold out for the first time, according to The Times. Scalped tickets were hawked for exorbitant prices. Then the billionaires showed up.
Burning Man is based on a giving economy, with nothing bought or sold except coffee and ice. But the newest crop of technology millionaires and billionaires to arrive began to overtly flex their financial muscle. They hired sherpas to set up air-conditioned camps, and pack out trash. They brought in chefs to cook elaborate feasts in tricked-out recreational vehicles. Then the models and celebrities arrived. Last year, Paris Hilton was a DJ.
Burners bemoaned the seeming end of Burning Man. In 2016, the Burning Man website posted a funny sendup of all the ways the festival was ruined. Mr. Doherty had this take: The festival evolved. "It is a microcosm of what is happening in society," he said. "Everyone is as comfortable as they can afford."
Added Mr. Kelly, "Now it is almost like a huge conference. There is an agenda. There are scheduled seminars." In the beginning, he said, "it was the individual experience."
Mr. Harvey died this year, which both Mr. Kelly and Mr. Doherty agree will result in another shift in its culture. Still, they are going this year. As Mr. Doherty packed up his car late Monday night for the drive from Los Angeles to Black Rock City, he seemed almost blasé about the experience.
"After going about 10 times, it's not that magical anymore," he said. "You probably don't need to do that."