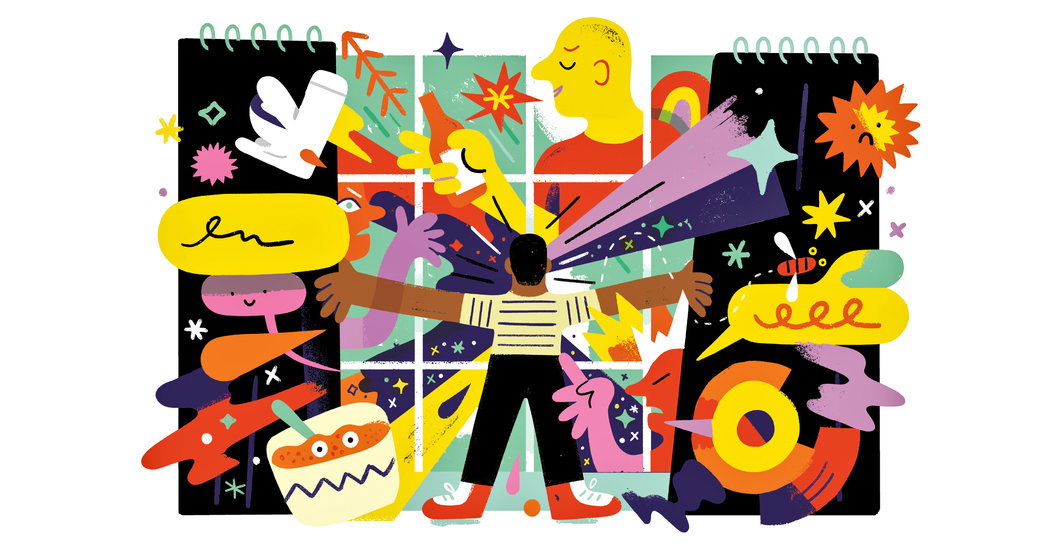 There are professional advantages, too.
As a writer, I find blank spaces are as distracting and uninspiring as the walls of my own study, a quiet, sunny room in which I have never been able to write more than an email. I need the visual excitement of the new and unexpected. Sometimes of the ugly. (Floating eyeballs.)
Décor is only the most superficial layer of what I find motivating about staying in Airbnbs and short-term rentals in general. The other is, of course, moving into a stranger's domestic life — conflicts with children, marital complications, and (a common theme) financial woes. As a fiction writer, my livelihood depends, in part, upon an impartial, nonjudgmental form of voyeurism, and people never reveal themselves with as much unguarded honesty as they do in their own surroundings. Over the years, I've been privy to several stories of affairs, two confessions of bisexuality, and many complaints about aberrant teenage behavior described in surprising detail. Several of these have wormed their way — in altered form — into my fiction.
A lot has changed in the past 10 years of Airbnb and not all of it has been positive. On a broad scale, the site's growing influence has worked to undermine neighborhoods in cities around the world, driving up rents in tourist areas and gentrifying neighborhoods. In some cases, low-income residents have been displaced. Long-term occupants of a building can be inconvenienced by the comings and goings of short-term tenants who are sometimes less respectful about noise and less invested in the upkeep of common spaces. A 2016 report by Harvard professors showed that people with traditionally African-American names had a more difficult time renting through Airbnb, and the hashtag #Airbnbwhileblack was established. (The company has been working with the NAACP to address these issues.) An increasing number of laws regulate or prohibit Airbnb's presence in cities from Paris to San Francisco.
To the benefit of Airbnb hosts, cameras have become more sophisticated along with the awareness of what looks good online. It's wise to remember that the smaller a room is in reality, the larger it's photographed to appear. Conversely, rambling, uncozy rooms are usually shot to appear more snug. Pictures that reveal little more than a single chair, a coffee maker, or (in one case) the hangers in the closet, should be taken as red flags. (What aren't they showing?)
Also wise to be aware that there are messages hidden in even the most detailed descriptions. I knew something was up in the garden apartment of what was described as "the home of an active, artistic family" and thus wasn't completely shocked to find out I'd be living in the basement, of what sounded like a children's dance studio. The page for a cottage I rented in the Silver Lake neighborhood of Los Angeles emphasized, in more than one sentence, that although I'd have the entire place to myself, the host would be "nearby and always available for help or suggestions." This turned out to mean he was temporarily displaced to a cot in the cottage's unfinished basement, something between a man cave and a crawl space. On the third day of my stay, I came home from a walk and found the host in the living room of the cottage, reading a magazine. "I'm doing a load of laundry," he explained. "Please, have a seat." Nearby indeed.
Among the many changes that have taken place since 2009 has been an increase in prices and fees. It still can be a relatively economical way to travel, but when you spend as much time as I do in temporary lodgings (I estimate that in 2016, I spent approximately four months writing in short-term rentals, and close to three in 2017) it begins to add up. Faced with the possibility of having to curtail my adventures in voyeurism, I saw only one solution: fund living in the rooms of strangers by renting out my own. This did not happen overnight, but I now have several properties I rent short-term when needed. They're all small and each was furnished largely with items purchased at garage sales and consignment shops. They were carefully photographed, and the descriptions include the words "cozy," "romantic" and "tranquil" multiple times. I leave the decoding to you.
---
Stephen McCauley is the author of seven novels including "The Object of My Affection" and, most recently, "My Ex-Life." He is the co-director of Creative Writing at Brandeis University.