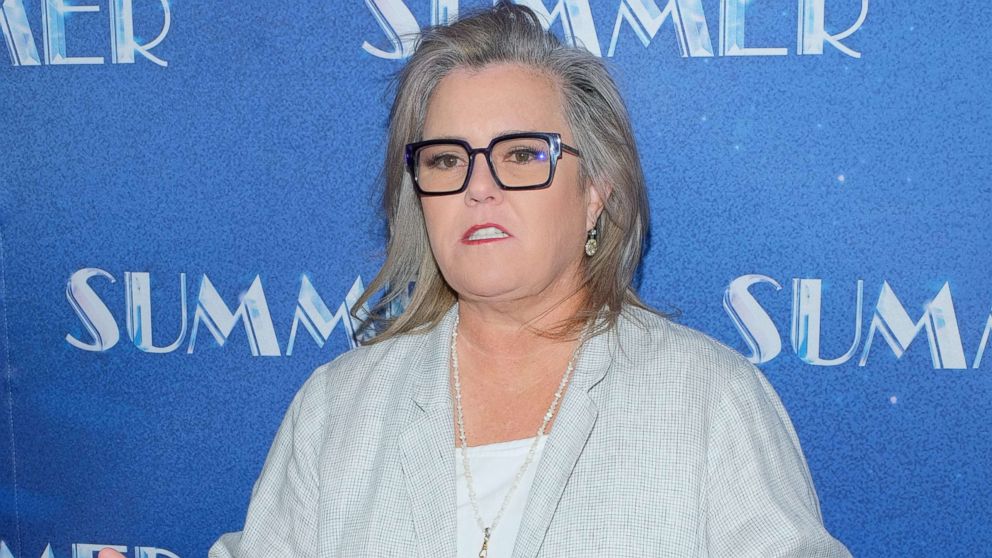 Some of Broadway's stars and Rosie O'Donnell gathered Monday at Lafayette Park in Washington, D.C., for an evening of protest and musical tunes — their targeted audience, President Donald Trump.
Interested in
Trump Administration?
Add Trump Administration as an interest to stay up to date on the latest Trump Administration news, video, and analysis from ABC News.
The event comes as part of the #KremlinAnnex, an ongoing series of anti-Trump protests that began on July 16 in response to Trump's summit meeting with Russian President Vladimir Putin in Helsinki. Monday's protest is the 22nd day of protest from the grassroots group.
O'Donnell told ABC News she was inspired by the #KremlinAnnex and messaged co-organizer Seth Rudetsky about filling a bus full of Broadway singers to travel to the White House for a protest. On Monday, more than 60 former and current Broadway performers and musicians came to Washington.
In front of the White House, protesters held up letters spelling out "treason" and "liar," and a few people showed up in T-Rex and shark costumes. Speakers thanked the secret service and reporters for allowing them to protest peacefully and encouraged people to protest on the streets and not just on social media.
"Where we are as a nation, we have now till November to see whether or not democracy is going to survive," O'Donnell said before the protest. "I think we all need to [do] everything we can right up to election day. Hopefully, we'll take back the House and maybe the Senate and end this administration and the travesty and all the injustices that it has laid upon the United States, ruining our reputation and our efforts."
While on the road, the group rehearsed a number of tunes such as "Do You Hear The People Sing" from "Les Miserables" and "Climb Ev'ry Mountain" from "The Sound of Music."
Rudetsky says he hopes the selection of songs will "wake up the country." He believes the songs will symbolize a mentality to "keep working towards the good and the bad will go away."
"We're the majority and we're not going to stop until you go back to the American values that we all value," Rudetsky said. "We're just going to keep coming. We're Broadway singers. We're used to doing eight shows a week, we don't lip sync, we're not going to get tired. We want this country to stay the way it's always been with wonderful, giving American values."
Although Trump is not at the White House this week, O'Donnell said the group hopes to bring to Washington, D.C., the same "chills" and "goosebumps" of truth and peace an audience member gets when they experience the music and arts.
"He's the worst thing that ever happened to this country by far," O'Donnell said. "I hope that America can heal together and we could forgive those who fell for his lies and his conspiracies and we'll be able to come together as one, again. That's my real hope. There's going to be so much work that has to be done once we get rid of him and getting rid of him is the first priority."