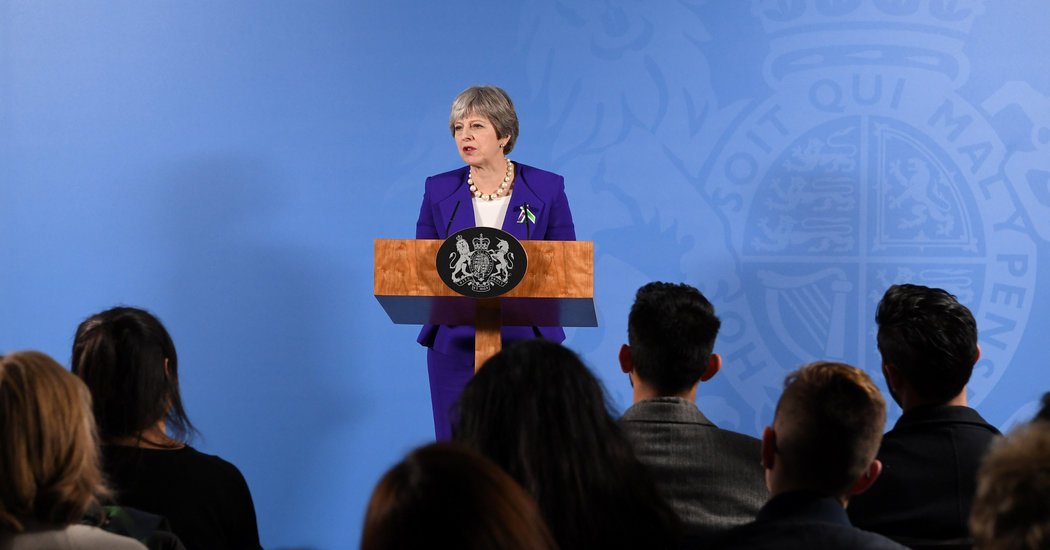 That objective remains the crucial dividing line as Mrs. May has to balance the demands of those who want a clean break with the bloc, like the extroverted Foreign Secretary Boris Johnson, against the preference others like the more cautious chancellor of the Exchequer, Philip Hammond, who want to retain close ties to protect Britain's economy.
If Mrs. May sides too much with Mr. Hammond, Brexit supporters might challenge her leadership; if she cleaves too much to Mr. Johnson, she could face defeat in Parliament when it ultimately votes on the Brexit terms.
In the meantime, the government on Wednesday sought to reassure pro-Brexit lawmakers, insisting that there would be an early end date to the transition period, during which Britain plans to negotiate the details of a trade deal with the European Union, something widely expected to take several years.
Experts are skeptical. "It was a given that the two-year deadline was never realistic," said Mujtaba Rahman, the managing director and leading Europe analyst at Eurasia Group, a consulting firm. The new position, he said, "reflects realism."
But realism can be dangerous in politics, and avoiding a firm deadline alarms Brexit supporters, who worry that Britain will end up having to obey the bloc's rules without helping make them. Jacob Rees-Mogg, a prominent pro-Brexit lawmaker, has likened this to being a "vassal state."
Nor is the latest move in line with the European Union's plans. It has identified Dec. 31, 2020, as an end to the transition, perhaps thinking that such a deadline puts Britain under pressure in negotiations because of the economic risk of a "cliff edge" departure without a deal until one is agreed on.
The divisions within the Conservative Party were further underscored on Wednesday with the emergence of a letter from more than 60 Brexit-supporting lawmakers calling for a clean break with the European Union — demands that one of their pro-European colleagues, Heidi Allen, said suggested "an ideological obsession with Brexit at all costs."
Since losing her parliamentary majority in an election last June, Mrs. May has often played for time, refusing to reveal detailed objectives to her European interlocutors as she balances demands from competing factions within her party.
But when she has made decisions, she has often pulled back from her more hard-line pledges. On Saturday, she retreated over her earlier insistence that Britain would not obey rulings from the European Court of Justice, accepting that the court could have a role in cooperation over security issues. Late last year she made a several concessions — including a divorce payment offer of up to 39 billion pounds, or $54 billion — to open the possibility of talks on future trade.
Ultimately Mrs. May wants Britain to leave the European Union's customs union, which ensures tariff-free trade, and its single market, which lays down standards and rules and removes non-tariff barriers. But she also says she wants to minimize friction in trade and avoid a hard border between Northern Ireland, which is part of the United Kingdom, and Ireland, which will remain in the European Union.
At the cabinet meeting on Thursday in Mrs. May's country residence, Chequers, the buzzword is likely to be "managed divergence," with her asking colleagues to agree on close alignment with European Union regulations for goods, at least in the short term, and the right to diverge from those rules in the future, accompanied by a new system to manage such changes.
For services that are vital to Britain's economy, she would like to achieve deep access to European markets, probably by negotiating a system under which each side recognizes the other's regulatory systems.
But to many in the European Union, that sounds very much like the objective once famously outlined by Mr. Johnson: that Britain have its cake and eat it, too.
So, even if her cabinet agrees on that position this week, Mrs. May's opening bid in the negotiation is likely to be rejected by the European Union, leaving the Brexit endgame still some months away.
"I think there is a widespread understanding that the European Union isn't going to go for managed divergence," Mr. Rahman said.
"They see right through this," he added, "because they regard the single market as an ecosystem, and you can't just remove one part of it without unraveling others."