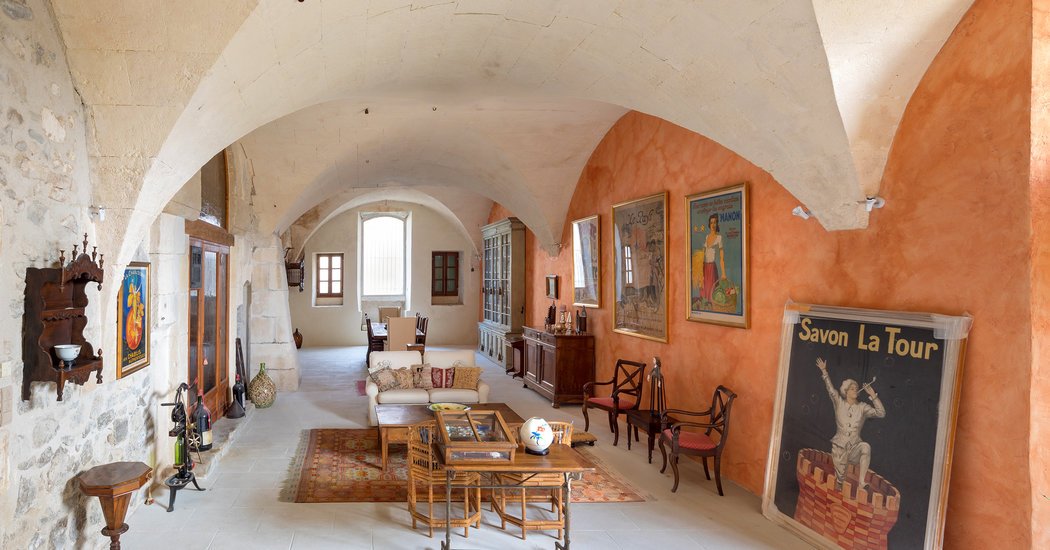 The dining room has an adjacent sitting area and dramatic lighting that accentuates the vaulted ceiling and the massive olive press, which is still intact. This room opens to a patio with a vine-covered arbor and a pétanque court.
In the office is a large stone vat once used to store olive oil, Mr. Louis said. The living room has a massive fireplace and a stone stairway with an ornate forged-iron railing that leads to the bedrooms on the second floor.
The master bedroom has a high ceiling with heavy beams that were added when it was raised a decade ago, Mr. Louis said. This bedroom opens to a large terrace and also has an en-suite bathroom. There are four other bedrooms in the main house and an additional one in the annex.
The village, Maussane-les-Alpilles, has about 2,254 residents and plenty of shops, markets and restaurants. It is about a 30-minute drive from Arles, a coastal city with population of about 53,737, whose best known resident was Vincent Van Gogh. There are many tourist attractions in the region, including the Parc Natural Régional des Alpilles. The closest international airport is the Marseille Provence Airport, which is about an hour's drive.
MARKET OVERVIEW
In recent years, the housing market in Provence has been sluggish, as it has throughout France. But in the past year or so it has been gaining momentum, said Andrea Bichi, owner of Your Provence, a real estate agency in Goult.
"The last few years, we had a decrease in prices and demand, but now we have the feeling that prices are more stable," Mr. Bichi said. "The market is picking up again a bit, and I think prices will follow."
Much of this has to do with increased confidence in France following the election of Emmanuel Macron in May 2017, which helped put the country back on the map for international investment, said Tim Swannie, managing director of Home Hunts, an agency in the South of France. "President Macron and his new government brought a lot of optimism to the French property market in general," Mr. Swannie said.
The most pronounced bump has been seen in areas popular with home buyers including Paris, the French Alps and Provence, brokers said.
In Provence, both domestic and foreign buyers are attracted to areas like the Luberon and Alpilles, lured by the sunshine, picturesque countryside and laid-back lifestyle. And home prices that are lower on average than in neighboring Côte d'Azur also appeal to some buyers, brokers said.
But Provence is a vast region, so prices can fluctuate, sometimes rivaling those in the Côte d'Azur, Mr. Swannie said. And buyers in Provence, he added, are usually seeking a different kind of property than those looking in the Côte d'Azur. "The majority of clients search for older, more authentic properties in Provence, particularly stone-built properties," he said, "whereas there is more demand for more modern villas on the Côte d'Azur."
A typical mas, or Provençal farmhouse, of about 2,150 square feet could sell for 450,000 euros to 900,000 euros (or about $558,000 to $1.1 million), Mr. Louis said. A large, well-restored country house with land and a pretty view might fetch upward of 1.2 million euros (or about $1.5 million), brokers said.
WHO BUYS IN PROVENCE
Most of the foreign home buyers in Provence are from Britain, Germany, Switzerland, Belgium and the United States, brokers said. "However, now with Brexit, we've lost many British clients," said Mr. Bichi, of the real estate agency Your Provence.
Smaller numbers of buyers come from Sweden, the Netherlands, Norway, Denmark, Australia and South Africa, brokers said.
BUYING BASICS
There are no restrictions on foreign buyers in France.
Notaries handle all home sales, and the practice of using two (one for the seller and one for the buyer) is becoming more common in transactions involving foreign buyers from countries where "it is important to have a lawyer for each party," said Marie Vere, an English-speaking notary in Ménerbes.
Buyers typically pay between 7 and 8.5 percent of the purchase price in land registry taxes, stamp duties and notary fees, Ms. Vere said.
If a lawyer is also involved, the charges are typically around 1,500 to 1,800 euros (or $1,861 to $2,233), Mr. Louis said.
Mortgages are available to foreign buyers, although lending criteria have become more strict in recent years, brokers said. Most banks will not lend more than 75 percent of the property value to foreign buyers, Mr. Swannie said.
Many banks have also tightened lending standards for American buyers in particular, Ms. Vere said. "I think the reason is that they had a lot of litigation with nonresident loans, and they have found it more difficult to collect unpaid debts from U.S. residents," she said.
WEBSITES
Provence Alpes Côte d'Azur tourist board: decouverte-paca.fr
Maussane les Alpilles tourism office: maussane.com
French Ministry of Foreign Affairs: diplomatie.gouv.fr
LANGUAGES AND CURRENCY
French; euro (1 euro = $1.24)
TAXES AND FEES
The annual taxes on this property are about 2,400 euros (about $2,978).
CONTACT
Jérome Louis, Espaces Atypiques, 011-33-761-24-19-75; espaces-atypiques.com