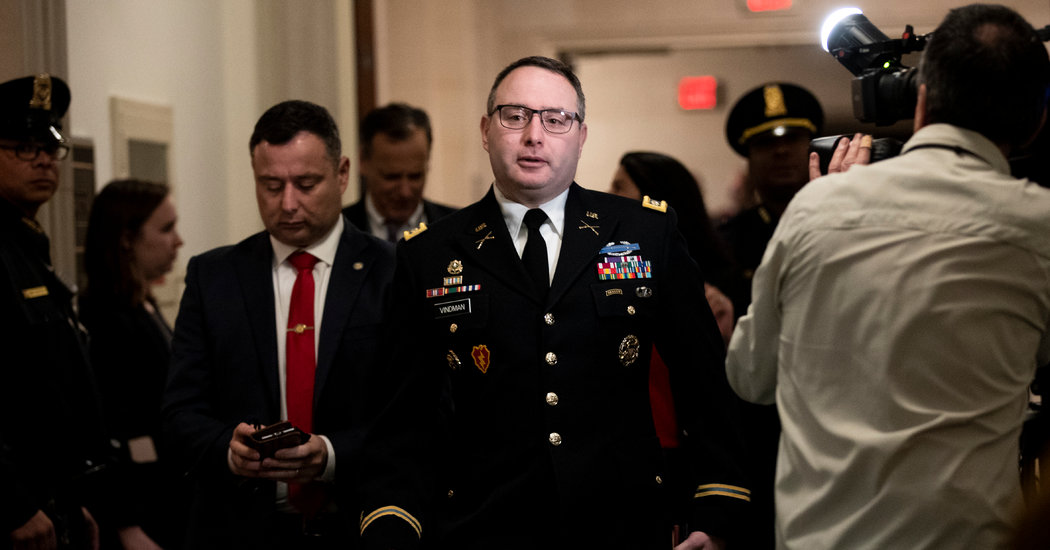 The basics: Who, what, when and how to watch
Who: Lt. Col. Alexander S. Vindman, the top Ukraine expert at the National Security Council, and Jennifer Williams, a senior aide to Vice President Mike Pence, will appear together in the morning. Kurt D. Volker, the special envoy to Ukraine, and Timothy Morrison, a senior national security aide, will appear in the afternoon.
What: The House Intelligence Committee, led by its chairman, Representative Adam B. Schiff of California, continues to examine the case for impeaching Mr. Trump.
When and Where: The morning proceedings start at 9 a.m. Eastern in the vaulted, columned chambers of the House Ways and Means Committee, and could last until the early afternoon. The second set of hearings is scheduled to start around 2:30 p.m., depending on when the morning session is finished.
How to Watch: The New York Times will stream the testimony live, and a team of reporters in Washington will provide real-time context and analysis of the events on Capitol Hill. Follow along at nytimes.com, starting a few minutes before 9.
Two White House officials will challenge Trump's claim that his call with Ukraine's president was "perfect."
Two senior national security officials at the White House will challenge President Trump's description of his call with the Ukraine president as "perfect," opening the second week of impeachment hearings on Tuesday morning by recalling their growing sense of alarm as they listened in real time to Mr. Trump appeal for investigations into a political rival.
Lt. Col. Alexander S. Vindman, a decorated Iraq war veteran and the top Ukraine official at the National Security Council, is expected to testify that he was so disturbed by the call that he reported it to the council's top lawyer. Jennifer Williams, a top aide to Vice President Mike Pence, will also testify that she found the president's call "unusual and inappropriate."
The pair will kick off three days of testimony from nine diplomats and national security officials as Democrats on the House Intelligence Committee continue to build their case that Mr. Trump tried to extort Ukraine by withholding security aid until the government agreed to announce investigations into former Vice President Joseph R. Biden Jr. and his son Hunter Biden.
A decorated Iraq war veteran expresses outrage about a pressure campaign.
For his closed-door testimony last month, Colonel Vindman arrived in his dark blue Army dress uniform with military ribbons on his chest. Democrats are betting that Mr. Trump's defenders will have a difficult time dismissing the testimony of a Ukrainian-American immigrant who received a Purple Heart after being wounded in Iraq by a roadside bomb.
Colonel Vindman's previous testimony was filled with declarations of duty and patriotism as he described his concern at learning that Rudolph W. Giuliani, the president's personal lawyer, was leading a pressure campaign on Ukraine to announce the investigations that Mr. Trump wanted. Colonel Vindman is expected to say that at the direction of John R. Bolton, the president's national security adviser at the time, he wrote a memorandum urging that security aid for Ukraine be restarted, but Mr. Trump refused to sign it.
Republicans are hoping to portray Colonel Vindman's strong opinions about the president's call with Volodymyr Zelensky, the president of Ukraine, as just that — his own opinions about a telephone call for which a reconstructed transcript has already been released. They intend to point out that the president makes no mention of security aid during the call.
Trump's Ukraine envoy will say he was out of the loop, while a national security aide says he heard nothing illegal on President Trump's call.
Kurt D. Volker, President Trump's special envoy for Ukraine, will testify Tuesday afternoon that he was out of the loop as Mr. Giuliani effectively sought to pressure Ukraine for investigations of the Bidens. Other witnesses, however, have challenged Mr. Volker's testimony, describing him as a member of a trio known inside the Trump administration as the "three amigos," who were running a shadow foreign policy on Ukraine with Rick Perry, the energy secretary, and Gordon D. Sondland, a Trump megadonor and the United States ambassador to the European Union.
Mr. Volker will be joined on the afternoon panel by Timothy Morrison, a longtime Republican congressional aide who has previously testified about a conversation between the president and Mr. Sondland in which Mr. Trump insisted that Ukraine must publicly announce investigations.
But Republicans plan to focus on Mr. Morrison's assessment of the president's July 25 call with Mr. Zelensky. Mr. Morrison told lawmakers that he heard nothing illegal as he listened to the call, though he was concerned that it could leak and cause political problems.
Catch up on some important background on the impeachment inquiry.
Mr. Trump repeatedly pressured Mr. Zelensky to investigate people and issues of political concern to Mr. Trump, including the former vice president. Here's a timeline of events since January.

A C.I.A. officer who was once detailed to the White House filed a whistle-blower complaint on Mr. Trump's interactions with Mr. Zelensky. Read the complaint.