WELLINGTON, New Zealand — The man accused of murdering a British backpacker in New Zealand the night before her 22nd birthday made his first appearance in the Auckland District Court on Monday, where the judge expressed sympathy to the victim's family for their "desperate" grief.
The backpacker, Grace Millane, was last seen entering a downtown hotel with the man in Auckland, New Zealand's largest city, on Dec. 1. The police discovered a body on the western outskirts of the city Sunday and said they believed it was the missing woman; a formal identification is expected this week.
The accused, 26, whose name cannot be reported because his lawyer is still fighting to have details of his identity suppressed, was arrested on Saturday night and remains in custody after Monday's court appearance.
Although the hearing was a preliminary formality — such cases in New Zealand typically take around a year to come to trial — the court's public gallery was packed and the presiding judge took the unusual step of directly addressing Ms. Millane's father and uncle, who arrived from England last week.
"I don't know what we say to you at this time. Your grief must be desperate," said Judge Evangelos Thomas, adding that the court hearing that day would deal solely with procedural issues.
"All of us hope that justice for Grace is fair, swift and ultimately brings you some peace," Judge Thomas said. "That will not be happening today. There will be no judgment today."
The defendant was placed in custody without entering a plea on the charges and is expected to return to court on Jan. 23.
The man's lawyer has requested that his client's name and image be suppressed in order to allow him a fair trial, and while Judge Thomas denied the application, his lawyer indicated that the man planned to appeal the decision.
New Zealand's prime minister, Jacinda Ardern, was visibly emotional when she told reporters on Monday that she apologized "on behalf of New Zealand" to Ms. Millane's family.
"From the Kiwis I have spoken to, there is this overwhelming sense of hurt and shame that this has happened in our country," Ms. Ardern said. "Your daughter should have been safe here and she wasn't, and I'm sorry for that."
Ms. Millane, who was from Wickford in the English county of Essex, graduated from the University of Lincoln in September and had planned to travel the world for a year. She had spent six weeks touring Peru as part of a group before she arrived in New Zealand alone, intending to spend two weeks in the country before traveling to Australia.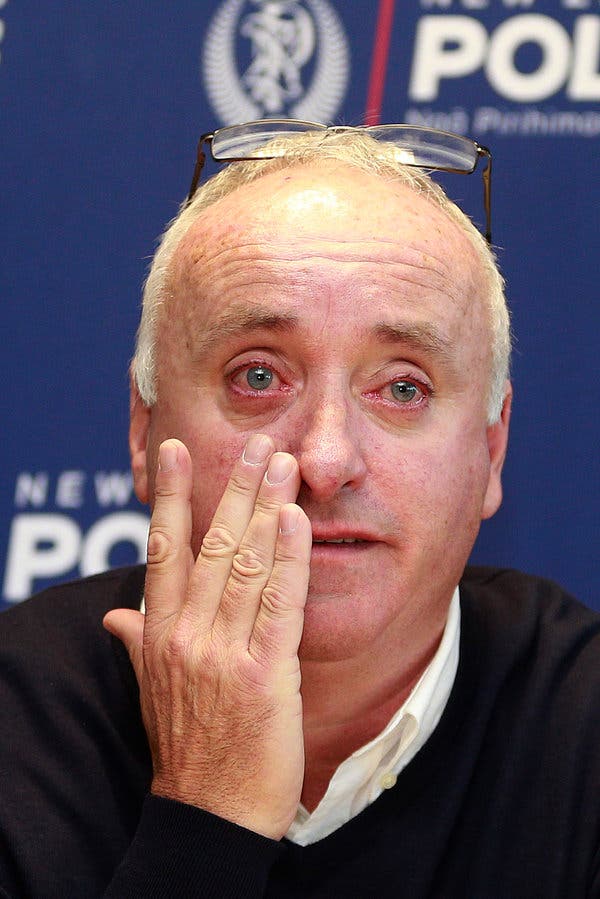 She was staying at a hostel in a busy downtown area of Auckland, just minutes from the CityLife Hotel, where she was last seen. Detective Inspector Scott Beard, who is heading the investigation into the killing, said Ms. Millane and the accused man were caught on closed circuit television cameras at "a number of places" on the evening she disappeared.
Ms. Millane's father, David Millane, said she was in constant contact with her family while she traveled, and they reported her missing after they did not hear from her on Dec. 2, her birthday.
After first speaking to the accused man on Friday, the police arrested him on Saturday, with Inspector Beard telling reporters that the evidence they had gathered suggested Ms. Millane was dead.
The detective has not revealed how Ms. Millane and the accused met, or how the young woman died.
Officers found the body 16 miles away from where she was last seen, about 30 feet off the road in a forested area of the Waitakere Ranges. They seized a car on Saturday that was rented in central Auckland on Dec. 2, the day after Ms. Millane went missing.
The killing has ignited anger and dismay in New Zealand, and vigils for Ms. Millane are planned around the country this week.
While deadly attacks by strangers are rare in the South Pacific country, there have been high-profile killings of tourists before. In 2008, Karen Aim, a tourist in her 20s from Scotland, was killed in the city of Taupo by a local teenager. And in 2005, Birgit Brauer, 28, was found dead in a national park near the city of New Plymouth. She was killed by a man who picked her up while she was hitchhiking.