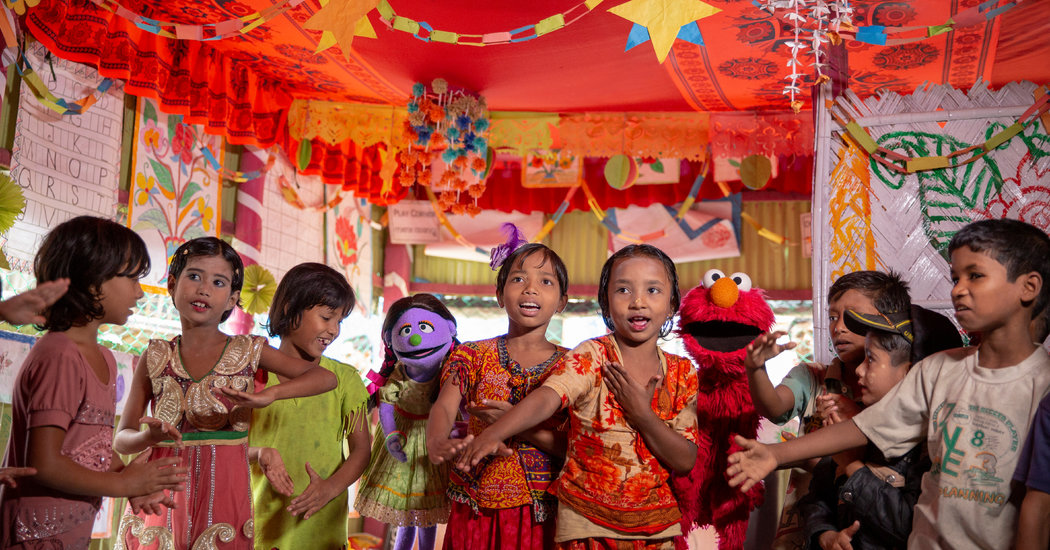 Can play help refugee children heal from trauma?
That's the belief behind a new partnership formed by the Lego Foundation, Sesame Workshop and organizations working with Syrian and Rohingya refugees. In its first major humanitarian project, announced on Wednesday, the foundation will provide $100 million over five years to the makers of "Sesame Street" to deepen their work with the International Rescue Committee in the countries around Syria, and also to partner with the Bangladeshi relief organization BRAC.
The aim is to create play-based learning programs for children up to age 6 in Lebanon, Jordan, Iraq and Bangladesh. The programs will teach basics like the alphabet and numbers, but will also emphasize social and emotional development to counter the effects of stress and suffering. They will be offered both to displaced children and to some of their potential friends in host communities.
Officials at the organizations involved said that helping children's brains develop during their first years — when they are absorbing information like sponges — is crucial to helping them become healthy and successful later in life, and that play is an excellent way to do it.
"We know from child development research that the best way for children to learn is through exploring their world and play," said Sarah Smith, the senior director for education at the International Rescue Committee.
More people around the world — about 68.5 million — have migrated across borders or been forcibly displaced than ever before, and more than half of them are children, according to the United Nations. That statistic — along with the growing length of time that many of those people spend in limbo, unable to return home or settle legally in another country — is prompting donors and aid groups to think about longer-term assistance.
"We do risk losing a whole generation if we don't help the children who find themselves in these emergency settings," said John Goodwin, the chief executive of the Lego Foundation.
The Syrian war and the campaign of violence against Rohingya communities in Myanmar are among the most gruesome conflicts that have driven children from their homes.
While some Syrian refugee families have started to return, millions more remain outside the country, sometimes in destitute conditions. Many fear conscription, arrest or torture by the government if they return, as well as violence by other armed factions.
And in Bangladesh, the United Nations has warned against a plan to repatriate some Rohingya refugees to Myanmar. At least 10,000 people were killed last year in brutal pogroms led by the Myanmar military. Survivors who fled to Bangladesh gave sickening accounts of what they had endured, and they now live in refugee camps near the border.
The families' needs are great. In addition to basics like adequate food and shelter, children need to foster ties with nurturing caregivers to heal from what they have witnessed and endured, said Hirokazu Yoshikawa, a director of Global TIES for Children, a research center at New York University that will conduct testing and evaluation for the program.
"Part of the magic of human development is that very few experiences doom a child to ruin," Dr. Yoshikawa said. "But we have to address the risks early. This is particularly critical in these first years."
The Lego funding will allow Sesame Workshop and the International Rescue Committee to expand projects they began last year — including a new adaptation of "Sesame Street" — using a grant from the MacArthur Foundation, and to measure and evaluate them more extensively.
The organizations are also developing new methods and materials for use in play centers and homes, emphasizing qualities like resilience, empathy, inclusion and respect for difference. And they provide training for play facilitators who come from the refugee or host community.
Erum Mariam, a program director for BRAC, said that many of the 240 play labs the organization has created for refugees were built by the children's fathers and painted and decorated by mothers and children.
"We place a lot of emphasis on culture and on strengthening community engagement," she said. Within those centers, trained facilitators focus on providing enough structure to make children feel safe, while allowing for spontaneous joy.
"When a child enters the humanitarian play lab, we want the child to feel very happy and very connected to their culture and heritage," she said.
BRAC has received previous funding from Lego and plans to open 500 additional play labs for refugee children by May with the new grant. The organization will also be working with Sesame for the first time. (They will not rely on actual Lego toys, which would be expensive to import, Mr. Goodwin said.)
Sherrie Westin, the president for global impact and philanthropy at Sesame Workshop, said the organization hoped to inspire other donors and aid groups to consider early childhood interventions in crisis settings. Less than 3 percent of humanitarian aid goes to education, she said.
"If we're not investing in education, we are not giving these children a path forward, much less a chance to thrive and rebuild their society," Ms. Westin said.