ABC News Live will provide full coverage of the George H.W. Bush funeral services starting at 10 a.m. ET on Wednesday. Watch on ABCNews.com/Live, The ABC News App, Hulu, and Roku.
Interested in
George H.W. Bush?
Add George H.W. Bush as an interest to stay up to date on the latest George H.W. Bush news, video, and analysis from ABC News.
Hundreds of dignitaries, heads of state and family members will gather at Washington National Cathedral Wednesday for a state funeral honoring the life of former President George H.W. Bush.
The remains of the 41st president, who passed away last Friday at the age of 94, have been lying in state at the U.S. Capitol Rotunda since Monday afternoon.
Thousands of individuals have visited the Capitol to pay their respects to Bush, who has been memorialized among a bipartisan chorus of voices since his death, for his commitment to national service and dedication to his family.
According to the current schedule, there will be a departure ceremony at the Capitol beginning at 10 a.m., and Bush's casket will be transported to the National Cathedral by motorcade.
The Bush family, including former President George W. Bush and first lady Laura Bush, will arrive at the cathedral with military escorts and take their seats before the casket is transported to the cathedral landing by a group of honorary pallbearers.
The program itself is largely reflective of Bush's own service in the military, and will include full state's honors and performances by the U.S. Marine Chamber Orchestra, the Armed Forces Chorus, the Air Force Singing Sergeants and the "President's Own" Marine Band, among others.
It will mark a contrast to the funeral service scheduled for Thursday after the president's return to Texas, which is said to feature friends of the family from "west of the Mississippi" and includes performances from the Oak Ridge Boys and Reba McEntire.
The attendee list at the national service is a bipartisan cadre of current and former heads of state, and will be the first time that President Trump is in the same room as all the former living presidents, as well as his defeated 2016 campaign rival, former Secretary of State Hillary Clinton.
President Trump's public statements about Bush since his passing and the White House's coordination of the service have largely received praise for striking a tone of respect and being in alignment with his predecessors' handling of state funerals.
The Office of George H. W. Bush thanks The President and First Lady, their White House staff, and the Congressional leadership from both parties — and their staff — for their amazing support as we attempt to give this great and good man the send-off he surely deserves. #Bush41 https://t.co/yKLBYpVUv3

— Jim McGrath (@jgm41) December 4, 2018
But that tone of respect will hardly erase what has been the president's overwhelmingly hostile posture towards the Bush family, the Obamas and the Clintons, both from the campaign trail and since taking office.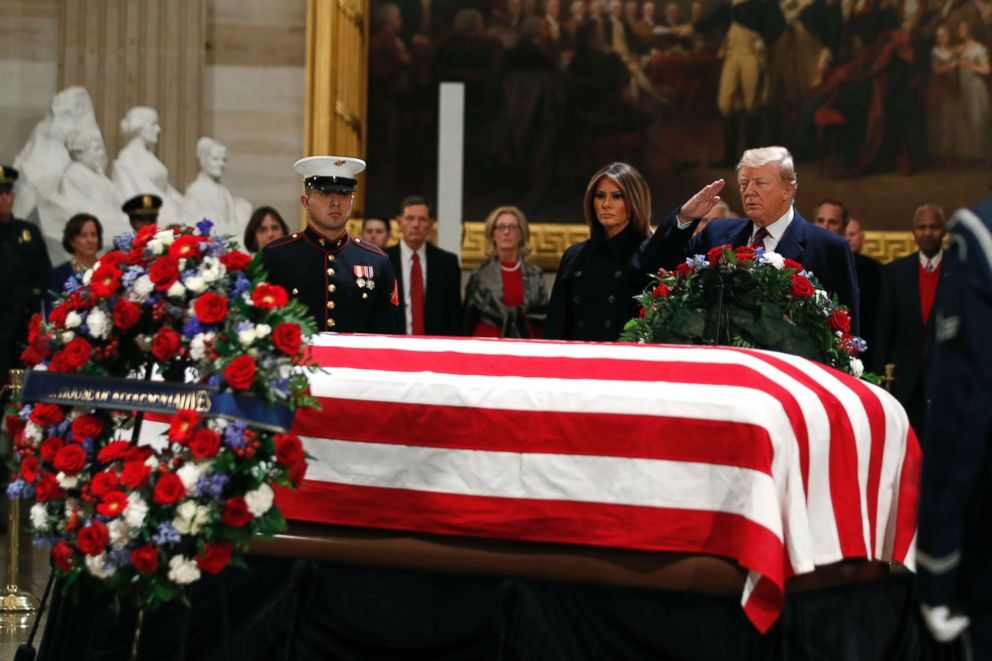 While both the president and the first lady met privately with members of the Bush family Tuesday, it's unclear whether their attendance at the funeral will bring about any direct interactions with former President Barack Obama, former first lady Michelle Obama, former President Bill Clinton or Secretary Clinton. As recently as last week, Trump shared an image with his millions of Twitter followers that called for Obama and Clinton to be jailed and investigated for "treason."
Even so, the service itself is not expected to carry some of the more political overtones that were present in the service for former Sen. John McCain this year, that included multiple instances like the eulogy from McCain's daughter Meghan McCain that seemed to take veiled shots at Trump himself.
Eulogies in Bush's funeral will be delivered by his son, former President George W. Bush, Canadian Prime Minister Brian Mulroney and historian Jon Meacham. Trump was not asked to deliver a eulogy, marking a departure from the most recent state funerals for Ronald Reagan, Gerald Ford and Richard Nixon, where both George W. Bush and Bill Clinton delivered eulogies as acting presidents.
Upon the conclusion of the service, the president's remains will be transported by Air Force One to Houston, and will lie in repose at the St. Martin's Episcopal Church, where Bush and his wife Barbara first became members in 1959.
There will be a funeral service at the church on Thursday before Bush's remains are transported by train to the George Bush Presidential Library and Museum at Texas A&M University, where he will be interred alongside his wife Barbara.