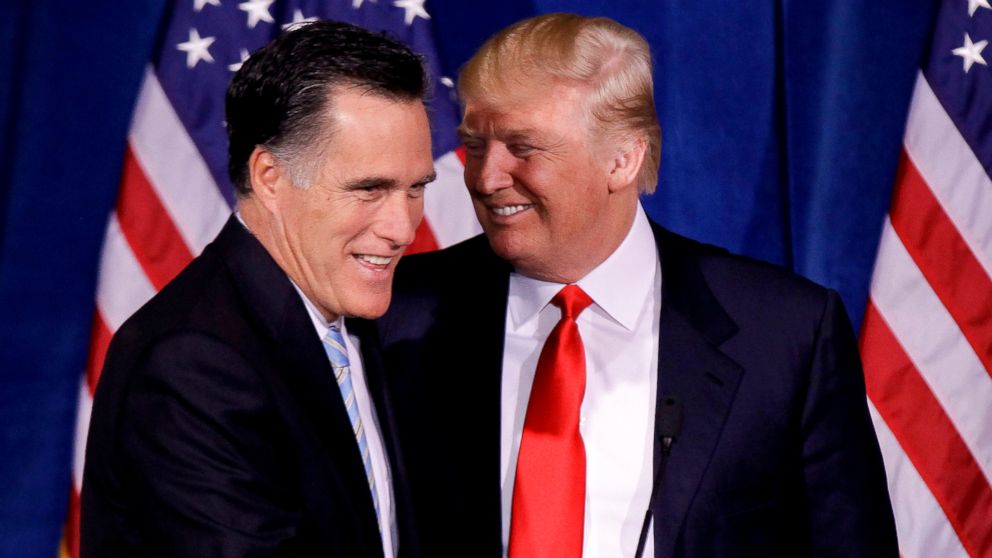 President Donald Trump took to Twitter to offer surprising support for a regular opponent on Monday night. The president endorsed Republican Mitt Romney for senator from Utah, a position he hopes to inherit from the retiring Sen. Orrin Hatch.
The president tweeted, "He will make a great Senator and worthy successor to @OrrinHatch and has my full support and endorsement!"
Romney made the announcement he would be running last week, but never mentioned Trump in his campaign video.
.@MittRomney has announced he is running for the Senate from the wonderful State of Utah. He will make a great Senator and worthy successor to @OrrinHatch, and has my full support and endorsement!

— Donald J. Trump (@realDonaldTrump) February 20, 2018
Romney was extremely critical of Trump during the 2016 election, including a speech from March 2016 in which he meticulously outlined all of the problems Trump presented if elected. The former Massachusetts governor ripped Trump over foreign policy, his businesses and the economy, his temperament and dealings with Russia.
"Donald Trump is a phony, a fraud," Romney told an audience at the University of Utah last March. "His promises are as worthless as a degree from Trump University. He's playing the American public for suckers: He gets a free ride to the White House and all we get is a lousy hat."
Trump in turn said Romney "choked like a dog" when he lost in 2012 to President Barack Obama and called him a "mixed up man who doesn't have a clue."
Yet, Romney accepted Trump's endorsement on Twitter late Monday, making no mention of his critical comments from a year ago.
Thank you Mr. President for the support. I hope that over the course of the campaign I also earn the support and endorsement of the people of Utah.

— Mitt Romney (@MittRomney) February 20, 2018
Romney said in an interview with The Associated Press on the day of his campaign announcement last Friday he was on the same page policy-wise as Trump, but wouldn't hesitate to speak out against the president if he disagreed. He voiced an immigration plan similar to Trump's in an interview with the Salt Lake Tribune, voicing support for "a border fence or wall" and saying he agreed chain migration and the lottery program should be fixed.
ABC News' Meridith McGraw contributed to this report.
This is a developing story. Please check back for updates.